Old Catholic couple after sharing a beautiful Life dies together
Alexander and Jeannette Toczko fell in love when they were only eight-years-old and were married over 74 years before their inspiring love story came to a beautiful end.
According to the couple's son, Richard, "They were boyfriend and girlfriend when they were 8-years-old." Their daughter, Aimee Toczko-Cushman added her father "carried around a picture of my mother in her Holy Communion outfit in his wallet."
Toczko-Cushman explained, "Their hearts beat as one from as long as I can remember."
Jeannette and Alexander married in the 1940s and hated to be apart. The couple often told their children "they wanted to go in their own bed holding hands and in each others' arms."
Daily Mail reported the couple married then Alexander joined the U.S. Navy as a telegraph operator, then later moved to New York City where he worked for an advertising firm.
The couple had five children and often traveled together.
Later, ten grandchildren and six great-grandchildren were born – all of whom were doted on my their loving grandparents.
After a life of love, Alexander's health took a turn for the worst.
Richard said, "He must have fallen. He broke his hip. He was going fast."
When Alexander's health began to fail, Jeannette's did as well.
The Toczkos continued to live at home but a hospice bed was purchased to allow the elderly couple to remain side-by-side.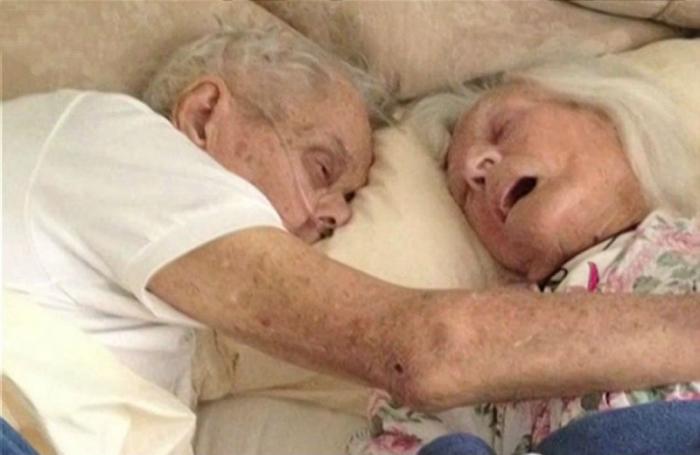 The Toczkos were married for 75 years and died in each other's arms (10 News KGTV).
"I knew she wasn't going to last too much longer," Richard admitted.
Toczko-Cushman shared: "Even the hospice nurse said it was the most incredible thing to see the two of them taking those last breaths together."
She explained: "[H]e died in her arms, which is exactly what he wanted. I went in there and told my mother he was gone; she hugged him and she said, 'See this is what you wanted. You died in my arms and I love you. I love you, wait for me, I'll be there soon.'
"It was tough."
Jeannette survived for nearly another 24-hours but passed away less than two-weeks before their 75th wedding anniversary.
According to 10 News, Toczko-Cushman said her mother often asked "What is today, what is today?"
The Toczko's children told them it was June 29 – the couple's wedding anniversary. They went as far as purchasing balloons and flowers for the couple to celebrate from their bed.
"And we said happy anniversary, and my mother was thrilled to death because it was their anniversary and she knew that he was going and that they had made it to 75 years," Toczko-Cushman recalled.
After the couple passed, Richard knew "They both entered the pearly gates holding hands."
—
wpsd_autopost:

1