'People of good will must fight' – Pope Francis sends urgent telegram to Archbishop of Berlin following tragic terrorist attack at Christmas market
Hundreds gathered at a Berlin Christmas market when a large black diesel truck plowed through the crowded street, killing twelve and injuring several more.
Authorities reported the truck, which was towing a trailer, jumped a sidewalk at roughly 8 p.m.
Witnesses immediately called police and reported one person, believed to be the driver, fled the truck. Prosecutors claimed some pedestrians gave chase and police were able to arrest the suspect.
The suspect continues to deny his involvement but authorities are taking no chances. The government has increased security measures and the investigation continues.
According to the Berliner-Zeitung newspaper, Holger Muench, the head of Germany's Federal Criminal Police Office, reported the original driver of the large truck was stabbed to death in the cabin of the vehicle but the suspect was not found to have a weapon on him.
Lukasz Wasik, the manager of the trucking company, described the truck driver, Lukasz Urban, as a "good, quiet and honest person."
Wasik added: "I believe he would not give up the vehicle and would defend it to the end if [he] were attacked."
Ariel Zurawski identified Urban's body and told reporters: "His face was swollen and bloodied. It was really clear that he was fighting for his life."
The total number of people involved in the attack remains unknown, which Muench reported is the reason they are "naturally on high alert and are investigating in all directions."
The truck did not reveal any DNA, blood or gunpowder traces from the suspect, leading investigators to believe the real terrorist remains at large.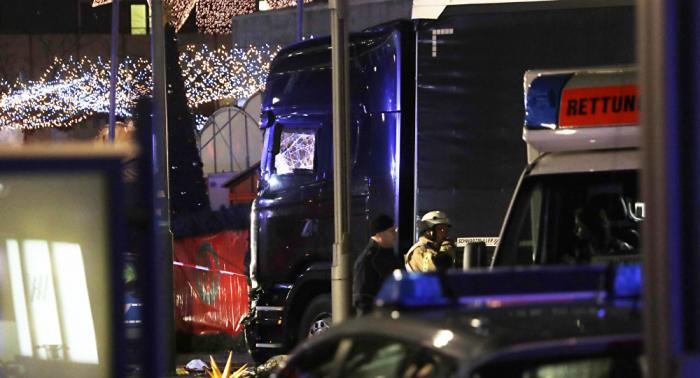 A truck rammed through a Christmas market in Berlin, killing 12 people and injuring nearly 50 more.
Chancellor Angela Merkel and other senior German officials left white roses at the site of the attack.
Merkel has long been criticized for allowing too many refugees entrance to Germany, resulting in a clash of cultures, increased criminal activity and widespread fear.
Merkel released a statement following the attack in which she acknowledged the possibility of a refugee being responsible: "I know that it would be particularly hard for us all to bear if it were confirmed that a person committed this act who asked for protection and asylum in Germany.
"…There is still a lot that we don't know about this act with sufficient certainty. But we must, as things stand, assume it was a terrorist attack.
"…I, like millions of people in Germany, am horrified and deeply sad about what happened yesterday in Berlin."
The friends and families of the Christmas Market victims are not the only ones in mourning.
Pope Francis sent the Archbishop Heiner Koch of Berlin a telegram, by Vatican Secretary of State Cardinal Pietro Parolin, to say he is praying for those killed and injured by "the terrible act of violence."
The Cardinal reported His Holiness joins "all men of good will … so that the murderous folly of terrorism finds no more room in our world."
wpsd_autopost:

1