Read Pope Francis' handwritten speech delivered to Cardinals on the eve of his election to the papacy
Pope Francis revealed a handwritten speech he delivered the night before he was elected Pope.
The handwriting was tiny and written in Spanish. The message there made for a fascinating read and honors the reader with the knowledge that Pope Francis is living up to the expectations of then-Cardinal Jorge Mario Bergolgio.
Before Pope Francis was elected to lead the Roman Catholic Church, he was a humble Cardinal who delivered a special speech, urging other Cardinals to elect a Pope who would "go to the peripheries."
He wished for a Church that isn't consumed with "theological narcissism" or "spiritual worldliness."
On his fourth anniversary as Pope, the speech was recalled, which read: "The Church is called to go outside of itself and go to the peripheries, not just geographic but also the existential peripheries. Those of the mystery of sin, injustice ignorance, spiritual privation, thoughts and complete misery."
It continued, with the Pontiff denouncing the "self-referential" tendency of the Church to close its doors to some. The Pontiff called for a Church of open doors and said: "The evil that can afflict church institutions over time has its root in this self-referential nature, a sort of theological narcissism."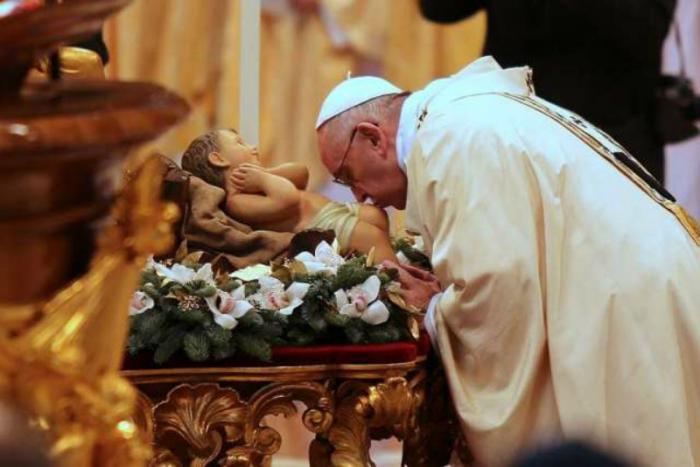 Pope Francis celebrates Epiphany Mass at St. Peter's Basilica (CNA).
Then-Cardinal Bergolgio said the future pope should be a man who "helps the church go to the existential peripheries and helps it to be a fertile mother who lives from the sweet and comforting joy of evangelizing."
Then-Cardinal Jaime Ortega of Havana was so touched by the speech, he asked for a copy – but Bergolgio had spoken without a script so he wrote notes as best he could recall and gave them to his friend.
Ortega asked if he could publish the text and asked once more after Bergolgio was elected Pope and finally got a "yes."
The notes are divided into four bullet-point sections with key terms underlined and are kept in the Havana archdiocese.
They were originally published in the archdiocesan magazine "Palabra Nueva."
---
wpsd_autopost:

1