The final wish of a dying man will break your heart and restore your faith in the power of love
A dying man decided to spend his final moments in the comfort of his home – but first he made one last wish that broke the hearts of millions
The dying man, identified only by his surname, Feng, was 92-years-old and was under the care of the same hospital as his 95-year-old wife.
When treatment for serious heart diseases and Multiple Organ Dysfunction Syndrome became too much, he asked for all treatment to stop and expressed his desire to return to his home in Ningbo city, China
Before leaving the hospital for the last time, Feng requested to see his wife of 66 years just once more.
He had been held at the Intensive Care Unit (ICU) on the third floor of the hospital while his wife, who was being treated for bone fractures, was treated on the fourteenth floor.
Neither was able to rise from their bed so they hadn't seen one other for over a month.
After his children arranged the proper discharge and legal paperwork, his daughter noticed he seemed reluctant to leave.
According to China.com, She asked, "Dad, have you decided to continue treatment?"
Her father shook his head and simply replied, "I have not seen my wife for a long time. I miss her."
Feng's children explained the situation to his doctors and his wife was wheeled into the ICU from her room on the fourteenth floor.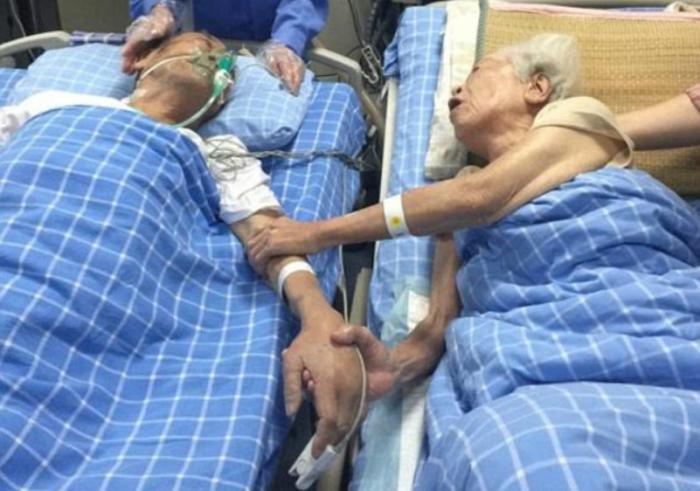 Feng's final wish was to see his wife of 66 years (Wang Yanfang/Qianjiang Evening News).
The picture reveals the love the couple still shares and, perhaps, the bittersweet reason for their reunion.
The tears in their eyes didn't keep them from reaching feeble hands out to the other.
His wife offered comforting words : "I will take care of myself. After I recover, I will [go home] to find you."
One nurse, Wang Yanfang, was so moved by the scene unfolding before her eyes that she pulled out her phone and took the picture that would later go viral across the country.
Wang later shared she was so happy the hospital could arrange the meet.
"I didn't know if I would be able to experience something this touching at the end of my life," she added.
Several thousands of people were touched by the story and left several heartfelt comments including, "Their love is too great. This is so touching. I can't stop crying."
Another wrote, "Now this is a true couple. For young people who get married now, how many of them could do that when they are old?"
Shortly after reuniting with his wife, Feng returned home and passed away only two hours later. He may be gone but the story he left behind has touched more lives than he will ever know.
Please say a prayer for his family – pray for peace, strength and love to envelope them during this tragic time.
wpsd_autopost:

1