Three men came together and partook of the Eucharist. What happened next is a testament to the lives all Christians in the Middle East must face.
Conversion from Islam is forbidden in Iran. If anyone is caught attempting to convert, the maximum penalty is five years in prison for "action against national security through collusion and gathering."
Of course, none of man's rules apply to the Lord.
In spirit, Yasser Mossayebzadeh, Saheb Fadaie and Mohammad Reza Omidi turned from Islam and embraced Christianity.
One night, when they engaged in Communion, they were discovered – but it was not their turn from Islam that led to trouble, it was their consumption of wine.
By law, Muslims are forbidden to drink alcohol but all non-Muslims may drink
None of the men were punished for their Christianity – Christian Today reported the men remain legally Muslim.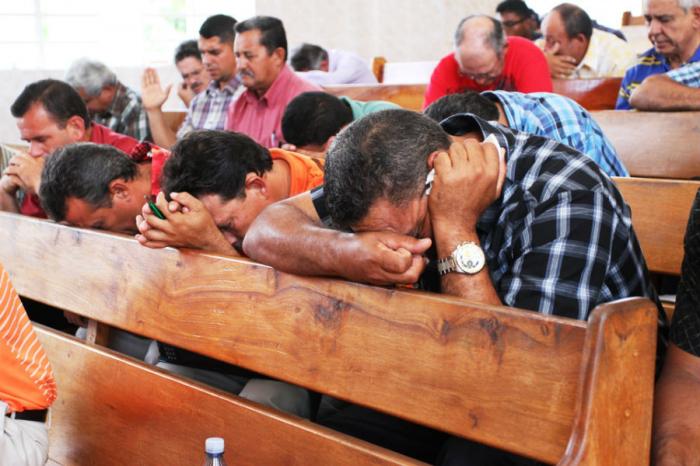 Christian persecution continues (Pinterest).
Each was charged and Omidi, who has a previous conviction for alcohol consumption, may face the death sentence if he is convicted a third time.
Each man has been sentenced to receive 80 lashes for drinking the communion wine, but because they remain legal Muslims, they will get their day in court.
The men have appealed their sentence and Paul Robinson, the chief executive of Release International, condemned Iran's persecution of Christians.
"Why should Christians be lashed for taking communion?" he asked. "And why is Iran refusing to allow its own citizens that most basic of all freedoms, the freedom to choose their own faith?
"These men have chosen to call themselves Christians. The state should respect that."
According to Christian Headlines, Rob Duncan, of Middle East Concern, has requested prayers for Iranian Christian converts, who continue to face persecution at the hands of the Muslim majority.
"The Iranian regime is conducting a very active campaign against house churches at the moment and leaders of house churches are harassed and put under pressure," he explained.
Please pray for our brothers and sisters of the faith. Ask God to keep them safe and for the government to shift and make it possible for Christians to practice the faith freely.
---