So, it's the 40th annual Vocations Awareness Week in the United States, and you're looking for the perfect ways to promote vocations to the consecrated life, right?
Well look no further. Here are three things that will help you promote vocations (for women) to religious life.
1. "For Love Alone" – a film about women religious
The Council of Major Superiors of Women Religious, a collaborative groups of women religious, recently released a new film entitled "For Love Alone", exploring the risks and rewards of the vocation of religious life. Check out the trailer below, and find the film at Amazon.com, iTunes or GooglePlay.
2. Nun's habits, illustrated and explained.
The significance of priestly clerics and vestments are often explained in religious education classes, but did you know that religious sisters' habits have similar significance and symbolism built into them?
A new book entitled "Looking Good: A visual guide to the nun's habit" identifies and illustrates the dress of more than 40 Catholic communities of nuns and sisters. The project is a collaboration between GraphicDesign&, Cambridge theology graduate Veronica Bennett and graphic illustrator Ryan Todd, and looks like a beautifully illustrated infographic, but in book form.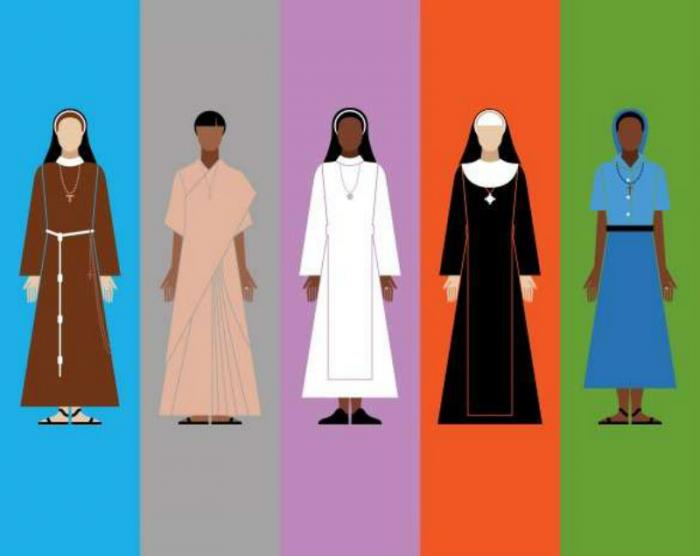 An illustration from "Looking Good: a visual guide to the nuns' habit" (Tumbler).
According to their website, "Looking Good" explains the "components, significance and distinguishing identifiers (of religious habits). The accompanying text, incorporating visions and miracles, high drama and humble beginnings, persecution and insurrection, reveals how the story of the habit is also that of the struggle between the powerful and the poor; of politics, social care and the role of women; and of the interplay between culture, fashion and faith."
Find it here: http://www.graphicdesignand.com/shop/looking-good
Click through the photos at the top to get an extensive inside glimpse of the book.
3. Carpool Karaoke – Sister Act style
Remember the carpooling karaoke priests from last week? (Who could forget?)
Turns out they were actually preceded by carpooling sisters.
Check out this video from August, by the Apostles of the Sacred Heart of Jesus, an international Roman Catholic order of sisters with provinces in Italy, USA and Brazil.
And their carpool outtakes video is just as good (if not better) than the original:
Thank you for reading our list.
By Mary Rezac