News
A miracle of Christ? Wildfire kills 11 but spares Jesus statue in Tennessee
As devastating wildfires continue to burn in East Tennessee, a startling discovery was made.
On Thursday, CNN said that one of its affiliate reporters had found a statue of Jesus in the remains of a burnt-down house in Sevier County. The statue was the only thing standing in the rubble.
Earlier in the week, Dollywood theme park employee Isaac McCord found a page from Scripture that had survived the flames.
In a Facebook post, he said that he found the page from the Bible while helping clean part of the theme park.
Several verses from the book of Joel are visible on the burnt page, including, "To you, LORD, I call, for fire has devoured the pastures in the wilderness and flames have burned up all the trees of the field."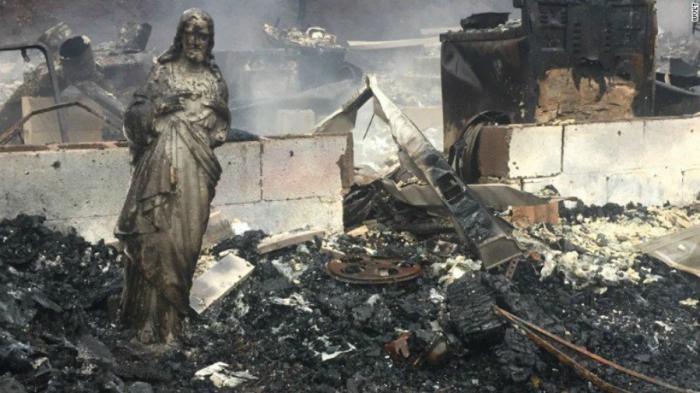 Christ statue survives devastating wildfire (CNN/Twitter).
Since it began last week, the Gatlinburg, Tennessee fire near Great Smoky Mountains National Park has burned an estimated 17,000 acres, damaging hundreds of homes and businesses. At least 7 deaths have been confirmed, with more than 70 injured and numerous other people missing.
Strong wind gusts and lighting storms have added to the fire, making the flames difficult to fight. On the morning of Dec. 1, the fire was only 10 percent contained.
The exact cause of the fire is still being investigated, with arson being a possibility.
Bishop Richard F. Stika of Knoxville is offering prayers for the fire's victims, while Catholic Charities of East Tennessee is providing aid to those who have lost their homes.