Articles
An example of grace, power and courage – Young woman with Down syndrome opens BOOMING business in face of discriminating workforce
Collette Divitto is a beautiful 26-year-old woman who was forced to fight an uphill battle just to find employment.
When finding employment proved unsuccessful, Collette decided it was time to follow her passions.
She had always been an amazing baker, with friends and family constantly complimenting her cookies. Her baked goods are so delicious, many encouraged Collette to turn her hobby into a job opportunity.
Collette's mother, Rosemary Alfredo, told her daughter, "This is a really good cookie. You could sell this cookie!"
The rest is history.
Rosemary shared Collette has never acknowledged her disability and remains undaunted by past failures.
Collette designed her own logo, applied for incorporation, then played with recipes until the birth of "The Amazing" cookie.
Collette got made a few batches of and set out to find her first client.
She met with the Golden Goose Market in Boston's North End and they quickly realized how amazing both Collette and her recipes were.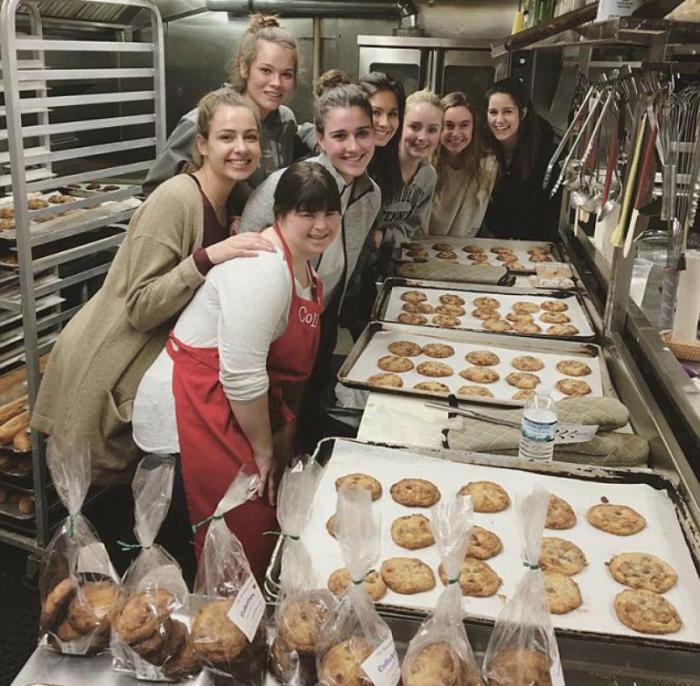 Collette's first client, the Golden Goose Market, has provided her with a fully-equipped kitchen and extra help from employees (Collettey's).
After word of Collette's bakers, Collettey's Cookies, got out, her business boomed with thousands of orders streaming in each day.
The Golden Goose is currently lending their kitchen space, some employees and industrial equipment to help Collette make her amazing cookies for the thousands of orders streaming in every day.
Rosemary explained, "It's been so uplifting to see the love and compassion across the world."
Golden Goose Manager Jesse Powers shared he's been accepting calls across the nation from people placing orders.
"It's all about her at this point," Powers told CBS. "It's not about the Golden Goose. It's about helping Collette grow her business and her dreams."
Speaking to WBZ, Collette shared: "All of my dreams are coming true. I can't believe this is happening. It's incredible."
Since Collettey's Cookies took off, several other businesses have also shown interest by offering opportunities for Collette to sell her cookies through their organizations.
Collette is up to her eyeballs with work but is grateful. She has been ordering ingredients in bulk and working more hours than she ever expected.
"I haven't slept at all," she joked. "I am really amazed at the support for my company and my cookies."
Blake Divitto, Collette's sister, explained: "It's so much more than her cookies. It's about getting jobs for everyone who deserves jobs."
Collette shared her latest goal is to enter a larger market to help her hire others with disabilities. Her site mentions 76 percent of disabled people are willing to work but are the victims of social stigmas.
Her long-term dream is to own a cookie chain with at least one store in every state full of employees with disabilities and the desire to work.
To place an order, visit Collettey's Cookies.com.
---
By Kenya Sinclair