News
Blasphemous 'Santa vs. Jesus' board game featuring Virgin Mary and racy pictures sparks controversy
Two actors joined forces to create a stunningly inappropriate board game in the name of fun – but many have hailed the game as "blasphemous" and encouraging of ignorance.
David McGranaghan and Julian Miller created the concept of an epic battle between Jesus Christ and Santa Claus – both of whom have traditionally vied for attention from the public for several decades.
On their Kickstarter page, they claim to have invented the game after their families asked them for entertainment one Christmas.
After a successful game night, the duo spent the next few years perfecting the game and joined forces with illustrator Joe Dove and graphic designer Joel Derksen to create a card game featuring "Team Santa" vs. "Team Jesus."
Team Santa includes thugged-out Santa and Mrs. Clause, both sporting tattoos, angry expressions and "weapons," an elf named "Sugar Plumbs" armed with spray paint, "Candy Cane," a ninja-elf armed with candy cane nunchucks, Eggnog, an angry alcoholic-looking elf, and three reindeer – Prancer, Rudolph, and a female "Vixen," who is pole dancing on the North Pole. She is topless and has a tattoo on her lower back, just above her thong underwear.
Rudolph appears to be a pimp, complete with a bra and panties strung on his antlers and sticking out of his pockets.
The board game is obviously not made for moral families, but the blasphemy has only just begun.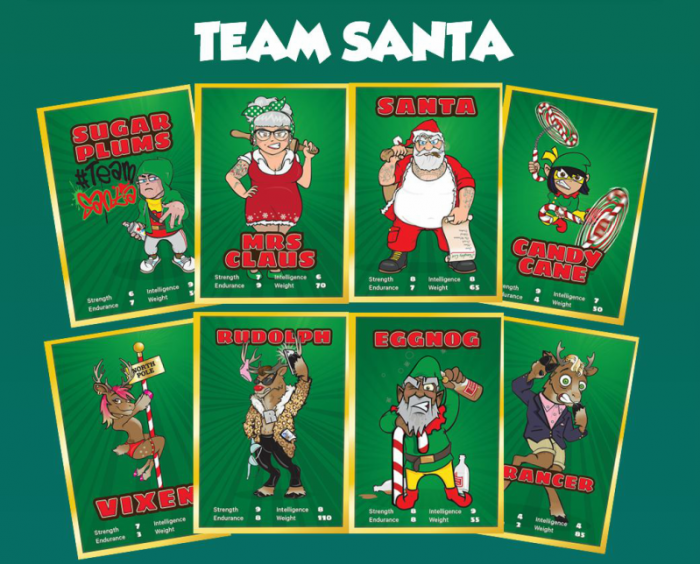 Team Santa cards (Santa vs. Jesus).
Team Jesus features the Jesus Christ card, where Jesus is posing with the holes in his hands as fish and slices of bread shoot from them.
The Blessed Mother is presented as the 'Virgin' Mary, implying she was not pregnant with Christ. She is also making an angry expression while pulling a golden crown to her head from two cherubs, one of whom is fighting to take the crown, the other with a concerned expression on its face.
Joseph appears to be frightened, appears significantly older than his aggressive wife, has his feet bandaged and wears ragged clothing. He carries the tools of his trade in his hand and pocket.
The three Wise Men are actually two men, "Gold" and "Frankincense," while the third is "Myrrh the Wise Woman."
Gold stands above a chest overflowing with gold, he is wearing sunglasses and several pieces of gold jewelry. Frankincense is smoking from a large hookah, bears a tattoo on his bare chest and is holding a box of frankincense.
Myrrh is scantily clad and a snake is wrapped around her shoulders like a shawl. She wears an aggressive expression and carries a box of myrrh.
The angel Gabriel appears as a naked child bearing a sword, his genitals covered with a black "Censored!" bar and the donkey Mary rode into Bethlehem appears to be on steroids. He is breaking a large candy cane, is drooling and is surrounded by empty energy drink cans.
Though the images and idea are both extremely offensive and the opposite of what is traditionally known as "moral" entertainment, McGranaghan and Miller received all the funding they needed within 48-hours.
They have also reached the top 15 best selling cards games on Amazon UK.
Despite the game's popularity, many have stepped forward to call it what it is: A joke at Christianity's expense.
"I dare you, creators of this game and Amazon, to make a game about Mohammed!" one reviewer wrote on Amazon. "You wouldn't would you! Then why pick Jesus? Christians are currently soft targets so why not jump on the bandwagon!"
Another review reads: "I find it in the poorest of taste and offensive. Jesus (complete with nail holes in hands) and Santa with his followers and friends fighting over a Christmas tree. How upsetting, cheap and nasty to corrupt the beauty and meaning of Christmas in this way."
The BBC reported Danny Webster, a spokesperson for the Evangelical Alliance, believes a game could potentially serve as a "great innovation" to help people learn about Jesus at Christmas but that game is most certainly not Santa vs. Jesus, as "it trivialises Christian belief and equates them both as fictional characters.
"With over 4 out of 10 people in the UK mistakenly thinking that Jesus was not a real historical person, this game won't help correct that.
"At it's heart Christmas is about celebrating the birth of Jesus and the gift of life he brings. Santa comes from the story of St. Nicholas who as a Christian bishop was generous to the poor and was very happy to have Christ as his king.
"When it comes to Santa vs. Jesus, we're firmly on Team Jesus, too."
The game continues to generate mixed reviews, many of which are positive. Meanwhile, Miller reported sales "are exceeding all expectations and we've had to rush through another order with our manufacturer to keep up with the demand."
Pictures of women on team Santa flashing themselves – with Censored bars, of course – and team Jesus cards with quotes like, "My favourite part of the Bible is when Gollum falls into the volcano," don't seem family-friendly to conservative crowds but many believe these offensive scenes are all to be had in good fun.
What do you think? Tell us your thoughts in the comments below.
By Kenya Sinclair