Dafne Gutierrez was legally blind and doctors told her she would never see again. With help from St. Charbel, Gutierrez proved those doctors wrong.
Gutierrez struggled with several issues and was diagnosed with benign intracranial hypertension after losing sight in her right eye in 2012 and going completely blind in both eyes in November 2015.
A doctor diagnosed her with benign intracranial hypertension, a condition in which the brain and spinal cord suffer high pressure, leading to blindness, double-vision, pain in the neck and shoulders and ringing in the ears.
Dr. Anne Borik, an internist who reviewed Gutierrez's case and medical files for the Church, explained: "This is a condition where the pressure in the brain is so high that oftentimes it strangulates the optic nerves. Unfortunately once the blindness occurs, it's irreversible."
Gutierrez, only 31-years-old and mother of four, was shocked then devastated at the news.
According to WNCT, she said: "For me, I was like, 'Please God, let me see those faces again. Let me be their mother again.' Because I feel like [my kids] were watching me, taking care of me 24-7."
In January 2016, Gutierrez remained hopeful and full of faith. Her sister told her St. Charbel's relics would be at St. Joseph Maronite Catholic Church in Phoenix, AZ.
St. Charbel is a Lebanese monk who lived a Christian life and was surrounded by miraculous healings. When he died, his tomb was surrounded by a bright light for months and when it was opened, his body was discovered intact, sweating and bleeding.
He was sainted by the Roman Catholic Church and many near his grave were healed. Today, St. Charbel's relics continue to bring about a great number of miraculous healings.
Gutierrez's sister told her of St. Charbel's relics healing a blind boy in Mexico, which gave her hope. She went to the church for Sunday Mass and confessed to Father Wissam Akiki then prayed over the relics.
"I felt my body different," she recalled. Wanting more, she went to pray at the Saint's relic again the following Sunday, after Mass.
The Monday after her second visit, January 18, Gutierrez woke in pain.
"I was just wiping my eyes, and I'm like, 'They burn! They burn!"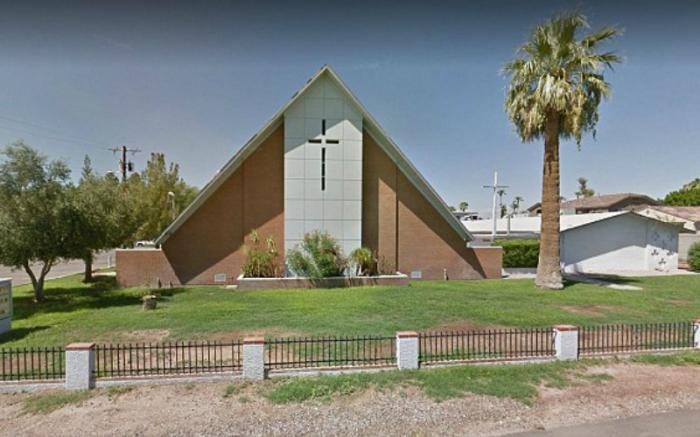 Gutierrez prayed at the St. Joseph Maronite Catholic Church in Phoenix, AZ.
The blind woman shared her vision began to return and three days later, doctors confirmed she was no longer blind.
Dr. Borik explained: "We took her to actually two other specialists to look at the eyes and see how we can explain this medically, and in fact there was really no medical explanation."
According to Daily Mail, Borik added Gutierrez's vision was 20/20 and there was no evidence of damage to her optic nerve.
"After this happened, the optic nerve looked completely normal, with no signs of damage or atrophy. there's nothing in the medical literature that anything like this has ever happened."
"God gave me my vision back for a reason," Gutierrez stated. "I want to be able to help others. I give testimony wherever I can because it's important for people to know that God does exist and he does hear us."
After news of Gutierrez's healing spread, Maronite Bishop A. Elias Zaidan wrote a newsletter, garnering even more attention:
"May this healing of the sight of Dafne be an inspiration for all of us to seek the spiritual sight, in order to recognize the will of God in our lives and to act accordingly."
To commemorate the miraculous healing, St. Joseph Maronite Church holds a special ceremony on the 18th of each month to honor St. Charbel.
Father Akiki reported hundreds have been flocking to the church from around the world.
"We're having people coming to St. Joseph Maronite Catholic Church from Germany, Bolivia, Canada, Australia, Jerusalem," Fr. Akiki said. "Really what happened here changed the faith and the face of our church."
St. Joseph Maronite Catholic Church is now constructing a shrine to St. Charbel across from its sanctuary. It will include a 3-ton stone statue from Lebanon and the entire structure should be done by March.
By Kenya Sinclair