News
Burial slab of Jesus Christ uncovered for first time in five centuries
Scientists have uncovered the burial slab that the body of Jesus Christ was laid on. It is the first time in nearly 500 years the slab has been seen by anyone.
Scientists in Jerusalem, working at the Church of the Holy Sepulchre, have uncovered the burial slab of Jesus Christ. The burial slab is where Christ's Holy Body was laid.
According to what we know, the slab was cut from the limestone of a cave, which was a traditional practice at the time. We also know that three days following the crucifixion of Christ, His tomb was empty. He then appeared to the Apostles who were sent forth to preach the Gospel message to all nations.
Following this, a small structure, known as an edicule, was built over the site of Christ's burial slab. The word edicule comes from Latin and it means, "little house."
The church at the site is one of the holiest places in all Christianity.
The exposure of the slab may also allow scientists to study the object, which has not been seen since 1555 when it was last enclosed. The slab was found covered in a surprising quantity of dust and "fill." Entire edicule and tomb are being repaired and restored. The project comes after Israeli authorities deemed the site unsafe due to its worn condition.
Scientists from the National Technical University of Athens are responsible for the restoration of the tomb.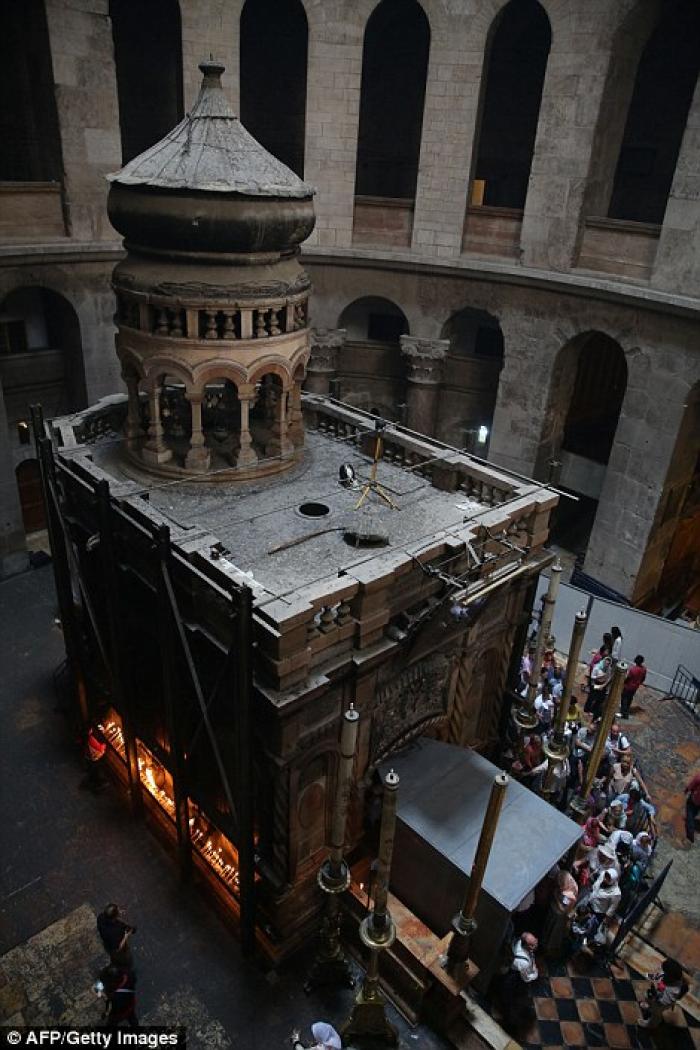 The edicule which was first built in ancient times to protect the site of Christ's burial. The edicule has been ruined and rebuilt several times and is presently undergoing restoration.
The church which covers the edicule is itself an ancient structure, one of the world's oldest. It was built in 325 A.D. by Emperor Constantine and it remains in operation today.
The restoration work will be completed in spring of 2017.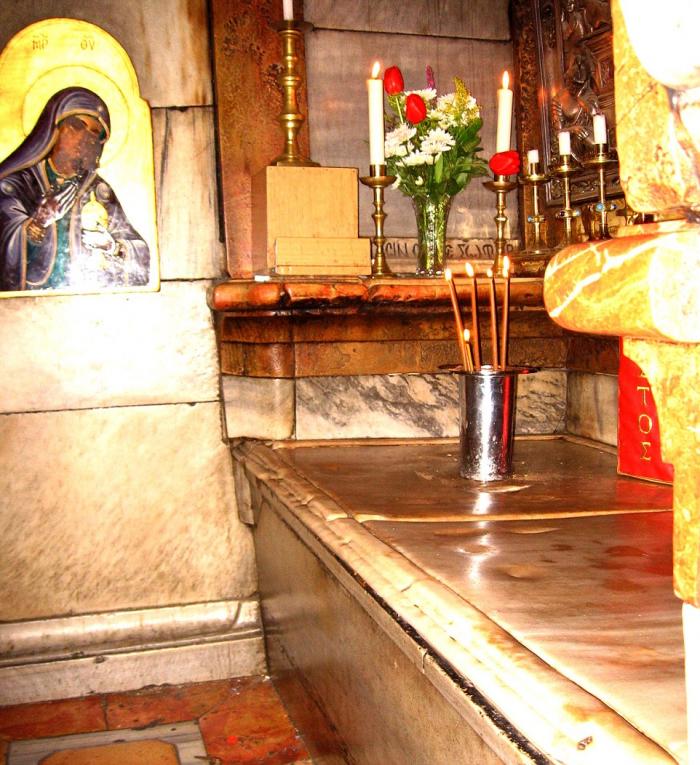 This marble slab is all that has protected the limestone burial slab of Christ for five centuries.