Articles
Can Pope Francis bring peace to the Middle East?
Palestinian President Mahmoud Abbas visited the Vatican Saturday before inaugurating his country's new embassy to the Holy See, where he met with Pope Francis for a discussion focused largely on peace efforts in the Middle East.
Described as "cordial" in Jan. 14 communique from the Vatican, the discussion between the two began by making note of the good relations they enjoy, which were "sealed" by a Global Agreement made by them in 2015 recognizing the "essential aspects" of the life and activity of the Church in Palestine.
"In this context, mention was made of the important contribution of Catholics to favoring the promotion of human dignity and assistance for those most in need, especially in the fields of education, health and aid," the communique read.
Conversation then shifted to the peace process in the Middle East, and hope was voiced that direct negotiations between the different parties "may be resumed to bring an end to the violence that causes unacceptable suffering to civilian populations, and to find a just and lasting solution."
"To this end, it is hoped that, with the support of the international community, measures can be taken that favor mutual trust and contribute to creating a climate that permits courageous decisions to be made in favor of peace."
An emphasis was also placed on the importance of "safeguarding the sanctity" of Holy Sites, which are frequently a source of division and conflict between the different faiths in the area, as well as other conflicts affecting the region.
After his 23 minute meeting with the Pope, Abbas then met with Vatican Secretary of State Cardinal Pietro Parolin and Archbishop Paul Gallagher, Secretary for Relations with States.
He arrived at the Vatican at 10:10a.m. with his 10-15 person delegation and was met by the Pope, who told him in Spanish "It is a pleasure to receive you." The president responded, saying "I am happy to be here."
Pope Francis gifted the president the official medal for the Jubilee of Mercy as well as a copy of Amoris Laetitia and Laudato Si, telling Abbas they had been translated.
For his part, Abbas gave the Pope five gifts: an icon of the face of Jesus, a stone from the site of Golgotha in the Holy Sepulcher in Jerusalem, a golden icon of the Holy Family, the book "Palestine and the Holy See" and a documentation of the work being done in restoring the Basilica of the Nativity.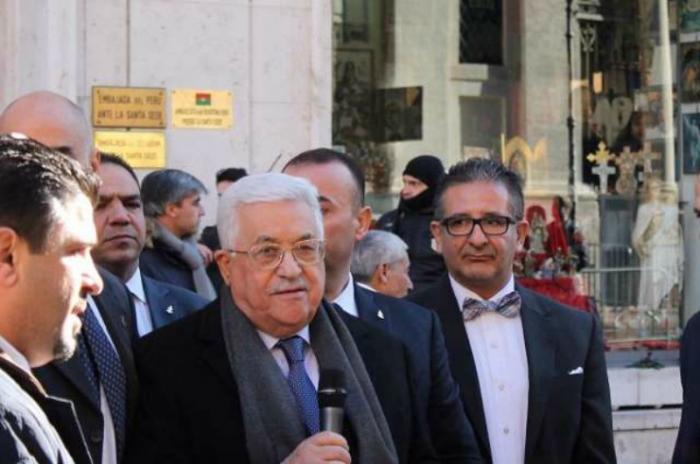 Palestinian President Mahmoud Abbas inagurates the new Palestinian Embassy to the Holy See (Angela Ambrogetti/CNA).
When they sat down at the desk before the start of the meeting, the Pope told Abbas "things are arriving to me (from your area), and at a certain point in the discussion the president spoke to the Pope about the new embassy, telling Francis it's a "sign that the Pope loves the Palestinian people and loves peace."
The president was in Rome to inaugurate the new Palestinian embassy to the Holy See, just one year after the Holy See-Palestine agreement, signed May 13, 2015, took effect and made official the Holy See's recognition of the State of Palestine.
The fact that the Holy See referred to its agreement with "the State of Palestine" rather than the Palestinian Liberation Authority or another title, immediately gained international attention.
It was hoped that the agreement will encourage the international community to acknowledge an independent State of Palestine, alongside Israel.
In addition to referring to Palestine as a State, the Vatican-Palestinian agreement also recognized freedom of religion in Palestine, and outlined the rights and obligations of the Church, its agencies, and its personnel in the territory. The comprehensive agreement followed upon a "basic agreement" that was signed in February 2000.
The bilateral commission was established after the Holy See and the Palestine Liberation Organization strengthened official relations. After the 2000 agreement, negotiations between the parties picked up again in 2010, with the aim of completing the basic agreement.
In his Jan. 9 speech to the Diplomatic Corps Accredited to the Holy See Pope Francis renewed his appeal for Israel and Palestine to resume dialogue aimed at "a stable and enduring solution that guarantees the peaceful coexistence of two States within internationally recognized borders."
"No conflict can become a habit impossible to break. Israelis and Palestinians need peace. The whole Middle East urgently needs peace!"
By Elise Harris