News
Catholic priest shot dead in hunt for Christians – 'We do not understand why this is happening to us'
Hundreds were killed in the Democratic Republic of Congo as terrorists tied to ISIS rampaged through the Congo.
Christian Today reported 52-year-old Father Joseph Mulimbi Nguli was on his way home when unknown attackers ambushed him.
He was killed in the district of Lubumbashi city, on the southern tip of the DRC.
Catholic Culture reported the men who attacked the family home where Fr. Nguli was staying, were masked and immediately fled the scene of the crime.
Authorities have already begun their investigation but have yet to provide any insight.
The Congolese bishops have already stood to denounce the shooting as well as other "attacks in parishes and religious communities, in particular in Kinshasa, Kananga and Bukavu."
The vicar general of the Archdiocese of Lubumbashi, Monsignor Denis Moto, believes local police will find the people responsible and will prosecute them to the full extent of the law.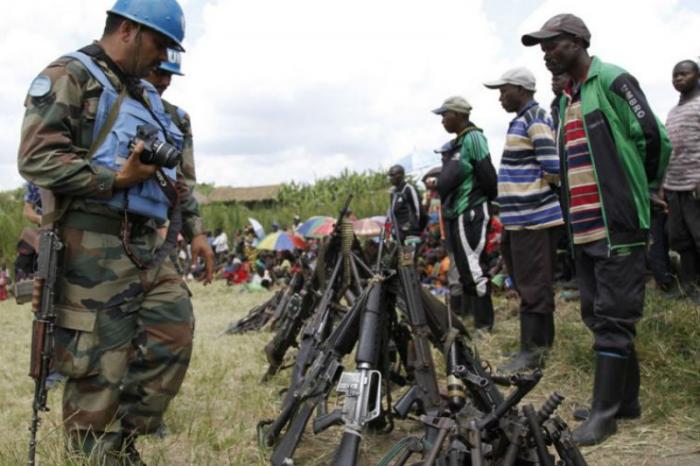 UN peacekeepers recover weapons from militants in Congo (Reuters).
The Democratic Republic of Congo has been struggling with militants for a while. Just two months ago 36 people were hacked to death by a Ugandan jihadist group and there are weekly reports of rape and looting.
Open Doors International (ODI) reported Christians live in "misery" as they are often the targets of jihad hatred.
"Signs of recent attacks are visible everywhere on buildings dotted along the road. Smaller villages have been obliterated and hardly any civilian life is visible," an anonymous ODI representative stated.
A pastor stated: "Eighty per cent of the households here have farms, but they cannot access them because [it is] simply too dangerous. This means no food and no revenue. They have become vulnerable to starvation."
"We do not understand why this is happening to us," one pastor shared. "The rebels just take people into the bush to kill them or kidnap them. They attack one place for a while and cause people to run away. Then they strike the places people run to."
The Congolese Catholic bishops spoke in a recent post-conference message to say: "We are concerned about the massacres…[and] clashes between security forces and the militia of the traditional leader Kamuina-Nsapu, from inter-community conflicts that are causing many victims in several provinces…"
---