In Bristol County, Massachusetts, Sheriff Thomas Hodgson has made a name for himself over the years. From charging inmates a daily incarceration fee to offering inmate labor to build President Donald Trump's border wall, the county sheriff has long demonstrated an innate knack for publicity.
But even as a longtime local newspaper reporter who covered Hodgson for several years, I was taken aback by news last week that Hodgson, a staunch Republican, alerted White House senior adviser Stephen Miller in an email about pamphlets his parish had made available for immigrants to know their rights when dealing with law enforcement.
"Stephen, I thought you might like to see samples of cards I discovered in a holder at the back of St Julie's Church in Dartmouth, MA. while attending mass last Sunday," Hodgson wrote in August 2017.
"While attending mass last Sunday, I noticed a holder on a table near the entrance marked, "ICE-Immigration" and noticed the three stacks of colored cards. Trying to determine if this is an isolated situation or a common occurrence in other parish churches," Hodgson added.
That revelation was first reported in a Boston Globe column by Yvonne Abraham, who wrote that the ACLU obtained hundreds of emails that revealed Hodgson to be in near-constant contact with Miller, an immigration hardliner who has peddled white nationalist ideas, and other White House officials.
Since Trump was elected president in 2016, Hodgson has cultivated ties with the White House. In an Oval Office meeting with sheriffs from across the country, Hodgson praised Trump for vetoing a bill that would have blocked his declaration of a national emergency at the southern border. Hodgson has defended the president and his own views on Fox News.
St. Julie's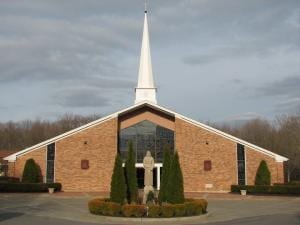 Abraham and local media pressed Hodgson – who has a crucifix on his office wall and a photo near his desk of his parents meeting St. John Paul II – about reporting his own parish to the White House. Not surprisingly to anyone who knows him, Hodgson defended his actions, and told the Globe it was his duty to inform the White House of "efforts to try to help people avoid abiding by the law."
"I don't care if it's my church or somebody else's church," Hodgson told the Globe.
"If these kinds of things are going on in churches, then we should be aware of it," he told SouthcoastToday.com. [Full disclosure, I grew up attending Mass at St. Julie Billiart Parish in Dartmouth, Mass. I was confirmed and married in St. Julie's. My daughter was also baptized in that parish].
However, that a politically-ambitious, high-profile connected parishioner like Sheriff Hodgson would report his own parish to a powerful White House aide like Miller alarmed many local residents, not to mention those outside the region who saw my initial posts about the story on social media. Some raised the specter of informants diming out their fellow citizens to totalitarian regimes.
Catholic Social Teaching
As for me, I see this regretful episode as another example of how too many Catholics have allowed partisan political ideology, not to mention naked self-interest, to inform their views on immigration. Rather than drawing inspiration from the shrill talking heads on Fox News, the strident ideologues on talk radio or the loud extremists on social media, Catholics need to educate themselves on what the Church's body of social teaching has to say about immigration.
"It's not just a political issue; it's a human issue, and it's a spiritual issue," Holy Cross Father Daniel Groody, an expert on migration, told me for a deep-dive I wrote earlier this year for Our Sunday Visitor that presents the ins and outs of Catholic Social Teaching on immigration.
In a 2003 pastoral letter concerning migration, "Strangers No Longer: Together on the Journey of Hope," the Catholic bishops of Mexico and the United States stated five Catholic principles regarding migration:
1. Persons have the right to find opportunities in their homeland.
2. Persons have the right to migrate to support themselves and their families.
3. Sovereign nations have the right to control their borders.
4. Refugees and asylum seekers should be afforded protection.
5. The human dignity and human rights of undocumented migrants should be respected.
Some readers who took exception to my OSV article felt I gave lip service to the third point of nations having the right to control their border. Now, don't get me wrong. The United States has the right to control and regulate its border, and is not obligated to take in unregulated numbers of migrants and refugees.
However, the right to enforce border laws is not absolute. Enforcement is not the primary focus of the Church's teaching on immigration. Rather, it's about welcoming the stranger as much as we possibly and reasonably can, and affirming their innate human dignity as children of God.
Recognizing that dignity is why St. Julie's and many other Catholic parishes across the country provide pamphlets and literature for immigrants, regardless of their legal status, to know their rights when confronted by law enforcement.
"The Catholic Church has consistently taught of a moral obligation to provide support and care to newcomers among us. Providing information to non-English speaking persons to help them understand their rights under U.S. law is but one example of a parish putting this teaching into practice at the local level," John Kearns, a spokesman for the Diocese of Fall River, said in a prepared statement to The Standard-Times of New Bedford, Massachusetts.
Pope Francis has recently spoken out against anti-immigration rhetoric, adding that he was "shocked" by some of the xenophobic narratives in Europe, not to mention the Trump Administration's "zero tolerance" policy that led to thousands of migrant children being separated from their parents at the border.
As Donald Kerwin, the executive director of the Center for Migration Studies, a Scalabrinian think tank, told me for the OSV story: "Catholics need to become more Catholic on this issue."