In this transitory and often difficult life, it is necessary to have Christ as the center of everything you do, working to increase your own faith in Jesus and the faith of those you serve, Pope Francis said Monday.
"Contemplating the life of Jesus and looking at our life as pilgrims in this world with so many challenges, we feel the need of a profound conversion and the urgency of reviving faith in Him," he said.
In a private audience Oct. 10 with members of the Society of the Catholic Apostolate – also called Pallottines after their founder St. Vincent Pallotti – the Holy Father spoke about how we can only have love for our neighbor if we have faith in Jesus first.
"Every day we are called to renew our trust in Christ and his life to be inspired to fulfill our mission," he said.
Quoting the apostolic exhortation, Evangelii Gaudium, the Pope said this is because "Jesus is the first and greatest evangelizer. In any form of evangelism it is always the primacy of God, who wanted to call us to collaborate with him and inspire us with the power of his Spirit."
The Society is part of the Union of the Catholic Apostolate, which was founded by the Roman priest St. Vincent Pallotti in 1835. Its charism is to assist all people in finding and living out their apostolic vocation in life.
The Pallottines, made up of around 2,300 priests and brothers, can be found in more than 40 countries. Their motto is taken from the words of St. Paul in his second letter to the Corinthians: "the love of Christ urges us."
Pope Francis told the members of the Society that their founder, St. Vincent Pallotti, "has become an enlightening and inspiring beacon in the Church."
"In this Holy Year of Mercy, I like to remember that Vincent Pallotti was blessed to recognize that Jesus is the Apostle of the Father, rich in mercy and full of mercy, he is the one who fulfills its mission by revealing to everyone the tender love and the infinite mercy of the Father."
The mystery of the fatherhood of God, the Pope noted, is what opens us all up to the Father's love and compassion. And this takes on special significance in the current time, when we are constantly encountering scenes of violence, a lack of mercy and "hardened and desolate hearts."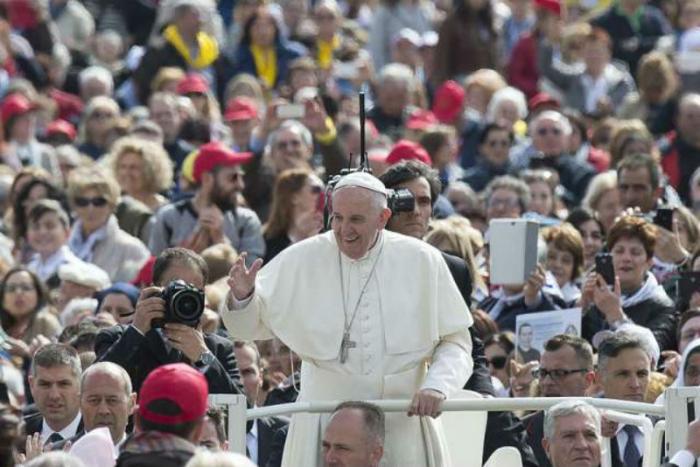 Pope Francis at the Jubilee Audience in St. Peter's Square (L'Osservatore Romano).
"So we need to remind ourselves of that Father, whose heart thinks of all and desires the salvation of every man," he said.
The Pope pointed out how the Society's founder liked to say that the apostolate call is not reserved for some, but is addressed to everyone, "regardless of their status, their condition, their profession, their luck."
Calling them to renew their vigor for reawakening the faith and rekindling charity, especially among the materially and spiritually poor, Pope Francis reminded those present that they are supported by the example of their brothers, who were "authentic witnesses of the Gospel."
In 2005, Pope Francis, then-Cardinal Bergoglio, opened the causes for sainthood for three Pallottine priests and two seminarians who were brutally beaten and shot to death on July 4th, 1976.
Pope Francis sent a message to Argentina July 17 for a Mass marking the 40th anniversary of the death of Servants of God Alfredo Leaden, Pedro Duffau, Alfredo Kelly, Salvador Barbeito Doval and Emilio Barletti.
"I knew Father Alfie Kelly personally, a priest who thought only of God and, as you know, I followed his tragedy with a sense of faith, as this is the key to his life, and also to his death," Francis wrote.
Pope Francis was Kelly's spiritual director and confessor at the time of his death.
Speaking to the Pallottines, Francis said it is their job to help those in their ministry to "rediscover the immense love of God" in their lives.
"I encourage you to continue with joy and hope your path, committing yourselves with all your heart and with all your strength, so that the charism of your Founder may bear abundant fruit also in our time."
---