Ava Bright Lee is a beautiful seven-year-old girl who is currently being treated for Leukemia Cutis.
Ava  was diagnosed with Biphenotypic Leukemia when she was only five-years-old but was successfully treated.
Unfortunately, the little girl has suffered a relapse and was told she would receive an important scan to see if she should continue her current treatment.
According to ABC, Ava's doctors gave her a 5 to 10 percent "change of survival."
Her mother, Esther Lee, explained Ava had "tears streaming down her face" when she heard she needed a transplant and, after her parents spoke to her, was able to calm down.
"I continued to cry and pray as I laid next to her," Esther explained. "Soon I felt her hand gently patting my back. 'Please don't cry, Mama. You are breaking my heart.'"
Ava's father is a pastor of a non-denominational church in Deerfield, IL, which has made a huge influence on her faith.
"I truly believe that's what has allowed us to not completely unravel during this really, really difficult time," Her mother explained.
"That's the only thing that brings her comfort — when we talk about there's hope for her future apart from the life that we have here."
Though she has hope for a life in Heaven, Ava took to Facebook to deliver an emotional plea for prayers.
"Hi everyone. Tomorrow I'm gonna get a PET scan and I really need it to be clear so we can go to transplant and I was wondering if you could pray for me."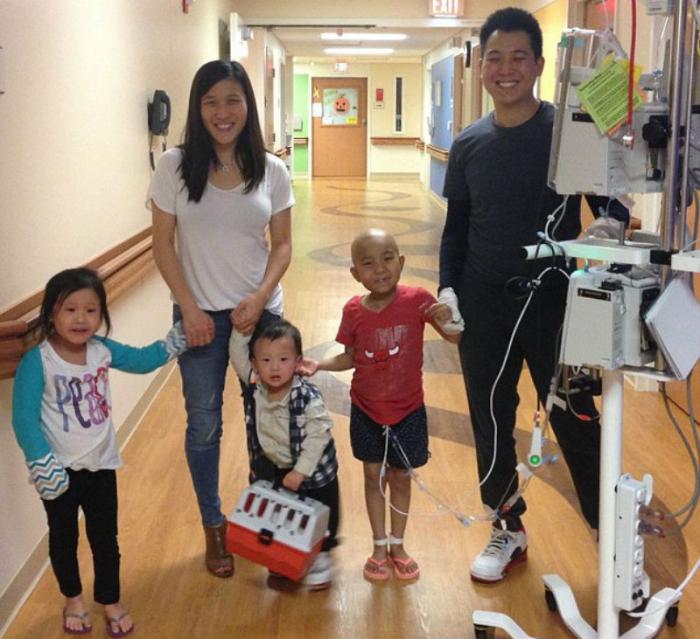 Ava asks for prayer (Team Brighter Days/Facebook).
The video went viral and messages of support and promises for prayer began to stream in.
The video was viewed over 150,000 times and received over 6,000 comments from well-wishers from places as far as Korea, South Africa and Cambodia.
"I envisioned thousands of people surrounding us, even as we sit in this room, and collectively praying for her," Esther described. "And what a sight that is…because we know that we're not alone."
Ava's PET scan was taken Thursday last week and came back clean, allowing her to move on to the next step to see if she is a good transplant candidate.
Esther wrote: "The doctors talked to us today about how this is just the first step in the process. Remember that five to ten percent chance of survival? Those are still our odds. We should celebrate in measure.
"But, heck no! I will celebrate now! Because no matter how many battles lie ahead, we won this one right now! Thank you so much for taking this first step with us across the treacherous terrain towards a cure for Ava Bright Lee!"
On Ava's blog, For the love of Ava Lee, Esther asked for more prayers and announced her daughter is lined up to receive another bone marrow biopsy to determine whether she can still be a transplant candidate.
Esther said she was sharing her daughter's journey to encourage more funding for research and to raise awareness of pediatric cancer patients, describing their trials as "truly hell."
She explained: "Someone needs to know what's happening. Even my words are not enough. We need to do more. There needs to be more humane ways of treating children with cancer."
Esther was moved particularly after recalling events after a radiation treatment: "I couldn't even hold [Ava] for 10 minutes because of the radiation emitting from her. All of this is happening to my child.
And you don't have a choice as a parent. It's hard to imagine what these children go through. They're the bravest children I've ever, ever met."
---