Articles
Did Michelangelo paint a secret message on the roof of the Sistine Chapel?
Michelangelo may have been an incredible artist who painted the Sistine Chapel, but he was also somewhat subversive.
According to experts from the UFCSPA in Brazil, Michelangelo included graphic symbols of female anatomy on the roof of the Sistine Chapel.
Michelangelo is regarded as the quintessential Renaissance man, next to his contemporary and rival, Leonardo da Vinci. He was a devout Catholic, who lived in squalid conditions by his choice. He often slept in the same clothes he wore for work.
Although he was devout, he was also critical of the established Church and several of its personages. It is reported that he was a homosexual, a fact evidenced by his writings and the writings of others. He practiced dissection and was an expert on anatomy, despite the fact that such practices were banned by the Church, which took varying attitudes towards the practice. Surprising to some, Michelangelo sometimes did his dissections in a building provided by a friendly priest. The priest would also provide Michelangelo with corpses when parishioners died.
These dual traits, devout faith and his subversive side emerged in his art. The panels of the Sistine Chapel are considered the greatest works of art ever created. His statues, such as the Pieta, may be the greatest statue ever created.
According to scholars, Michelangelo also hid symbols of the female anatomy in the Sistine Chapel. The lines in the curve of an arm suggest a vagina. The ram's skulls look curiously like a woman's womb with fallopian tubes.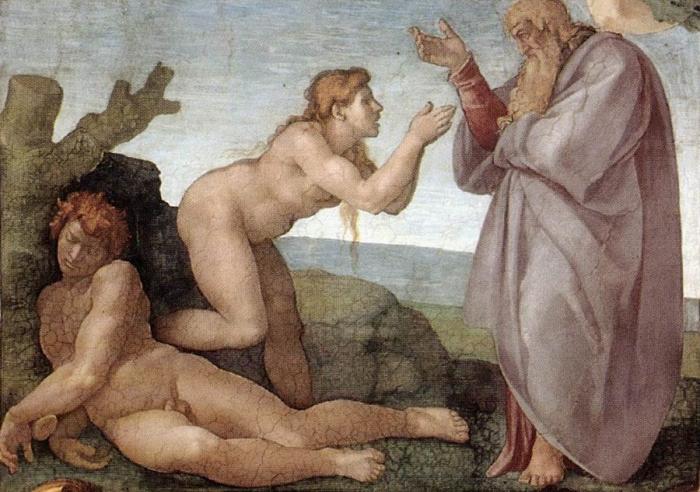 Eve's arms in this panel are in a "vee" shape, a very feminine symbol common in period art.
What was he trying to say? According to the scholars, Michelangelo likely had an affinity for Jewish tradition and paganism and the role of the woman in pagan mythology. These ideas naturally conflicted with the Church, which was more of a masculine institution. Had the pope known what Michelangelo was doing, he would have been stopped. But it has been common practice, especially during the renaissance, to secretly communicate though art. Dante, for example, buried his personal enemies in the circles of hell.
The scholars who studied Michelangelo's art reported their hypothesis in the journal Clinical Anatomy. They pointed out that a lot of art from the period contains hidden meaning. They identified the inverted vee in the way that Eve holds her arms in the panel, "The Creation of Eve." This shape is a common depiction of the female anatomy in period art.
Other scholars have identified more organs and the shapes of human anatomy in Michelangelo's work. A kidney and a brain are among the organs possibly depicted by the Artist.
Is this true or is someone attempting to slander the memory of Michelangelo? Unfortunately, this is more likely to be true then not, but there is room for plausible deniability, which is why Michelangelo concealed his statements in his art. It is known that Michelangelo did not enjoy working on the chapel ceiling and found the job miserable. He may have protested his assignment by including secret meaning in his art.
The Church is fully aware of the controversy, but is unlikely to make any changes today. Nudes that were painted by the artist were ordered covered with fig leaves in the 1560s. Those were uncovered in restorations performed in the 1990s.
Without conclusive evidence, it is left to the reader to decide what to think about Michelangelo and his work. However, it is difficult to explain some of his artistic choices as innocent.
By Marshall Connolly