News
Pope Francis to bless Philippines President after receiving letter of peace
Philippines President Rodrigo Duterte has made several negative comments about Pope Francis and the Catholic Church – So why is he suddenly writing the pontiff a letter of reconciliation?
Duterte's violent war on drugs has been a controversial point for the Catholic Church.
Murder is certainly not condoned by the Church but Duterte refuses to back down.
The murder of drug dealers isn't the only point of contention between the Philippines President and the Church.
When Pope Francis paid a visit to the Philippines in 2015, Duterte was quick to complain about the heavy traffic the papal visit brought with it.
Later, he claimed it wasn't Pope Francis he was cursing, but the way the government closed roads and caused driving problems.
Interestingly, two years later, Duterte felt the need to send an official apology by means of a personal letter to His Holiness.
"Your Holiness," it begins. "With profound respect, I have the honor to extend my own and my people's warmest greetings to Your Holiness.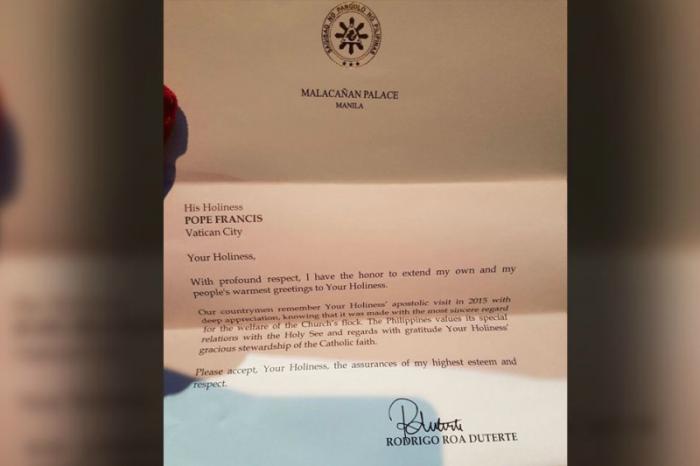 "Our countrymen remember Your Holiness' apostolic visit in 2015 with deep appreciation, knowing that it was made with the most sincere regard for the welfare of the Church's flock.
"The Philippines values its special relations with the Holy See and regards with gratitude Your Holiness' gracious stewardship of the Catholic faith.
"Please accept, Your Holiness, the assurances of my highest esteem and respect."
Apparently, the letter did its job.
According to Newsweek, presidential adviser Jesus Dureza spoke from St. Peter's Square Thursday to say: "When I had the opportunity of kissing the hand of the Pope, I said, 'Bless the Philippines, Your Holiness,' and his answer was, 'Yes, I will also bless your president.'"
These well-wishes and generous offers don't suddenly change how the Church views senseless murder but they do bring the Church and Philippine President a little closer to reconciliation.
---