News
Two martyrs, four priests and a mystic nun sainted by Pope Francis
Pope Francis stood before St. Peter's Basilica on Sunday to proclaim the Church has accepted into its fold seven new Saints.
Beautiful tapestry portraits of each new saint hung from St. Peter's Basilica above the main square, where Pope Francis spoke to pilgrims and introduced each new Saint.
Radio Vatican estimated about 80,000 people were in attendance, including Argentine President Mauricio Macri and his family.
One of the new Saints, Jose Gabriel del Rosario Brochero, is Argentina's "gaucho priest," or "cowboy priest," known for his preaching, school building, churches and streets. He "smelt of sheep," but behaved as a good shepherd.
He contracted leprosy while visiting the infirm and it led to his death in 1914.
French mystic nun Elizabeth Catez, known as Sister Elizabeth of the Trinity, was also sainted on Sunday.
She died in 1906, at only 26-years-old, from a rare adrenal gland disorder. She was known as a mystic and spiritual writer.
She was a talented pianist and devoted her live to the charism of the Carmelites.
Spanish bishop Manuel Gonzalez Garcia, who became known as the "Bishop of the Tabernacle" after a mystical experience in a church near Seville, was also among those sainted this year.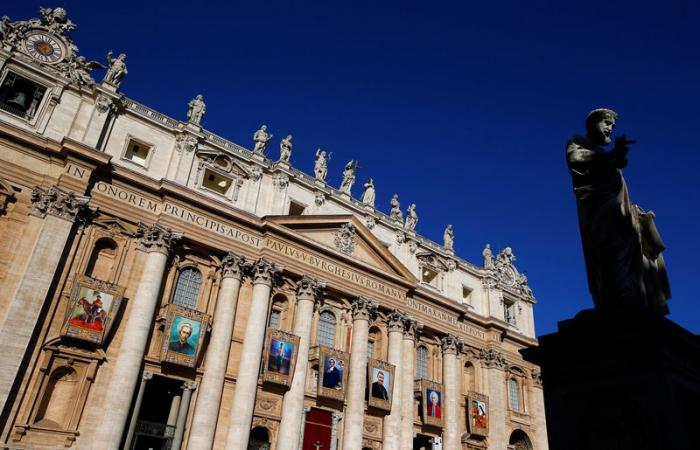 Tapestry depicting seven new saints hang from Saint Peter's Basilica (Tony Gentile/Reuters).
He was the founder of the Eucharistic Missionaries of Nazareth and established the Disciples of Saint John and the Children of Reparation.
He was known for his devotion to the Eucharist and encouraged people to receive it often.
Italian Fathers Lodovico Pavoni and Alfonso Maria Fusco were elevated on Sunday and each was noted for founding religious congregations and working with the poor during the 19th century.
Two martyrs, Jose Sanchez del Rio and Salomone Leclercq, were proclaimed Saints Sunday.
Sanchez del Rio was shot and killed in 1928 at only 14-years-old, while opposing an anti-Catholic regime in Mexico. Leclercq belonged to a religious order in France and was killed during the revolution in 1792.
Pope Francis proclaimed each person a saint and stated: "The saints are men and women who enter fully into the mystery of prayer…They struggle to the very end, with all their strength, and they triumph, but not by their own efforts: the Lord triumphs in them and with them.
"The seven witnesses who were canonized today also fought the good fight of faith and love by their prayers. Through their example and their intercession, may God also enable us to be men and women of prayer.  May we cry out day and night to God, without losing heart.
"May we let the Holy Spirit pray in us, and may we support one another in prayer, in order to keep our arms raised, until Divine Mercy wins the victory.
---