Excitement is building in New York City with the visit of Pope Francis this September 24. A massive, hand-painted mural, 225-feet tall has been placed in midtown Manhattan at the corner of Eighth Avenue and 34th Street, close to Madison Square Garden, where the Pope will celebrate mass on the 25th.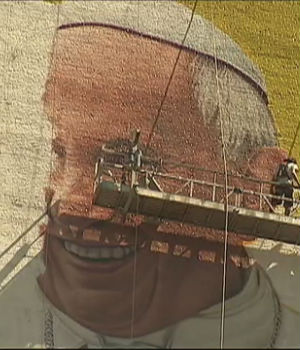 Commissioned by DeSales Media Group, the communications and technology arm of the Diocese of Brooklyn, the mural is drawing positive attention to the pending papal visit.
"My wife (Ashlee) and I were very excited," Van Hecht-Nielsen, who created the ad, told reporters. "We are both converts to the faith. It is wonderful to see the way the pope is touching the world."
A parishioner of St. John the Evangelist Church in Loveland, Colorado, Van Hecht-Nielsen has 10 years of experience painting billboards across the country. "People are getting excited and it is a blessing because I think it sends a message to the community," he says.
The mural includes the public hashtags #PopeInUSA and #PapaEnUSA, and is expected to be seen by 700,000 people each week.
Attracting both workers and pedestrians, many have expressed a "thumbs up" opinion of the mural.
"As a tourist, I think it is fantastic. I am Catholic so I am happy to see them doing that mural," Chilean Lorena Quezada told reporters. "It is impressive … I think the Pope is going to like it."
The idea behind the mural is even more important, according to New Yorker Charles Wickliffe. He says that the mural makes people think about religion and God.
"It is nice that [Pope Francis] is coming to Madison Square Garden and that people are putting his picture [on the billboard] instead of putting pictures of cars," he said. "I'm looking forward to hearing what he has to say."