There were few direct statements about faith by the two presidential candidates in Monday's debate. But that is not necessarily a cause for worry, Catholic analysts said.
Monday's event was only "the first of three presidential debates," noted Dr. Matthew Bunson, senior contributor to EWTN, and the candidates did not have "many opportunities" to discuss faith issues because of the structure of the debate, which focused mainly on national security, the economy, and the direction of the country.
"And I think they were much more concerned with going at each other than they were with bolstering their image with faith voters," Bunson said of presidential candidates Donald Trump and Hillary Clinton.
However, Bunson expects that there will be more mention of faith at the Oct. 4 vice presidential debate between Sen. Tim Kaine (D-Va.), a Roman Catholic, and Indiana Gov. Mike Pence (R), who was raised Catholic but currently identifies as an evangelical Christian.
Presidential contenders Trump and Clinton officially debated for the first time on Monday evening at Hofstra University in Hempstead, N.Y.
Clinton has identified as a Methodist; Trump has said he is a Presbyterian Protestant at Marble Collegiate Church in New York, but the church has clarified that he is not a regular attendee.
Throughout the evening, they fielded questions from moderator Lester Holt, the anchor of the NBC Nightly News, on issues of the economy, national security, race relations and civil unrest, and their own personal lives. However, their own faith and the role of faith in today's public square were topics largely absent from the conversation.
Sara Huckabee Sanders, a Trump advisor and daughter of former presidential candidate Mike Huckabee, said the lack of talk of faith was "a little bit" concerning.
"I think that particularly when it came to the conversation on race relations, that's where I think faith could have played a really big role. But I think that both candidates have talked some about that in the past," she said.
However, both Trump and Clinton have already reached out to "galvanize" their religious bases, Bunson noted, so they didn't necessarily need to do so in the debate.
Clinton has reached out to supporters in the mainline Protestant congregations as well as "more secular voters" who may have voted for her primary opponent Sen. Bernie Sanders (D-Vt.); Trump has courted Evangelical Christians and – "somewhat belatedly," Bunson suggested – Catholics, in recently naming a list of over 30 prominent Catholic advisors.
While issues like religious liberty, marriage, and abortion were not mentioned at the debate, the candidates did touch on issues directly affecting families, like "pocketbook issues" and "paid leave," Joshua Mercer of CatholicVote.org told CNA.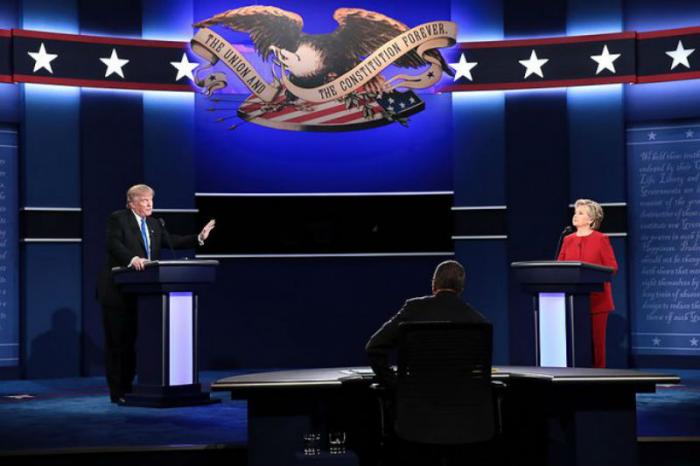 Hillary Clinton and Donald Trump faceoff in the first presidential debate At Hofstra University (Drew Angerer/Getty Images).
And in the debate section on racial tensions, Clinton did mention the importance of churches helping to ease tensions between African-American communities and the police: "And so we need to do a better job of working, again, with the communities, faith communities, business communities, as well as the police to try to deal with this problem."
The U.S. bishops have spoken out prominently about racial tensions, holding a Day of Prayer for Peace on Sept. 9 and announcing that a new pastoral letter on racism is in the works.
Archbishop Joseph Kurtz of Louisville, the president of the U.S. Conference of Catholic Bishops, created a task force in July to investigate what dioceses could better do to heal racial tensions and address problems plaguing certain communities. He did so after protests in several cities occurred over incidents of young black men being shot by police officers, as well as nationwide horror after a retaliatory killing of five police officers in Dallas.
Archbishop Kurtz condemned the violence while also calling attention to the serious problems many urban communities face, including drug abuse, unemployment, and lack of access to quality education and affordable housing.
Last week, riots broke out in Charlotte, N.C. and protests in Tulsa, Okla. after the deaths of young black men in those cities in dealing with the police.
When asked how they would, as president, work to heal racial tensions, Clinton discussed the various problems affecting minority communities like gun violence, housing, education, and "the systemic racism in our criminal justice system," while Trump focused more on gun laws and the importance of "law and order."
"Unfortunately, race still determines too much, often determines where people live, determines what kind of education in their public schools they can get, and, yes, it determines how they're treated in the criminal justice system," Clinton said.
She also praised the positive aspects of many of these communities, "the vibrancy of the black church, the black businesses that employ so many people, the opportunities that so many families are working to provide for their kids."
Another subject that was absent from Monday's conversation was the issue of abortion, despite a recent Knights of Columbus/Marist poll showing that almost two-thirds of Americans want Hyde Amendment protections so taxpayers don't directly fund abortions, and 60 percent of respondents saying abortion should be limited to the first trimester at most.
Kellyanne Conway, a pollster who is now campaign manager for Trump, wished the life issue has been asked about by the moderator so that "Americans should know that Hillary Clinton is for late-term abortion."
When pressed that many pro-life voters still have serious concerns about Trump's commitment to the pro-life cause given his statements in the past, Conway said "they shouldn't have those concerns," pointing to Trump's present support for the pro-life cause and his pledges to major pro-life legislative goals like a late-term abortion ban and to "make permanent the Hyde Amendment."
---
By Matt Hadro