News
Former mobster cleans up and becomes a preacher
Tatsuya Shindo, a Japanese man covered in tattoos and missing the tip of his pinkie finger – a Japanese gang custom to show atonement for an offense or as a punishment for one – once lived for money. Today, he lives for God.
Shindo joined the Japanese mafia, known as the yakuza, when he was 17-years-old.
"I was a child," he told CNN. I didn't think too deeply. And I admired the yakuza for what was visible only on the surface. They have lots of money, spend their money lavishly, and play glamorously. The bad guys looked so cool in my eyes."
Like other gangs and mafias, the yakuza promoted loyalty and a sense of family but, as Shindo quickly discovered, the price of being a member was often paid for in blood.
"My boss was killed. People were killed in power struggles. People's legs were shot. A guy who was doing drugs with me died of intoxication. Suicides happened. Sudden deaths. I've seen many deaths," Shindo shared. "I saw my henchmen get stabbed to death."
He became addicted to crystal meth and got the tattoos promoted by the yakuza. To exclude mafia members from the rest of society, visible tattoos are not allowed in most public places, leaving yakuza members to receive their tattoos in places easily hidden by clothing.
Shindo lost the tip of his pinkie finger after getting high, driving and crashing his boss' car. He was arrested seven times and was imprisoned three times from the time he was 22-years-old.
By 32, he ha been excommunicated by the yakuza after he spent 8 of a 10-year sentence. While incarcerated, he was in solitary confinement and began reading the Bible.
He studied more and more until he realized he wanted to share the Word and become a preacher.
"I know how bad I was and the bad things I had done," he told the Tokyo Reporter. "At the same time, I know how much I was forgiven by God. So I wanted to engage myself in God's work."
When he was released from prison, he took over the June Bride, an old bar and karaoke spot owned by his mother. He replaced the stage with a large crucifix and filled the place with rows and rows of seats.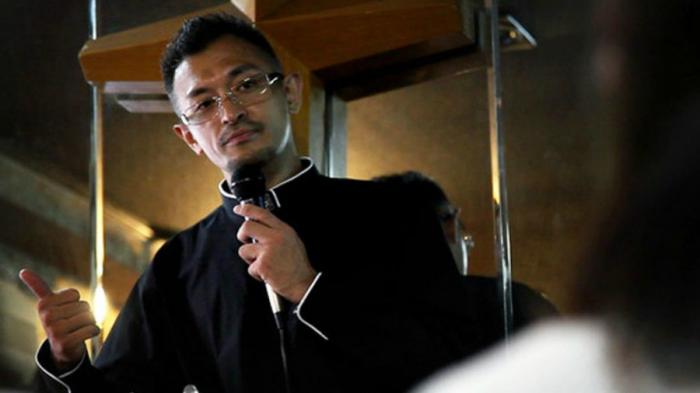 Pastor Shindo is now a man of the cloth who reaches out to ex-gangsters in a prefecture on the outskirts of Tokyo.
Shindo's mother, Yoshimi Shindo, explained: "When he came back [from prison], he apologized and said, 'I survived for you, mother.' When I heard those words, I decided to forget everything that happened in the past. And now, I'm very happy."
At first, she was the only one he could share the Gospel to but over time, more and more people from all walks of life began to stream in.
"In the beginning, it was only me," Shindo recalled. "So I was preaching to the walls."
Then suddenly people began to appear for his Sunday services.
"A lot of people with different backgrounds come here," Shindo stated. "Those who are divorced, bankrupt and cast away. There are also parents who have missing children, those whose sons are put into jail, or those who've been abandoned after prison. This is a place to restart your life."
Knowing everyone has their own story, Shindo shared: "They are seeking divine intervention. They want God to help them with their problems."
The Lord has always encouraged reform and offered forgiveness. Shindo's mother explained God's work in her son has also encouraged others in a way she never would have guessed. By divine intervention, her son went from yakuza to preacher and she couldn't be more proud.
"I think this place has significance that God provided here for us," she explained. "I believe it was God's intention. I believe my son's life portrays God's surprise ending."
---