Christian and Nicole McDonald discovered they were pregnant, so like any couple they paid a visit to the doctor. Throughout her pregnancy, Nicole was healthy, as was her child, until one day she went in for an ultrasound and everything changed.
According to CNN, Nicole went in for a routine ultrasound in May 2015.
The technician took a look then blurted, "Oh, you have two babies in there."
Nicole later admitted the excitement she felt at the thought of having twins. Already busy with the couple's firstborn, Aza, Nicole's mind swirled around the items they'd need to purchase – a second car seat, another crib, maybe they'd need a larger home and a van.
She returned home, still deep in thought and shocked with joy when she received a phone call.
"You need to come back immediately," the voice from the doctor's office stated.
She told them her husband was at work and thought it might be best to wait until he got back but was told, "No, you need to come back now."
Leaving Aza with her grandmother, Nicole and her mother, Chris Grasso, returned to the doctor's office. When stepping into the examination room, Nicole was told no friends or relatives could accompany her.
The second ultrasound was fast. The radiologist stepped into the room and gave her the news: "You know, Mrs. McDonald, I don't know what to tell you, but your twins are conjoined."
Stunned, Nicole asked, "What do you mean conjoined?"
"From what it appears, they share a head," was the response. "We don't know how much."
Nothing after those words made sense to Nicole. Her head went fuzzy, her memory dimmed and suddenly she realized she was being referred to the maternal fetal specialty unit at Rush University Medical Center in Chicago.
"We'll get you an appointment," the radiologist said gently. "I'm sorry."
Nicole burst into tears and sobbed into her mother's arms as Grasso asked, "What's wrong? What's wrong?"
"These babies are conjoined," Nicole managed to say.
"What does that mean?" Grasso asked.
"They're conjoined at the head. I don't know what we're going to do," Nicole sputtered.
"God gave you these babies," her mother told her. "They're meant for you."
Chris' words helped Nicole gain some strength. Eventually her tears stopped flowing and, with hopeful determination, she began to research.
The twins were called "craniopagus twins," meaning they were conjoined at the head, a phenomenon that occurs just once in every 2.5 million births.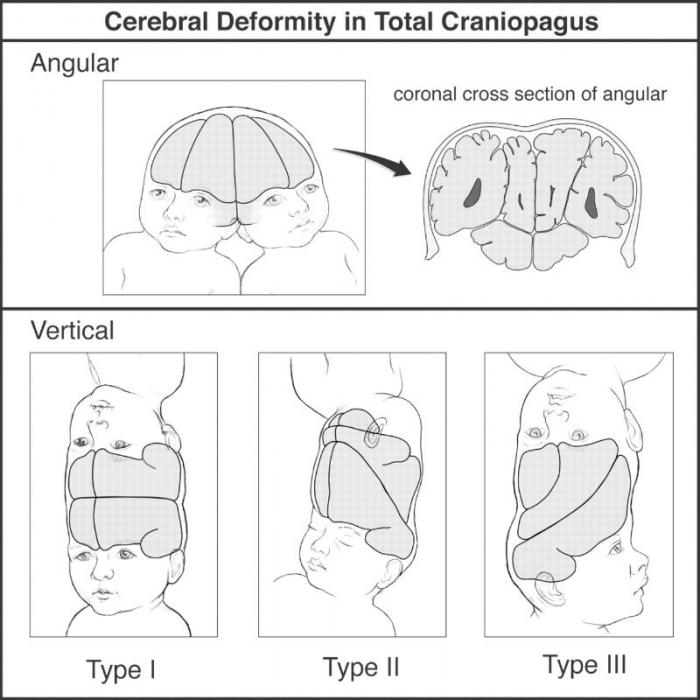 Cerebral Deformity in Total Craniopagus (James L. Stone, James T. Goodrich/Brain: A Journal of Neurology).
National statistics revealed around 40 percent of carniopagus twins are stillborn and an alarming one-third of those who survive die within 24-hours of birth.
If carniopagus twins survive past a day, there remains an 80 percent chance they die before two-years-old if they are not safely separated.
Distraught with the outlook but hopeful for the children she knew God created for her, Nicole made the difficult call to her husband.
Christian answered on the first ring.
She shared the news and he wept in fear for his wife, for the twins and for all the unknown factors.
"Don't worry," Nicole said, trying to console him. "We'll figure it out. I've already been on the computer."
The couple read up on other cases, Nicole kept a journal. She carefully documented every doctor and medical department that could offer hope. She called Boston Children's hospital and was referred to Dr. James Goodrich.
Each doctor's visit was carefully recorded up to 20-weeks, then the couple was asked the one question all parents fear: Did they want to "terminate" the pregnancy?
Friends and family, all of whom meant well, claimed an abortion would be the "merciful" thing to do.
Christian admitted, "I even had to think about it because I didn't want to make some rash decision."
The couple prayed on it and knew they could never kill their unborn children.
"I heard their heartbeats," Nicole said.
The pregnancy continued with several check-ups and the McDonalds often prayed for healthy babies, which they learned would be boys.
On September 9, 2015, the boys were born nearly a month early via an unscheduled C-section.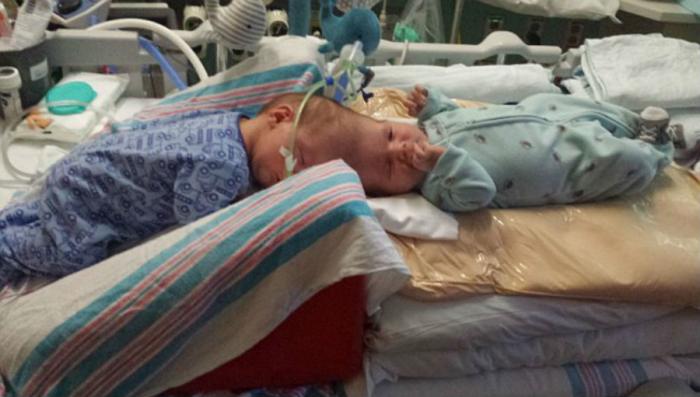 They were born like any other babies – just conjoined (Facebook).
"They were normal little boys, like any other two little babies you would see — except for being conjoined," Christian explained.
The couple originally chose the names Caiden, meaning "warrior," and Tavis, "twin," but Christian searched "100,000 Baby Names" at the last minute and discovered the name Anias, which is a Hebrew name meaning "God answers."
Anias was the perfect match for another name they'd discussed, Jadon, meaning "God has heard."
Christian stared at his beautiful sons in the neonative intensive care unit and believed God spoke, so he listened.
Jadon and Anias beat the odds and not only survived their birth but also survived the 24-hour mark. The McDonald family grew accustomed to the boys' disability to develop at the normal rate but the twins were loved by all.
Over the course of the following year, Nicole and Christian were forced to stop working full-time and moved from Illinois to the Bronx in an effort to be closer to the hospital.
Nurses help the couple out 16-hours each day but the family continued to struggle. They often tend to their eldest child, 3-year-old Aza, to ensure he is not lost amid the constant attention his younger brothers require, but he has grown noticeably quiet and often goes off to play on his own.
Meanwhile, the twins are unable to do the normal things children learn, such as crawl or sit up on their own. There are no specialty car seats or strollers for the boys so any trips in a vehicle require the babies to be laid carefully on the floor of the vehicle.
The McDonalds are consumed by caring for their boys and live entirely on the generosity of others. They often receive packages of clothing for the children while strangers send checks.
One donor has been a generous contributor to the hospital and has been helping the family cover living expenses.
The necessary surgery to separate the twins is estimated at $2.5 million. The McDonalds' health insurance will cover most of the cost but not all, so they set up a GoFundMe page to help offset costs.
They ask for $100,000 and in the past 13 months they have received $282,597.
"They're so perfect," Nicole said of her boys. "They're beautiful, and they are so funny and so happy…I could almost keep them like this."
Christian agreed, saying, "[W]e like them the way they are."
The McDonalds knew the risks before the twins were born. They had a time limit and early last Thursday morning, Jadon and Anias were wheeled down the pediatric corridor at Children's Hospital at Montefiore Medical Center in the Bronx to be surgically separated.
Dr. James Goodrich, whom Boston Children's Hospital recommended, was called to separate the twins, though the couple struggled with the decision.
"This is so hard," Nicole admitted. "I'm not going to sugarcoat it."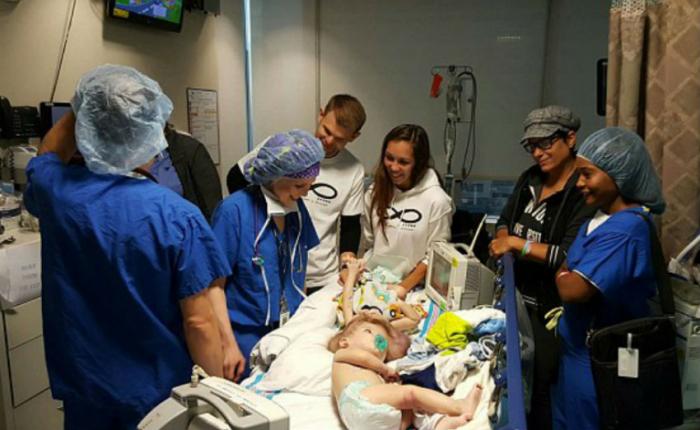 The boys were ready to be separated (Facebook).
She stated: "[I was] going through a grieving process, because I've only known them" joined together. She ran her fingers through a swirl of hair the boys share on their foreheads and admitted she would miss being able to do that.
The McDonalds said they pray often and also turn to their minister.
"I don't know what the answer is to my prayers yet," Nicole said through tears.
Christian began to question whether separating the boys was the right thing to do but family and friends helped him see why the twins would be better off on their own.
"I can't wait to see them as two separate little boys," Christian later realized. "That's what excites me the most. I just really want to know my boys."
Dr. Goodrich, who is considered the world's leading neurosurgeon for twins conjoined at the head, admitted, "This is about as complicated as it gets."
He held a 3-D printed model of the boys' conjoined brains. They share 1.5 to 2-inches in diameter of brain tissue, meaning statistically they could be killed or suffer long-term brain damage in one or both boys.
Dr. Goodrich said there was hope, adding, "The boys will forever have a second birthday" to mark the day they were separated.
"They go back to a 1-month-old," he said of the boys after they recover from surgery. "They have to learn to sit. They have to learn to roll. They have to learn to walk. They basically go through a yearlong period of a second infancy."
Nicole was a pediatric physical therapist before quitting her job to become a full-time caregiver to her children. She has been preparing the boys to be separated by working with them on their motor skills.
Christian admits they know the surgery can result in "one or both twins" being "neurologically challenged, or they can have a mental or physical handicap…We know that is definitely a real possibility, but we're still going to love our boys."
Anias suffered difficulties with feeding and breathing as well as having vision and heart issues. At one point, he even suffered seizures but they seem to have passed.
Dr. Goodrich prepared for the surgery, which was his seventh of the kind. He served as a consultant on thirteen other cases around the world and has performed three operations over the last year to begin the separation process.
Four tissue expanders were placed in their heads to stretch the skin and allow it to be sewn together after the separation.
"So far, everything's gone beautifully," Dr. Goodrich announced.
Roughly a week before the separation surgery, Dr. Goodrich and Dr. Oren Tepper, a plastic surgeon who will reconstruct the boys' skulls and stitch their heads closed, met to discuss the surgery.
"This is a once-in-a-career case," Dr. Tepper admitted. "I have all the skills, all the training to be able to do this."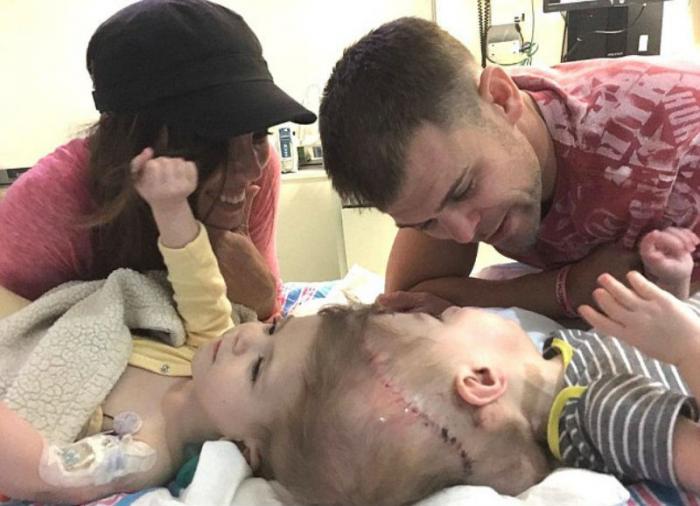 The boys were ready (Facebook).
The doctors used 3D images of the boys' shared skull to determine exactly what they were working with before even having to go inside.
"I know the vascular system we have to go through is complex," Dr. Goodrich explained. "It's big. It's doiable, but it's going to be tedious…When you're doing a reconstruction like this, even when you're working on cranial-facial reconstruction, there's a lot of guessing…[With the new 3D printing technology,] you're no longer guessing."
As the day approached, Christian admitted, "We just feel good about the outcome."
"I'm prepared mentally and emotionally," Nicole shared. "It's just the preparation for that day that is hard."
The 27-hour surgery was performed at roughly 7:15 Thursday morning.
Daily Mail reported the surgery was conducted over a period of 27 hours but resulted in two beautiful individual baby boys.
On Sunday, for the first time, Nicole held one of her sons.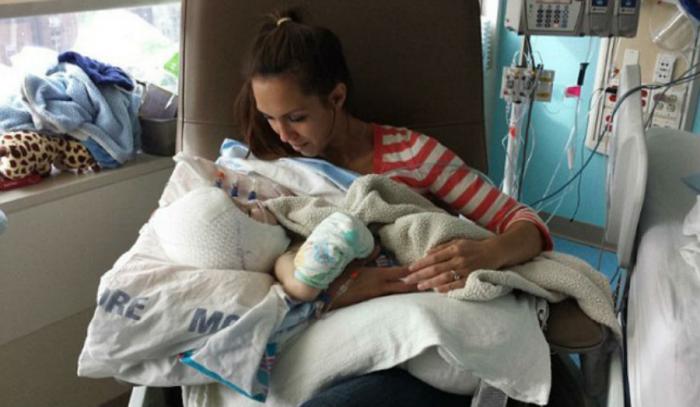 The boys were successfully separated (Motefiore Medical Center).
"For over 13 months, I've dreamed of this moment," Nicole wrote on the GoFundMe page. "I looked down at Jadon's angelic face and saw him in a way I'd never seen him before. He whimpered for almost the whole two hours I held him because he had just been extubated, had the area under his scalp washed out and had been weaned from the good pain meds.
"But instead of wrapping my body around him in his bed, I wrapped my arms around him and rocked. One of the most profound moments of my life."
As predicted, Anias was slower to recover than his brother. He remains on a breathing tube but is on his way to recovery.
When Christian arrived at the hospital, he was unable to hold Jadon, as the child was too fussy to be held again, but he admitted he was happy Nicole had the chance to hold their son.
"I was just happy Nicole got to hold him," Christian said. "She's been longing to hold him since the day the twins were born. That's a very special moment for a mother to share."
Sadly, Anais is showing signs he will suffer more severe disabilities than Jadon, but the McDonalds keep praying for  healing.
---