Many of the Vatican's Cardinals were openly upset at the erection of a McDonald's within sight of St. Peter's Square – until the fast food chain revealed its charitable side.
Many have celebrated the controversial chain after charity groups teamed up with McDonalds to help shelter and feed the homeless near the Vatican.
An association of doctors who volunteer to help the homeless joined the charity Medicina Solidale. Together, they approached the Vatican McDonalds to request help "beyond the controversy" with a donation of "some food to give to the homeless of St. Peter's."
Gianluca Scarnicci, a press officer for the charity, told CNA, "[T]he McDonald's told us yes immediately."
For the past ten days, Rome has been subject to a dramatic drop in temperatures, with more and more attempting to help those who may otherwise freeze or starve to death.
McDonald's pledged to donate over 1,000 meals for the area's homeless over the next six months.
Charity representative Fotini Lordanoglou explained: "McDonald's responded, giving us this chance to help. We absolutely won't resolve hunger but we are trying to give a small meal to people who need it."
On Monday, fifty lunches were provided to the area, with Medicina Solidale hoping to offer 100 meals each week at what they hope will become a permanent project.
Despite the chain's generous donations, many Cardinals still hold hard feelings against it. Rather than a fast food restaurant, they argue the space would better benefit the homeless by becoming a shelter.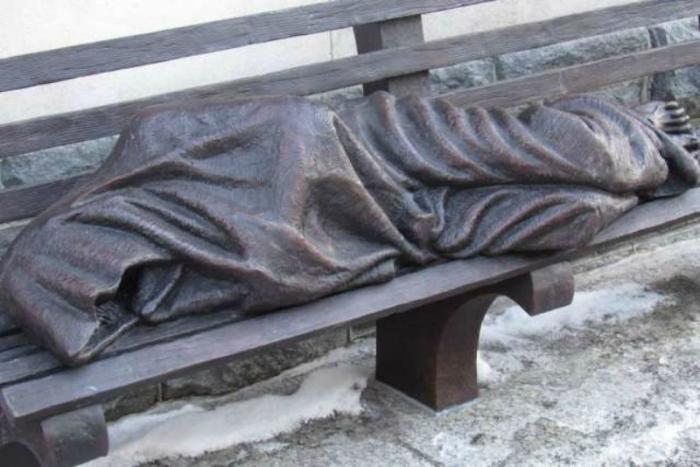 Homeless Jesus statue (Matt Hadro/CNA).
When the idea of opening a McDonald's so close to the Vatican was first proposed, Cardinals living above the area designated for the restaurant were upset.
They were concerned with having such an impractical business in a place better used for small business or other, more practical, reasons.
Though some still believe McDonald's doesn't belong, many are benefiting from its donations of double cheeseburgers, chopped apples and bottled water.
Pierfrancesco Spiga, a 46-year-old Roman who lost his gardening job and has since become homeless, told Reuters: "It would be good if these multi-national companies gave food at the end of the day to poor people who don't have any, instead of throwing it away."
The charity and McDonald's are not the only ones stepping up to help the homeless and needy. The Community of Sant'Egidio opened San Callisto Church to offer a hot meal and rooms for the night.
These rooms offer enough heat, beds, blankets, pillows, toilets and adjoining rooms to accommodate about 30 people each night.
Please pray for God to bless the hands who prepare the food, clean the beds and help the homeless, for it is in the hungry and needy that we find Jesus (Matthew 25:34-46).
---