Jaquie Goncher was only 17-years-old when she was paralyzed from the neck down in a horrible swimming accident. She spent the next eight years in a wheelchair and often turned to God for a miracle.
"I went to a friend's house after work and dove into her pool," Jaquie told BuzzFeed. "I broke my neck and it instantly paralyzed me from the neck down.
"I sustained a spinal cord injury from my C5 vertebrae being completely shattered. I also fractured C1 and C2. After my surgery, the surgeon told my mother and that I would never walk again."
Miraculously, only one month later, she discovered she could twitch her toe.
"[My surgeon] was completely shocked when he heard," Jaquie told the Huffington Post. "I remember when my mom told him he said, 'In her lower extremities? Can I see?!' He was definitely surprised."
Though it was progress, she knew it would be a long road to a full recovery.
"I remember asking my mom if I was going to be in a wheelchair forever…I never believed my doctor." Jaquie told Inside Edition, but the small movement was encouraging and within six months she was able to stand.
Though she could physically stand, walking was another story entirely, leaving Jaquie wheelchair-bound for the majority of the next eight years.
She told Cosmopolitan she was able to walk while leaning against walls but was unable to walk for long due to hypo-tension – a problem with low blood pressure.
"That's what poops out on me before my body does," she explained.
The only way to help raise her blood pressure was to get physically active again but the battle was entirely uphill.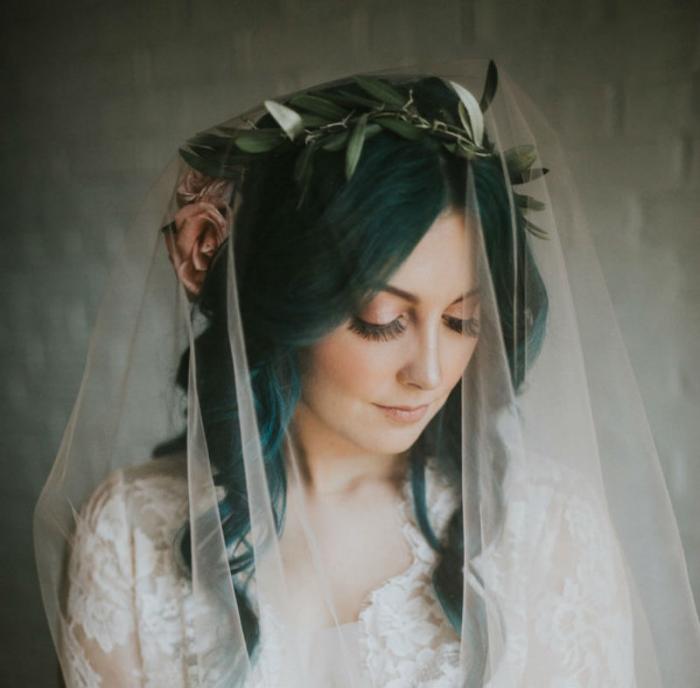 Jaquie refused to stay confined to a wheelchair (Love Stories by Us).
"I would go to the gym and get so frustrated that I wouldn't go back," she recalled. "I was trying to make myself do it but I kept failing at it and then I would be disgusted with myself. But I finally said, 'You have to do this. You're not going to magically get better.'"
She spent years trying to walk to become fully independent of her wheelchair, especially when her long-time boyfriend, Andy Goncher, proposed.
Dreams of walking down the aisle as a symbol of new beginnings with the man she adored became her driving force.
For the entirety of the couple's two-year engagement, Jaquie attended physical therapy sessions, did her best to exercise at the gym and more.
"I was an athlete in high school so working out again and not being able to do the workouts I used to was very emotionally hard for me," she said. "I walked on the treadmill at the slowest pace holding onto the sides and focused on not passing out. I would pull myself with my legs in my wheelchair around the gym."
As she got stronger, she began to plank, lift weights, use the gym's machines to strengthen her abdominal muscles, used bosu balls and, eventually, began to use leg machines.
"I didn't want to waste the miracle that God had given me by just accepting the comfort I'd developed in using the wheelchair," Jaquie explained. "I wanted our wedding photos to symbolically show the long journey I'd been through…[And] I really wanted to enjoy my wedding without the wheelchair."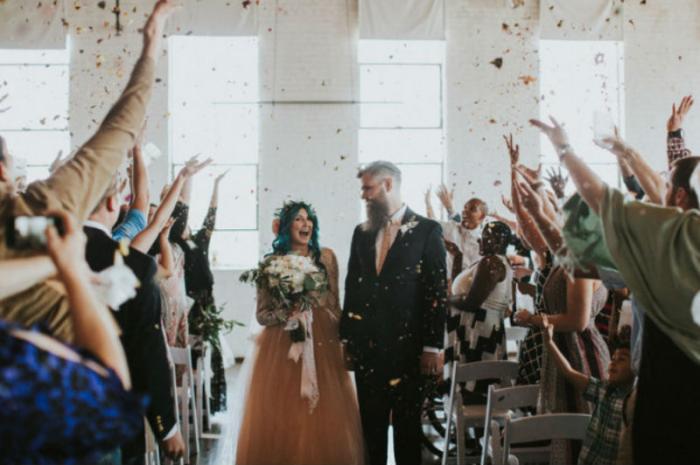 In God, we can do anything (Love Stories by Us).
"The first time I decided to go back to the gym, I got on a stationary bike. You had to have your legs going a certain speed for the machine to stay on, but my legs wouldn't be able to push it fast enough and the machine would turn off. I got so upset that I put my head down on the machine and I just started to cry.
"I was like, 'I can't do this.' I prayed and God said, 'You put in the effort and I will meet you there.' So I just kept pedaling. When the machine would go off, I would laugh and pedal again. It was hard at first but after I got past that first little bump, everything else was a lot easier."
Jaquie continued to work hard to avoid being defined as the bride in the wheelchair.
"On your wedding day, everybody's looking at at you, so you want to feel the most beautiful…I totally believe you can be bomb in a wheelchair, but I didn't want to be defined by that. I wanted to be normal again."
She kept that thought and the Lord's words in her mind as she struggled through workout after workout.
"People would come up to me at the gym and they'd be like, 'You're inspiring me. I was complaining over there and then I saw you.' When people reach out to me and tell me that, it keeps me going. I'm doing it! I'm a gym person now. That was a cool moment for me.
"It makes you feel good about yourself. I felt accomplished that I had actually set out to do something and I was doing it. I was going to reach my goal of enjoying my wedding and being pleased with my pictures.
Finally, Jaquie was able to walk. It began as extremely short distances but she stubbornly held tightly to faith.
"As long as I pursued God and pursued my recovery, [I knew] I would get there. I don't even know if I ever stopped to think that I might not be able to do it. You can't redo your wedding. It's a one-time thing. You're either where you want to be or you're not."
When the big day arrived, Jaquie surprised everyone – the only people who knew she was working to walk were her fiance, parents and very few others.
When it was time for the bride to appear, Jaquie was wheeled in then shocked everyone when she stood and not only walked down the aisle, but danced to every song and was able to walk around during the entire 4-and-a-half-hour wedding celebration.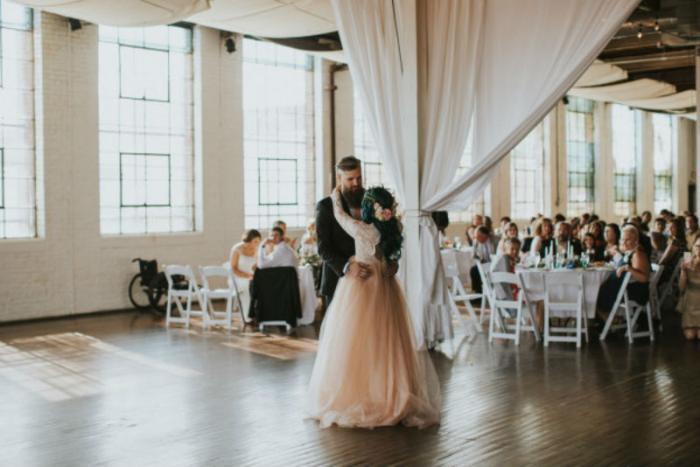 The bride and groom (Love Stories by Us).
"I was completely shocked that I was standing that long," Jaquie admitted. "I think I was just too happy to notice if it was difficult or not. All I can remember is having the time of my life! There were tears everywhere.
"Walking down the aisle felt like a dream. I felt accomplished and just so grateful and thankful. I honestly didn't see Andy because I was too nervous and excited so I stared at the ground almost the entire time. Whoops."
The wedding photographers, Halie and Alec, shared: "Looking back on the photos, we can now see that everyone was just as in awe and emotion as we were. But in the moment, neither of us could look at anyone else but her. We were shooting through tears in our eyes."
Through the tough times, Jaquie said God and Andy remained by her side.
"[Andy] has believed in me and my goals but through it all I always knew no matter what the outcome, he would be by my side. He made it so easy for me to open up to him about all the little embarrassing things that come with a spinal cord injury. He just loved me for who I was from the beginning. I couldn't ask for anything more than that.
"The biggest thing that he did for me throughout the whole process was I had a lot of down moments. He was just there to keep me on it. 'Did you go to the gym today? How was it?' Actively asking how it was going. And then of course on the actual wedding day, he's very shy, so he was terrified to be in front of all those people, but he stood with me the entire wedding.
"I would hold onto his arm and I would drag him out on the dance floor. He was my cane, so to speak, during the wedding, because I would hold on to him the entire time."
After her successful, beautiful and arguably miraculous wedding, Jaquie reports she will continue to strengthen her muscles and work toward a life without a wheelchair.
"It's been really emotional," Jaquie explained. "Sometimes I don't realize how miraculous it is that I am walking. When you're seeing something evolve up close, it looks like it takes longer. But for other people that come in and see you every once in a while, they're like, 'Wow! You're doing so much better!' And I'm like, 'I guess?' You can't really tell. But this experience reminds me of what a miracle it is that I can walk now."
---