Homeless man attacks officers with meat cleaver
A 32-year-old man threatened then attacked NYPD officers with a meat cleaver pulled from the waistband of his pants in the middle of a busy New York City street.
Akram Joudeh was living in a white Nissan Sentra in New York City. A career criminal, Joudeh was found to have several charges against him, including larceny, criminal possession of stolen property, criminal mischief and unauthorized use of a vehicle.
When he discovered his illegally parked vehicle had a boot on one tire, he became enraged and attempted to remove the wheel lock.
He kicked at the boot and around 5 p.m. Thursday night, two officers noticed his antics. They approached him and Joudeh pulled a meat cleaver from his waistband.
He taunted the officers with the weapon for a moment before running up Sixth Avenue.
According to New York Daily News, an MTA worker, who spoke under the cover of anonymity, explained: "He was running down the street, waving [the knife]. The cops were chasing him."
Off-duty Detective Brian O'Donnell was on his way to Penn Station when he witnessed the chase and joined the pursuit.
The two officers pulled their guns on Joudeh and, with help from O'Donnell and other officers who joined the chase, surrounded the knife-wielding man outside a store between Sixth and Seventh Avenues.
Richard Dewald, a registered nurse, witnessed the frightening scene.
"[O'Donnell] ran down the sidewalk past me," he stated. "I was standing next to where the cops were standing with their guns."
Witnesses claimed the officers called for Joudeh to drop the weapon.
Officer James O'Neil reported Joudeh refused to put the cleaver down so they used a stun gun, which had no effect.
Joudeh leapt onto the front grill of a squad car, prompting O'Donnell to take action.
John Miller, NYPD Deputy Commissioner for Counterterrorism, explained: "The detective ran from across the street and knocked him off the car and pushe[d] him into the UPS truck. That's when the suspect [slashed] him in the face with the meat cleaver."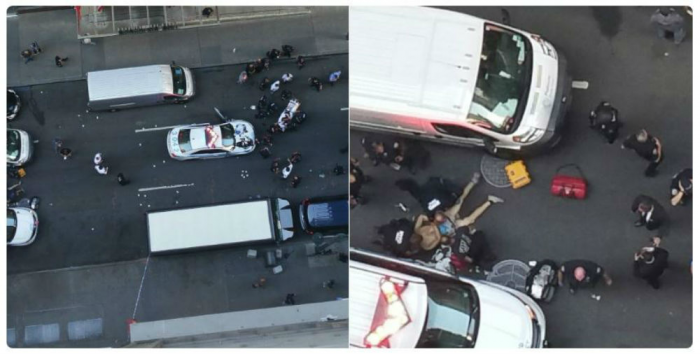 Joudeh was shot by officers when a stun gun failed to drop him (Myles Miller/Twitter).
In the ensuing scuffle, another officer was grazed by the weapon and officers opened fire.
O'Neill reported 18 total shots were fired.
"He had just attacked an off-duty officer who had a 6-inch gash on his face," O'Neill stated. "He had an 11-inch meat [cleaver]. They fired until the threat was stopped."
Witnesses claimed: "They shot him up. He was hit five or six times. He was laid up on the sidewalk. It looked like he was dead."
The normally busy streets were abandoned as commuters and tourists ran for cover.
"There were a bunch of people running with cell phones," Dewald recalled. "The block was very crowded with people getting off work."
New Yorkers are used to quite a cacophony on the streets but Christopher Okada, one of the witnesses, explained: "Honestly we didn't think anything of it at first. Someone in the office was like 'that was gunshots.'"
When all was said and done, three officers and Joudeh were rushed to Bellevue Hospital.
O'Neill reported Detective O'Donnell was "in good spirits" and O'Donnell stated, "I'm all right. I may have a little scar, but I should be all right."
Joudeh was in critical condition and underwent surgery. His current condition remains critical.
J.J. Williams, a 19-year-old former neighbor of Joudeh's, admitted, "I always knew there was something wrong with him. He didn't like police."
Commissioner Bill Bratton commended the officers and stated: "The officers fired sufficient rounds to stop the attacks on the officers. I want to commend them for their bravery and performance."
—
wpsd_autopost:

1