News
Homeless man blessed by complete stranger one cold winter night – sound familiar?
Everyone sees the homeless and poor holding signs. Some divert their eyes while others offer food or money. For 23-year-old Joey Resto, turning away wasn't an option and money wasn't enough.
After work, Resto took the downtown "A" train to his Brooklyn home when he noticed a homeless, shirtless man shivering from the cold.
At the time, New York was about 45 degrees, leaving Resto to question what the man's story was.
"He looked cold, hungry…like he had just gotten beat up," Resto told ABC News.
Resto know what he had to do.
He removed his white shirt and offered it to the man, who was so cold he could only ask for help putting it on.
"He looked so weak and frail," Resto shared. "I had to help him or he would not put it on."
As he helped dress the man into the shirt he had just taken off his own back, Resto had no idea someone was filming the interaction.
The homeless man keeps his hands bunched into fists and slowly raises his arms to allow Resto to dress him.
Then Resto walks away.
The man appears to make himself more comfortable in his seat when Resto returns with a black beanie. He puts it on the man's head, says something, then returns to his seat.
The passenger who recorded the scene immediately posted it to their Facebook page and captioned the video "#1 Beautiful moment in the NYC subway."
It was shared over 260,000 times and earned over 300,000 likes with over 14 million views in just a few days.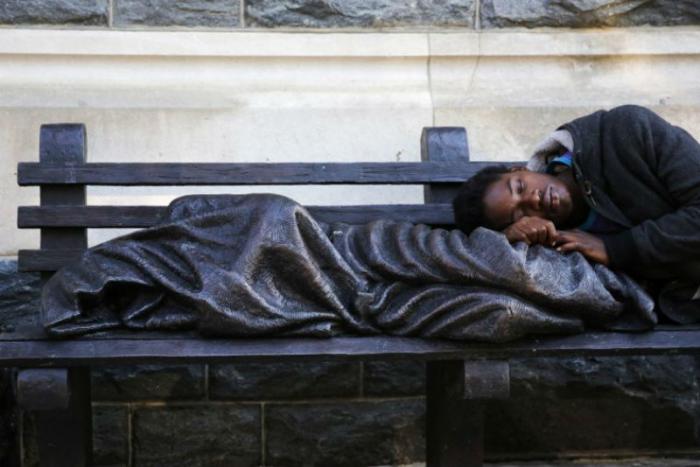 Help the homeless (Reuters).
Resto said he gave what he could at the time but "still felt bad" he couldn't offer anything warmer.
"It just came from the heart," he explained. "I don't know how anyone could have walked past him and had extra clothing and not given it to him."
Resto's girlfriend Yanisleidy Martinez said he is a "giving" and "caring" person who goes above and beyond to help anyone who needs it.
"Everyone just gives money," she said. "This time he did something different."
The couple often offer food or cash to homeless people but this time Resto offered so much more.
"He noticed something was wrong when other people were just staring, and he did something about it," Martinez explained.
When Resto's stop came up, he considered waking the man, who had fallen asleep after the gift of clothing, but decided against it, thinking he "didn't want to disturb" him.
After discovering the viral video, Resto asked the community of anyone recognized the homeless man or even the person who took the video so he could treat them to a coffee.
The event transpired in January 2016 but since then, several acts of kindness have been captured on pedestrian cameras.
Resto may not started the latest trend of helping others but he is certainly responsible for his own strong sense of morality.
If more people gave from the kindness of their hearts, the suffering of those the world normally ignores can decrease significantly.
The Bible calls us to help those who are in need and it will always be our responsibility as believers to give what we can to those without.
Some are too afraid to approach others but there are several simple ways to help. Volunteer at your local soup kitchens, donate food to food banks, the next time you clean out your closet, donate the gently used clothing to shelters who freely give to those in need.
For more ideas, visit Catholic.org's 5 ways to give.
By Kenya Sinclair