Carrie Lou Rausch is a very grateful 108-year-old woman after her community rallied together to save her life
For the last three years, Rausch has been living at the nursing home Sunrise on the Scioto in Columbus, Ohio.
She lived in comfort and attributes her longevity to good nutrition and always keeping a positive outlook.
The greatest flaw Rausch experienced this year was her dwindling bank account.
Susan Hatfield, Rausch's daughter, told CNN her mother lived in the same home since she married and raised her family until she was 105-years-old.
After selling the home, she moved into Sunrise on the Scioto but was forced to spend additional money for medical expenses.
"She fell a couple of times, and the last fall she broke three ribs," Hatfield explained. "I was still working full time, and my brother was working full time. It was a situation where she needed a little more monitoring than we could provide.
Suddenly, Rausch found herself relying on Medicaid, which Sunrise on the Scioto did not accept.
"I knew at the time that they didn't accept Medicaid, but the facility was one she was familiar with," Hatfield said. "Another family member had been there, and she used to visit. It's close to all the family.
"I decided to move her there, knowing that ultimately they didn't accept Medicaid. The honest thing to say is — I didn't know she'd live this long."
Hatfield  told ABC: "To put it delicately, I didn't know she would have live[d] to be 108, and towards the end of last year, I knew she was getting low on funds."
Due to her new financial dependency, Rausch faced a forced move to a Medicaid-funded facility. Hatfield explained: "I was looking into Medicaid-funded facilities that she could move to, but most of what's out there were not really what she is used to now.
"I visited a couple of nursing homes, and the room … felt a lot more like a hospital than a home. It was a lot more impersonal than the setting she had right now."
Though she wasn't pleased with the facilities, Hatfield did say she was grateful Medicaid "had this last resort option if it came down to it."
Still stuck facing a decision between facilities, Hatfield admitted her mother gets about $1,000 in Social Security each month, but her facility charges $4,000. That was when Hatfield decided to try one last-ditch approach.
She created a GoFundMe account.
At first, the campaign received a few donations, mostly from friends and family, but when the local news station caught hold of Rausch's situation, everything changed.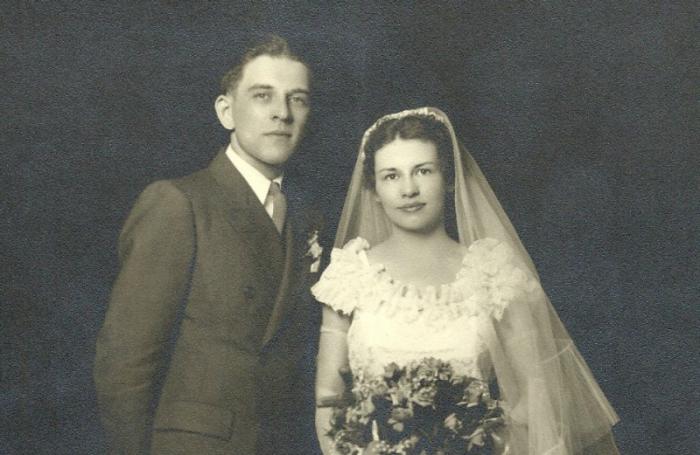 Carrie Lou Rausch with her husband, Paul, on their wedding day (Susan Hatfield).
The station covered Rausch's 108th birthday on Jan. 3 and shared her story. When news spread, hundreds of complete strangers started donating to the account.
Eight-hundred donors raised the goal amount to $40,000, which will pay for one year at Sunrise on the Scioto. By Wednesday morning, 958 people raised $56,775.
Five days ago Hatfield wrote: "My whole family and I are so incredibly grateful for the support and generosity of all those who have allowed us to reach and exceed our goal.
"What an amazing testament to the existence of basic human kindness in a time when it sometimes seems in short supply. We are going to leave the site open for a while even though the initial goal has been met.
"It's certainly not out of the question that mom has more than one active year left in her amazing life, and the additional funds will remain available for expenses into the following year.
"As explained in the original description, any unused funds will be donated to her church, of which she has been a lifelong member. Again, we thank you all so very much."
Hatfield remains grateful to everyone who helped financially or by simply spreading the word.
"It's a tremendous relief," she stated. "Without this, I was going to have to sit Mom down and tell her she had to move, tell her she was out of money.
"At this point she does not know she was running out of money. Why should she worry about it for weeks and months? Today, I am going to sit her down and tell her about it, tell her that people heard her story and … wanted to help her. And that is just amazing."
When asked why Rausch is unable to live with her daughter, Hatfield replied the friends and activities available at the facility do wonders to keep her mother happy and strong.
"They provide more for her there — more safety — than I could provide for her here (at home)."
In response to the amazing donations, Sunrise Senior Living, which manages Sunrise on the Scioto, released a statement saying: "We are so pleased that Ms. Rausch will remain at our community and are moved by the outpouring of support for her and the entire team who care for her.
"It is always our hope and intention that all of our residents remain here for as long as they wish, and we strive to support our families to help make this possible."
After Hatfield sat her mother down and explained the amazing story, Rausch recorded a thank you message that was posted to Facebook.
When asked what her reaction was to the amazing support, Rausch says, "Well that made me feel wonderful that I have a lot of people who care. I want to say Bless you, all, and I appreciate it and I really, really thank you!
"It's a blessing and you're all a blessing to me and to all of us."
By Monique Crawford