Articles
How many of these 10 little-known facts about St. Nicholas do YOU know?
In honor of St. Nicholas' feast day, December 6, take a moment to see how well you really know the beloved saint.
Every boy and girl knows Jolly Old Saint Nick, after all, he is the snowy-bearded, rosy-cheeked gift-giver children traditionally expect to visit them each year – but how many of us know him as more than that?
Most know St. Nicholas was a friendly man who brought joy to the children in his hometown with gifts – but there is so much more to the Saint than the secular world gives him credit for.
Check out these ten little-known facts to see how well you know Saint Nicholas:
St. Nicholas' name is of Greek origin
Did you know Nicholas is the Greek name for "People's victory?"
Much like Christ, St. Nicholas lived his life helping and loving others – Certainly a victory for the people!
St. Nicholas' bones weep Manna
Since his death 17 centuries ago, a pure liquid known as the Manna of St. Nicholas, or St. Nicholas Manna, has flowed from his bones.
Every May 9th, during the Feast of the Translation of the Relics of St. Nicholas, a Dominican priest collects the manna in a glass vial to be used to bless the Christian faithful.
St. Nicholas learned to give and serve from his generous parents
St. Nicholas' parents both served the ill, which resulted in their deaths. St. Nicholas was their only child and inherited everything, leading him to become a sort of philanthropist who often gave anonymous gifts throughout his home in Patara, Turkey.
The idea of modern-day Santa Claus was born of nuns taking note from St. Nicholas
Inspired by St. Nicholas' great heart, French nuns in the Middle Ages continued his tradition of giving anonymous gifts at night to needy families and children.
The next morning, families would discover small pouches of coins, food, or treats.
When asking who gave the gifts, the nuns would simply say, "It must have been St. Nicholas."
This anonymous gift-giving eventually became tradition, which is part of what led to modern-day Christmas celebrations.
Chocolate coins are a symbol originating with Saint Nicholas
In honor of St. Nicholas' gifts of coins, North America continues to provide chocolate coins in gold foil wrappers, usually placed in Christmas stockings for children to discover the following morning.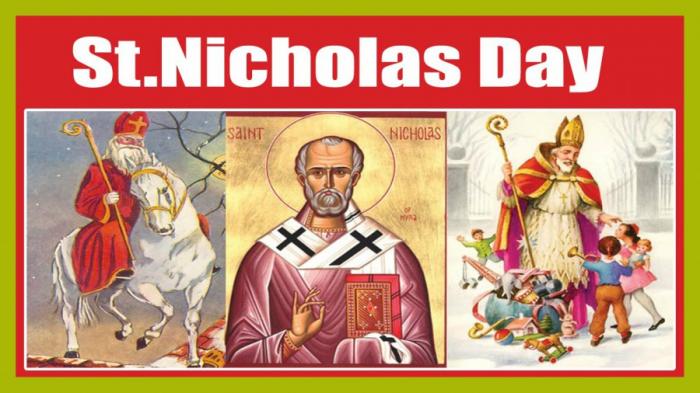 Saint Nicholas is more than just a jolly man who brings gifts to children (YouTube).
Candy canes also have origins in honor of St. Nicholas
Candy canes are actually croziers, the bishop's staff, of St. Nicholas, or as the Dutch call him, "Sinterklaas."
The Dutch are responsible for the change from St. Nicholas to Santa Claus
When the Dutch brought traditions of "Sinterklaas" to North America in 1621, when they founded New Amsterdam.
English settlers later made the name sound more like what we're used to hearing today – Santa Claus.
St. Nicholas was imprisoned for SEVEN YEARS
St. Nicholas was tortured and imprisoned for his faith until the first Christian emporor gave religious liberty to Christians everywhere.
St. Nicholas is sometimes called the "boy bishop"
St. Nicholas was made a Bishop of Myra at only 30-years-old, prompting many to dub him the "boy bishop."
St. Nicholas was not always offering anonymous gifts
There are records of St. Nicholas intervening on behalf of three men who were falsely condemned to death.
When they were to be killed, St. Nicholas risked his life by grabbing the sword from the executioner's hands. He threw it upon the ground and demanded the men be set free.
He had such authority that the executioner left his sword where it fell and later, the man really responsible for the crime the three men would have died for, sought forgiveness from St. Nicholas and confessed his sin.
St. Nicholas forgave the man and absolved his sin – after he underwent a period of repentance.
By Kenya Sinclair