Christians remain the most persecuted religious people in the world – so if a terrorist attack occurred at your Church, home or in a public place near you, what techniques do you need to survive?
Believers around the world are being treated with hatred by dominant religions, armed Jihads and suspicious heathens.
So what can you do to protect yourself?
Catholics are not the only ones in danger of terror attacks but it is still important to know what to do in emergency situations.
Officer Scott Wilson, an anti-terror expert and appointed National Counter Terrorism Coordinator, spoke to Daily Mail to share survival tips in the event of a terrorist attack.
The first tip is a simple one: Act fast.
"The people who are there to carry out these terrorist attacks are there to kill you and your Western lifestyle," Wilson warned.
Following the Paris attacks, British police began the campaign "Run, Hide, Tell."
Wilson said many people confuse what the campaign means but shared, "We're hoping this strategy can help to save more lives in the event of an attack."
But what does this mean?
He explained the campaign in more detail: "Run, for example, means don't hide under a table or play dead. Run out of the building. Don't try to negotiate.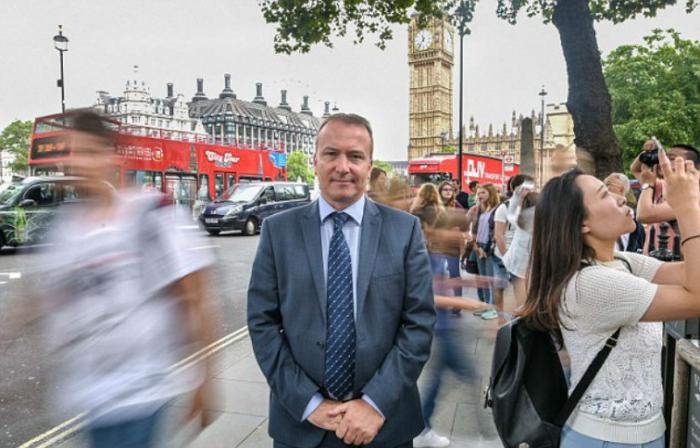 Scott Wilson create a guide to help people survive terror attacks (SWNS).
"Hide means that if you can't get our of the building, barricade yourself behind a steel door, stay quiet and turn your phone on silent.
"Then tell – phone the police as soon as you can, give exact locations, what kind of weapon the terrorist might have had, are there any casualties."
Wilson explained "Run, Hide, Tell" is: "about remaining calm and getting yourself to a safe place. The examples might be really simple but how many people would think of these actions when they're in that situation?"
Terrorist attacks incite terror, meaning as soon as a gun is fired, someone cries "Allahu Akbar" or a bomb is spotted, people begin to panic in fear.
Wilson said it is best to always be "alert but not alarmed" in public places.
He worked with Greater Manchester Police to create a video, in which he outlines nine crucial ways to survive an attack:
You need to stay alert but not alarmed
There is no point staying to negotiate
Get yourself away from the danger zone
Try and hide within a building behind steel doors
Use properties where you can barricade yourself in
Don't hide behind a desk or a normal wall
Keep quiet
Call 911
Get detailed information out as quickly as possible – how many offenders? What type of weapon? Are there any casualties?
It is important to be specific and give exact locations to help authorities and first responders properly prepare and arrive to the scene faster.
Don't forget, once you've run away and called the authorities, prayer can calm you and help you think straight. We must always remember the power of prayer – it is our most potent weapon and best defense.

By Kenya Sinclair