News
Matthew forms in the Caribbean and will track over Bahamas. Will Florida be hit?
Tropical storm Matthew has formed in the Caribbean and appears likely to brush the east coast of Florida. The storm is on track to strike most of the islands in the Caribbean.
Tropical storm Matthew has formed and is taking aim at Cuba. The storm is presently south of Puerto Rico, moving west at 16 MPH. The storm will turn north when it is south of Cuba and track up through the Bahamas. There is a small chance it could strike Florida.
The storm now has maximum sustained winds of 89 MPH. \
So far, the storm, which has passed through the Lesser Antilles, has not produced any casualties or caused any major damage. Power was knocked out in places on the island of Barbados.  About 90 people were evacuated to a shelter on St. Vincent. Those people were in danger from flooding as the storm was expected to drop 8 inches of rain on the island.
The pacific nature of the storm could change as it turns into a category 2 hurricane on Friday, south of Cuba. The storm is large, spanning about 500 miles, so it will cut a wide path.
People in the storm's path are being advised to prepare and to remain indoors when the storm arrives.
Cuba, Haiti and Jamaica are all in the path of the storm.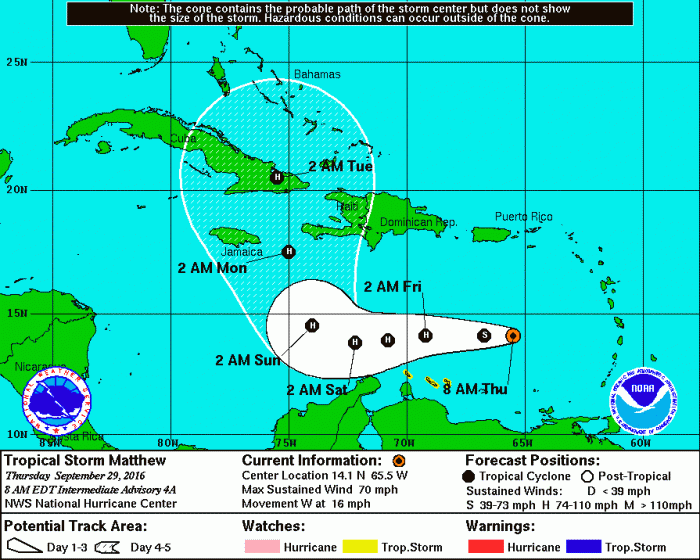 Tropical storm Matthew is expected to turn north and hit Cuba as a category 2 hurricane.
The storm is likely to impact the east coast of Florida, although it is difficult to predict how serious it will be. If the storm passes far enough away it will mostly just impact the beaches. Distant storms can produce dangerous rip currents and erode beaches with waves.
However, it is possible the storm could track closer to Florida, in which case it will rake the coast. Such an event could be destructive. However, no models suggest this is likely. At present, all forecasts call for the storm to pass over the Bahamas.
Hurricane season lasts until November 30, but it peaks in September. October is much less active.
There have been 13 storms in all so far with four of them becoming hurricanes. Matthew will be the fifth of the season. This year storms have claimed 74 lives and done half-a-billion dollars worth of damage.
---