For the first time since "The Passion," Mel Gibson has taken the director's chair to produce another faith-based film.
"Hacksaw Ridge" is based on the inspiring true story of Desmond T. Doss, a Seventh-day Adventist and WWII hero.
Doss enters the army but refuses to handle a weapon, understandably garnering misgivings from peers and superiors alike.
Overcoming the abuses of his peers and reacting to his superiors' threats of expelling him from the Army with a dishonorable discharge, Doss becomes his units medic.
It is through faith and healing that Doss not only survives a bloody battle in Okinawa, but he also saves several soldiers using methods so courageous that he is later awarded the Medal of Honor.
At a recent screening of "Hacksaw Ridge" at the Sheen Centre for Thought & Culture, a forum for discussion and the arts governed by the Archdiocese of New York, Gibson told the audience:
"It's a very inspiring story and it seemed to be perfectly suited to the cinema. It's a love story, not a war film.
"I wanted to accentuate who Desmond was in the midst of this maelstrom of violence that reduces most men to the level of animals.
"He was armed only with his faith, and went in and put his life on the line for his brothers. Who could possibly go into a situation like he did without something bigger to believe in?"
When speaking of directing, Gibson explained, "I had this vision of a Norman Rockwell painting jammed up against a Heironymus Bosch painting. You had ideal, sweet and innocence, and then you had hell.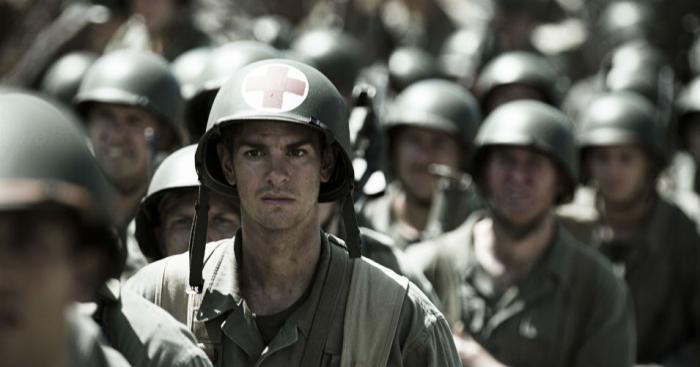 Hacksaw Ridge.
"You take the same people into the other painting. It's the death of innocence, and I wanted to give people an idea of what that feels like, and what our veterans suffered as a result of combat situations."
Doss was wounded in the Okinawa battle but lived to be 87-years-old and passed away in 2006.
In an interview with the Catholic Herald, Gibson shared: "Desmond's biggest hero was Jesus, and he was trying to emulate him in any way he could.
"'Greater love hath no man than to give up his life for his friends,' which is what he did – again and again and again.
"He crawled into very dangerous and perilous situations to save others, which is the most selfless act of love you can have. In that sense he emulated Christ perfectly."
Robert Schenkkan, Pulitzer Prize-winning playwright, co-wrote the screenplay for the film with Andrew Knight.
Joining the stage at the Sheen Centre, Schenkkan described Doss as a positive role model, particularly for men: "He embodies the Christian ethos, which is all about subordination of self to a higher power, compassion, and self-sacrifice. And I think that is a really important image of masculinity to put out there right now."
"Hacksaw Ridge" opened to a $14.75 million weekend and has a Rotten Tomatoes audience rating of 96 percent.
Many praise the film for its "brutal battle scenes" and describe Doss as "the embodiment of a true American Hero."
Peter Travers of Rolling Stone agrees, writing: "What's clear is that Gibson has made a film about family, faith, love and forgiveness all put to the test in an arena of violent conflict – a movie you don't want to miss."
By Nikki Crawford