News
Miracle in Nigeria – 82 Chibok schoolgirls RELEASED by terrorist group Boko Haram
In April 2014, the world was stunned when 276 schoolgirls were kidnapped by Nigerian terrorist organization Boko Haram.
The mass kidnapping made headlines as the girls' desperate families begged for the safe return of their children.
As time passed, the few who were rescued or escaped shared horrifying stories of their lives in captivity, but they survived nonetheless.
Now, three years after their horrifying abduction, 82 of the young women have been freed following negotiations to have Boko Haram suspects returned to the terror organization.
According to BBC, the girls arrived in Abuja on Sunday and were received by President Muhammadu Buhari.
The girls appeared to be physically healthy, with the exception of one, whose arm was broken.
Upon arrival, the girls were taken into the custody of the Nigerian army and were driven to a remote military base in Banki.
Enoch Mark, a Christian pastor whose two daughters were kidnapped in 2014, told Agence France-Presse: "This is good news to us. We have been waiting for this day. We hope the remaining girls will soon be released."
Mark and the other family members who lost their daughters remain hopeful their children are among those who were returned.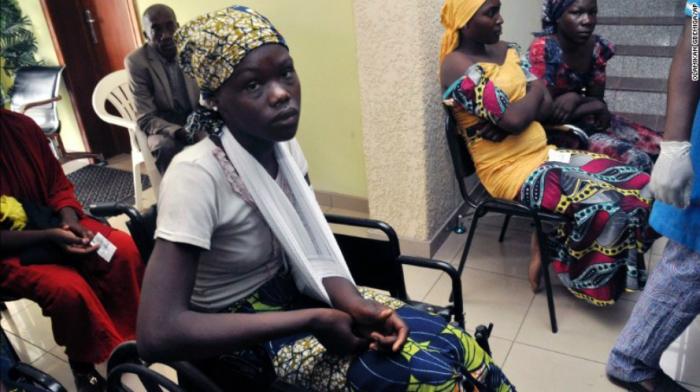 One of the girls had a broken arm upon her return but most appeared to be healthy.
Yana Galang, whose daughter Rifkatu was kidnapped, said, "I am very, very excited with this development. I cannot even sleep tonight…we're very happy that many have been freed. I hope and pray that my daughter is among these released girls."
It is currently unknown whether their daughters were freed but Mark and Galang remain hopeful.
President Buhari expressed his gratefulness to "security agencies, the military, the Government of Switzerland, the International Committee of the Red Cross, and local and international NGOs" for helping with the operation.
Jason Straziuso, spokesman for ICRC for East Africa, explained: "[Given] our long historical independent neutral stance, it's common for us to be the middle man in hostage releases. We provide transportation from Boko Haram to the Nigerian government. We will continue to meet with the girls and monitor their health.
"Our concern for the girls' well-being will continue in the coming months."
Presidential spokesman Garba Shehu stated: "With all of these things together we negotiated over a period of several months, and at the end of it some of their (Boko Haram's) members were exchanged for the 82 girls."
Alhaji Abba Kyari, the Chief of Staff to the President of Nigeria, was present to receive the girls, who all sat quietly in chairs.
"Welcome out girls, welcome out sisters," Kyari stated. "We are very glad that you are back, and every Nigerian today must be forgetting every other hardship and suffering, because this is a very joyous moment. Welcome, welcome, welcome."
---