News
Newsanchor's rosary and crucifix jewelry stirs up atheist community
Italian anchorwomen Marina Nalesso was criticized for wearing a crucifix necklace and rosary prayer beads while reading the news.
According to the Daily Express, Nalesso has worn such accessories several times in the past without incident.
She has worn Jesus and Virgin Mary symbols and released a statement saying she wears such jewelry "for faith and to make a statement."
On her personal Facebook profile, Nalesso proudly wears both a crucifix necklace and rosary beads around her neck.
She received plenty of support and over 500 "reactions" to the update profile image but some naysayers took to Twitter to condemn her fashion choices.
Radical atheist Silvio Viale, a member of the Democratic Party in Turin, lashed out at Nalesso the hardest.
In a tweet, he wrote: "Even today at TG1 the arrogance of a presenter wearing a rosary around their neck."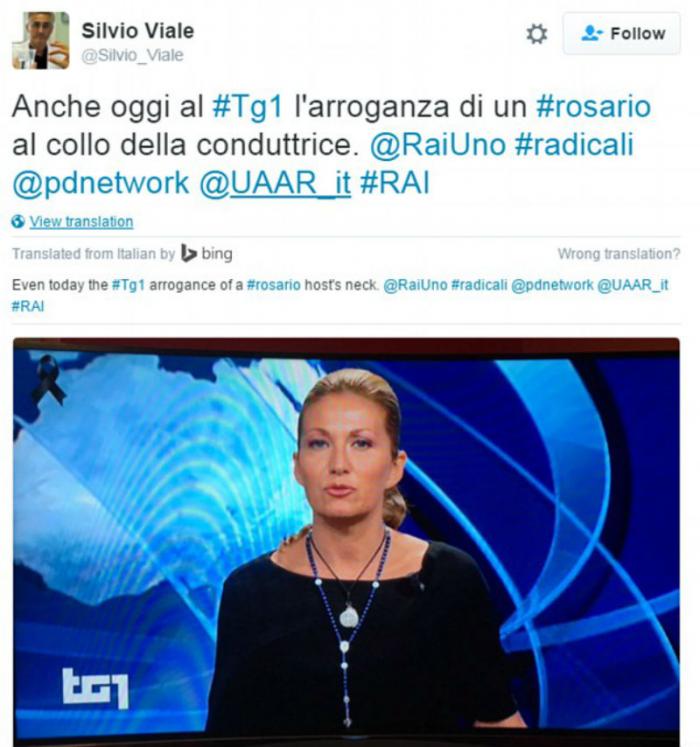 Atheist upset at Nalesso's "arrogance."
Since when was religious freedom considered "arrogance?"
What is truly arrogant is the belief people should hide their religion to make atheists more comfortable.
Many commented on Viale's post to support Nalesso, such as Vana Bojaxhiu, who wrote, "Solidarity with #MiranaNalesso we should be free to practise their [sic] religion."
Not all atheist commenters agreed with Viale and passive-aggressively called her ignorant across Twitter and the station's site.
On the news station's site, one commenter wrote: "I am an atheist, but an intelligent one – and the crucifix doesn't bother me, otherwise I wouldn't live in Italy."
Nalesso claimed she was unable to comment on the controversy as "journalists from RAI are not allowed to give interviews without permission of the company" but if her Facebook profile image is any way to gauge her stance, she is proud to be Catholic and will continue to openly display her faith so long as the company allows it.
---