The oldest living person in the world isn't some rich socialite who spent their life eating a carefully constructed diet – it's actually a Jamaican woman who attends the same parish as Olympic gold medal sprinter, Usain Bolt.
Violet Moss-Brown, affectionately known as "Aunt V," was born March 10, 1900, making her 117-years-old.
She was recently honored by a group of Baptist churches in Jamaica for her service in the children's and music ministry.
According to The Jamaica Baptist Reporter, Violet was the "guest of honor" and was "lauded and cited as a person of exemplary character and an ardent, dedicated and faithful servant of God, who served her church for more than 80 years in varying capacities.
"She was also hailed as a mentor, historian, disciplinarian, business woman, outstanding church and community leader."
Andrew Holness, Jamaica's Prime Minister, congratulated Violet on Twitter, where he wrote: "The world's oldest human is Jamaican Violet Brown, who was born on March 10, 1900. Congrats Violet."
Violet may be elderly, but she can still recall when the first cars and planes came to Jamaica. She remembers the introduction of electricity and water pipes.
Her oldest son is 97-years-old, leaving many to assume it is simply through great genes that Violet has lived so long, but she credits God for that.
According to CBN, Violet said: "Thank God for what he has given to me. This what God has given me, so I have to take it, long life. I've done nearly everything at the church. I spent all my time in the church."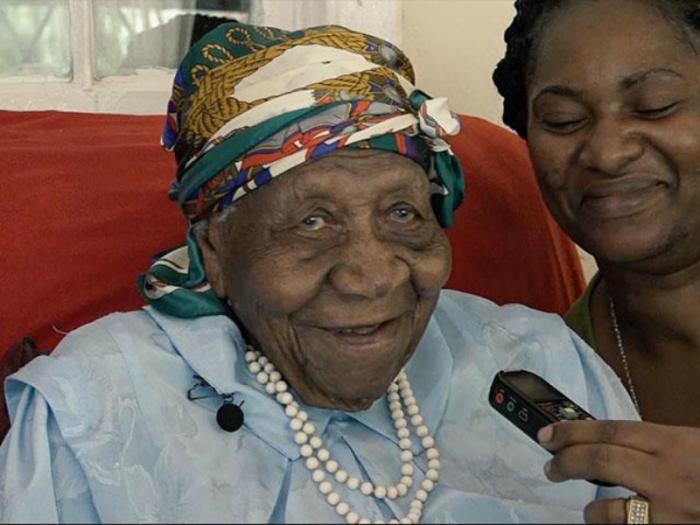 Violet Mosse-Brown, the oldest woman alive, credits God for her longevity.
The Violet Mosse Foundation, which was created to help the elderly in honor of Violet's longevity, explained she was baptized over a century ago at 13-years-old and was raised in the Christian faith.
When asked why she has lived so long, she will proudly state: "My faith in serving God, and believing strongly in the teaching of the Bible."
Her favorite scripture is that which states, "honor your parents that your days on this earth may be long."
But honoring her father and mother isn't the only reason she's lived so long.
Violet explained: "I don't eat pork and I don't eat chicken. But I eat any other things: greens mutton, beef, fish, that's what I eat."
Could Violet's diet play a role in her longevity? Or is it truly because of her faith in serving God? Either way, her long life as a music teacher, seamstress and community activist was certainly well-lived.
Violet is unable to walk for long unassisted, but she continues to serve in whatever ways she can. She is seen as an inspiration to her community and, now, to the world.
---