A sad-looking Pope Francis welcomed President Donald Trump and his entourage at the Vatican Wednesday May 24th 2017.
Melania and Ivanka Trump both wore black dresses with long sleeves and black veils (Melania's dress was Dolce & Gabbana, a possible nod to Italy). Although Pope Francis has not enforced dress code rules for women at private Vatican audiences as strictly as his predecessors did, both women kept to old-school protocol.
This traditional rule holds that most women wear long black dresses with sleeves and mantillas, and only a very select handful of women ― around seven total ― enjoy an exception. These ladies have the "privilège du blanc," or "privilege of the white," which means they're allowed to wear white to such events if they choose. According to the World Heritage Encyclopedia, the queens of Italy, Belgium and Spain, grand duchesses of Luxembourg, and princesses of the House of Savoy have historically been allowed to exercise the privilège du blanc at the Vatican.
There's a common theme: Those are all Catholic royal houses, though not all Catholic royal houses automatically enjoy the privilege, as you'll see in the photos below. And modern first ladies, at least, have strictly adhered to the traditional mandate.
"Per Vatican protocol, women who have an audience with the Pope are required to wear long sleeves, formal black clothing, and a veil to cover the head," the first lady's communications director, Stephanie Grisham, told CNN in a statement.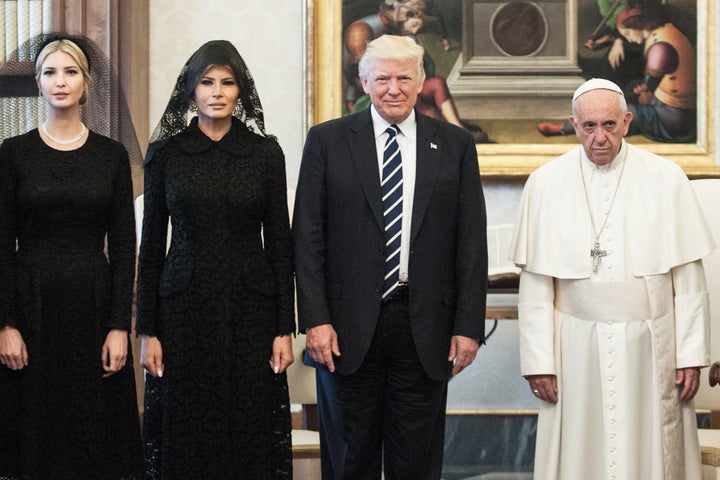 See what other first ladies and royals have worn for audiences with the Pope, including those with the privilège du blanc:Hillary Clinton
Like other first ladies before her, longtime Methodist Hillary Clinton wore black with a black veil to the Vatican. She exchanged gifts with Pope John Paul II alongside her mother Dorothy Rodham in 1994.
Grand Duchess Maria Teresa of Luxembourg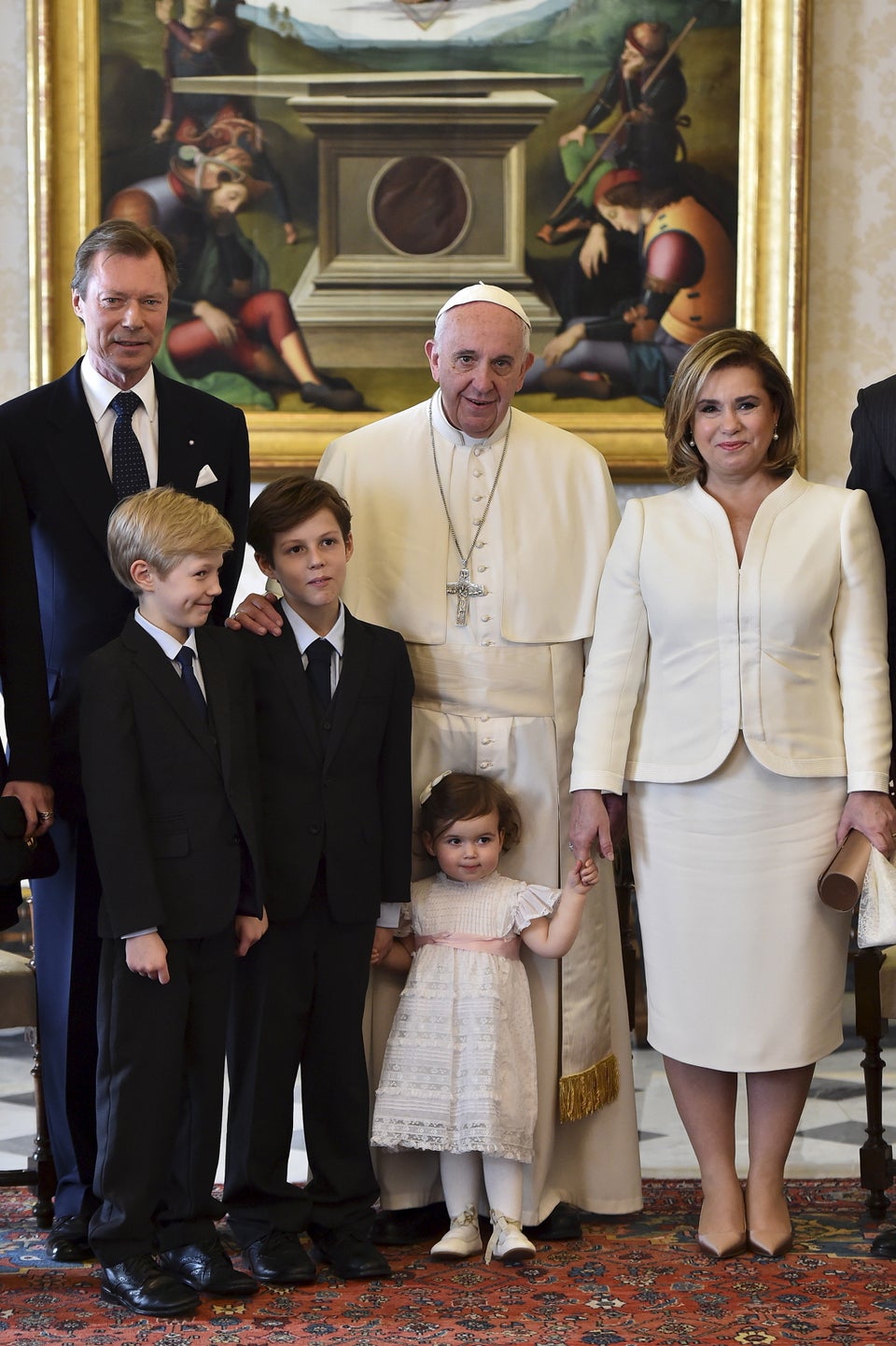 Pope Francis with Luxembourg's Grand Duke Henri, Grand Duchess Maria Teresa and three of their grandchildren at the Vatican in 2016. Women traditionally had to wear a full-length dress when meeting the pope at the Vatican, but that rule has been relaxed.
Queen Mathilde of Belgium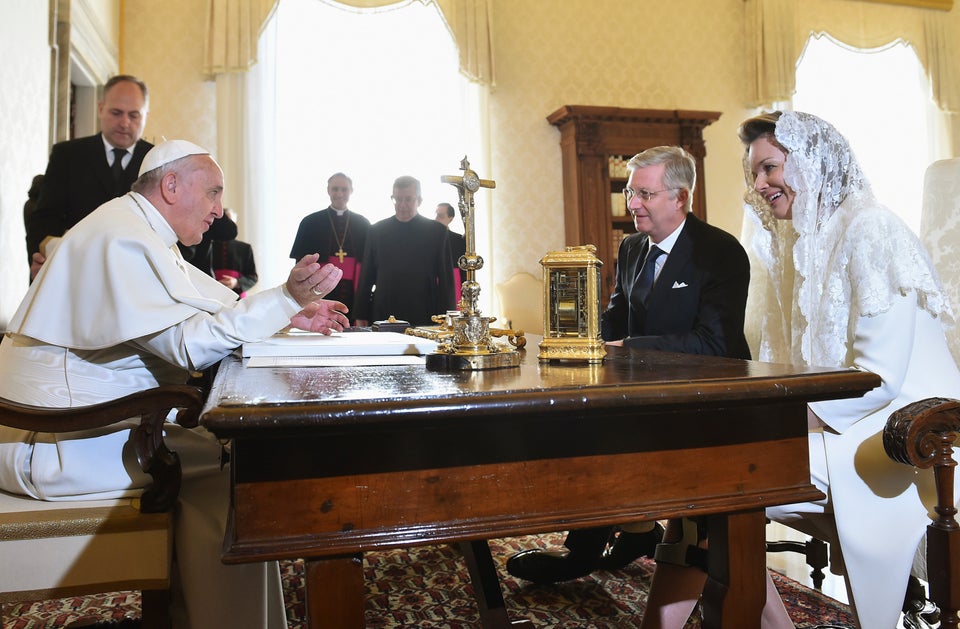 Pope Francis chats with Belgium's Queen Mathilde and King Philippe during a meeting at the Vatican in 2015. As wives of "Most Catholic" monarchs, a hereditary designation awarded by a pope, both Mathilde and her mother-in-law Queen Paola have le privilège du blanc.Queen Rania of Jordan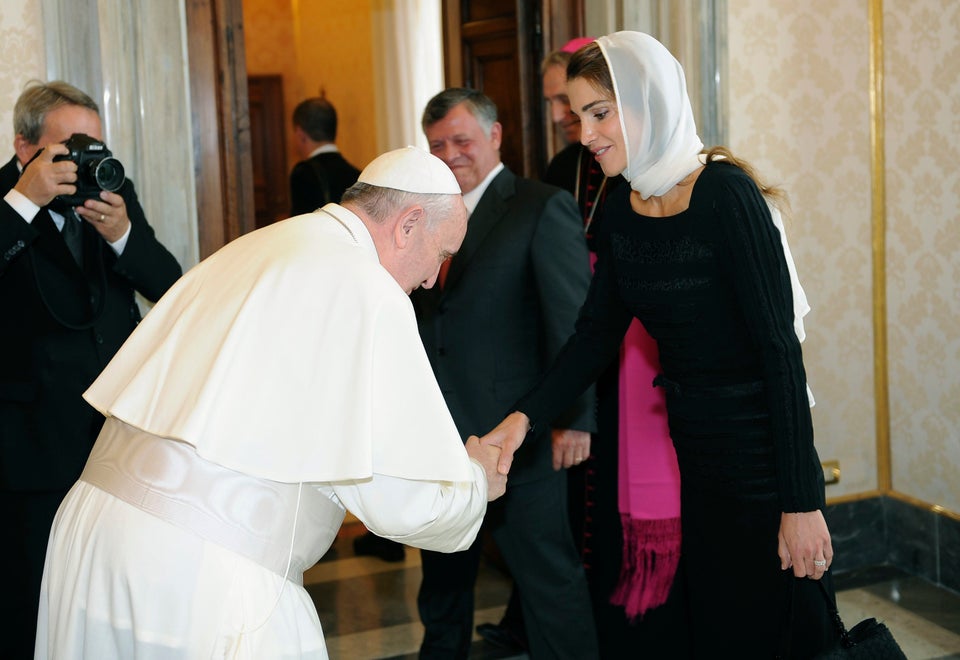 A member of a Muslim monarchy, Queen Rania of Jordan wore black to meet Pope Francis at the Vatican in 2013. The dress code is far more loose when meetings happen in other settings: Rania wore white when receiving the pope in Jordan the following year.Queen Masenate Mohato of Lesotho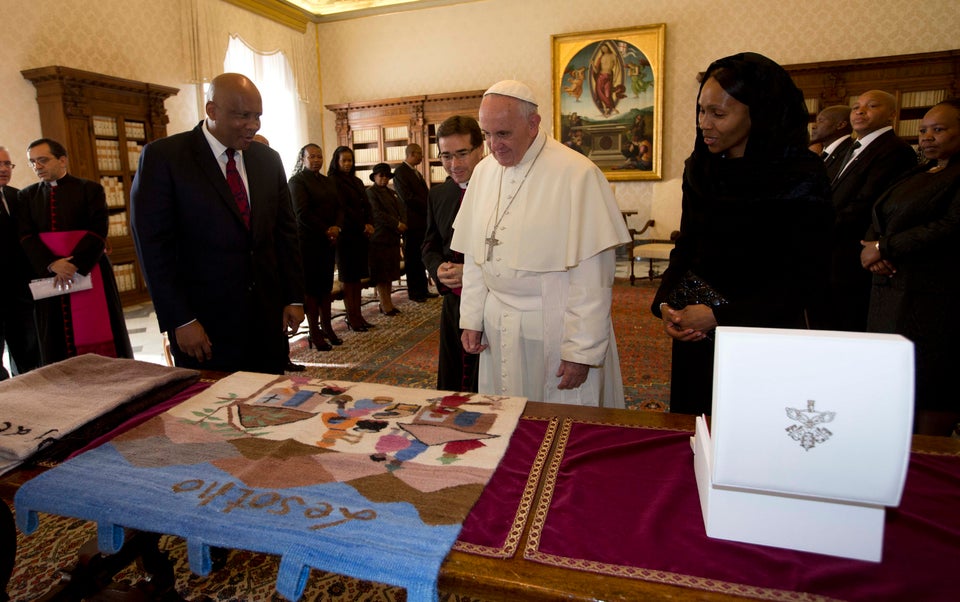 Although she and her husband are Catholic, Lesotho's Queen Masenate Mohato Seeiso does not have le privilège du blanc. She wore black when visiting Pope Francis with King Letsie III at the Vatican in 2013.Queen Elizabeth II of the United Kingdom, Canada, Australia, and New Zealand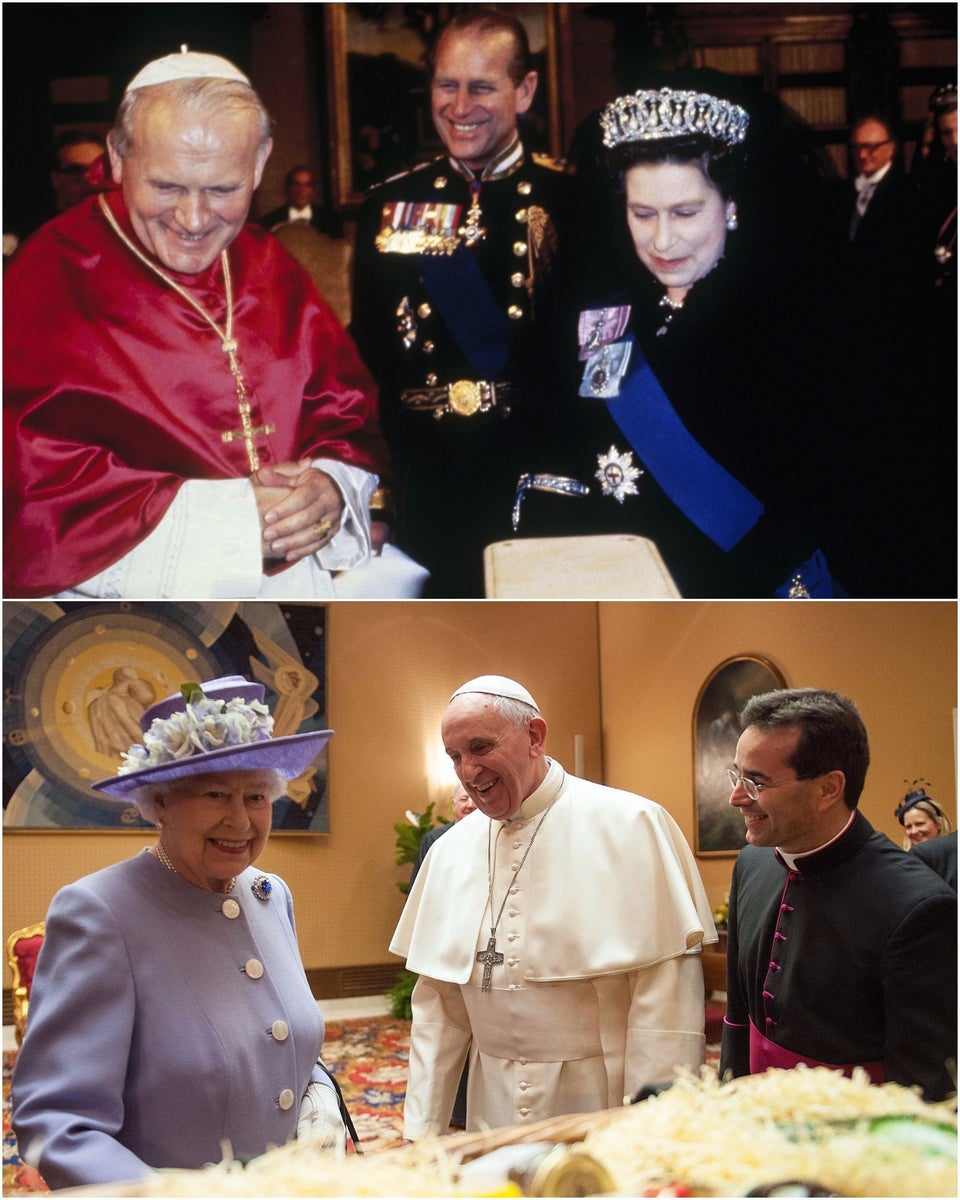 Britain's Queen Elizabeth II presented gifts to Pope Francis in lavender at the Vatican in 2014. The protocol-conscientious queen, who is Supreme Governor of the Church of England, always wore formal black when meeting previous popes at the Vatican — often with a tiara, even! She broke out her color wheel only after Pope Francis relaxed the dress code.
Diana, Princess of Wales and Camilla, Duchess of Cornwall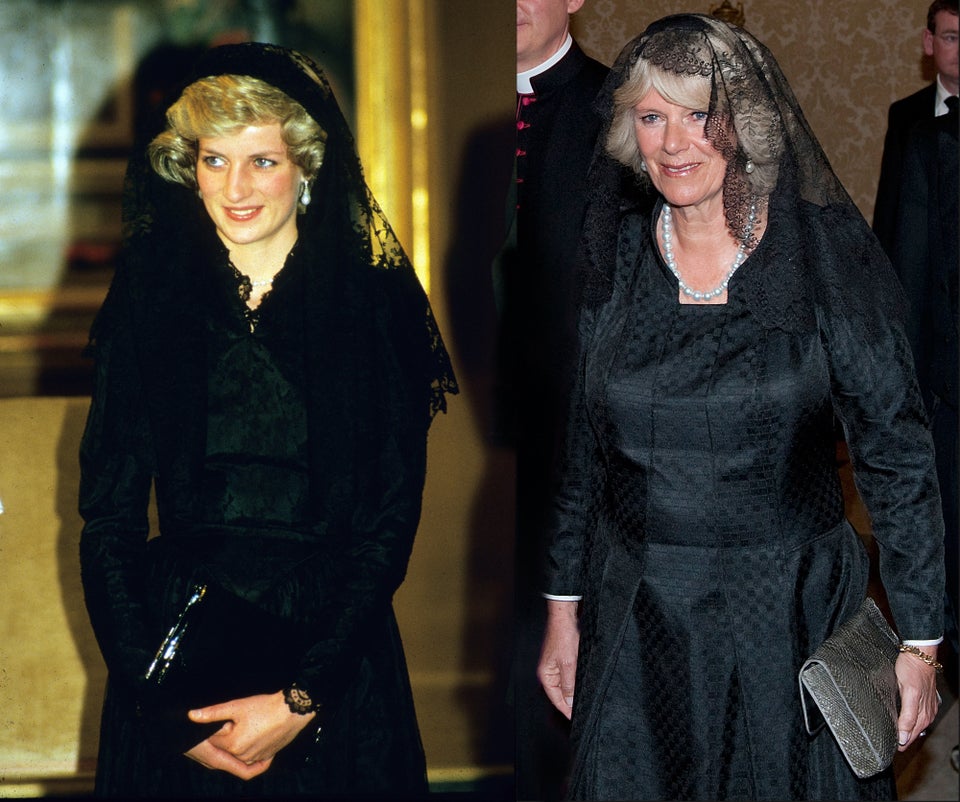 Both Diana, Princess of Wales and Camilla, Duchess of Cornwall wore black as they met Pope John Paul II in April 1985 and Pope Benedict XVI in 2009, respectively. Pope Francis, however, requires less formality: When Camilla and Prince Charles met him at the Vatican in April 2017, she wore a cream coat dress with no veil.
Laura Bush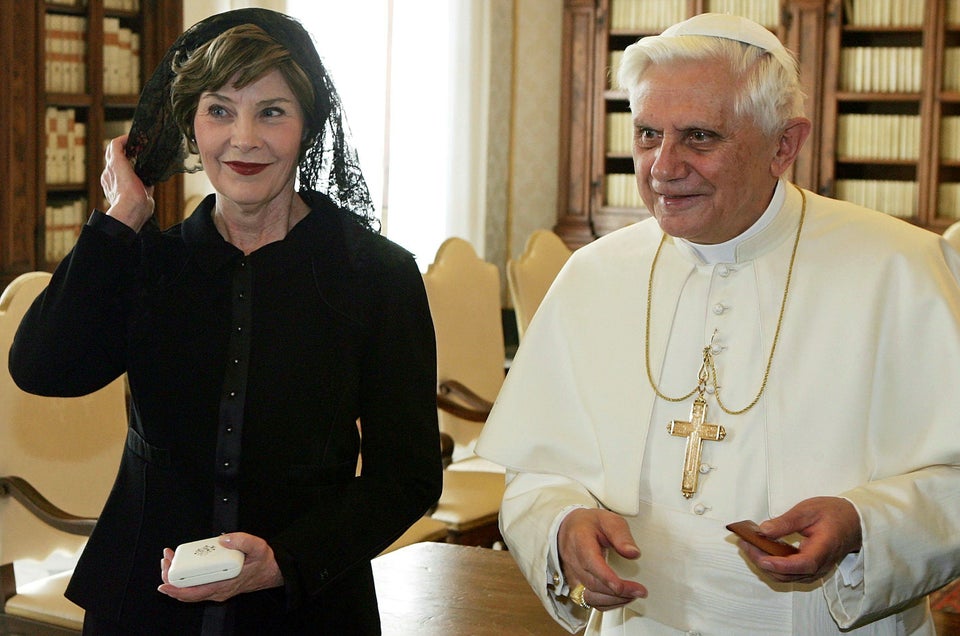 Pope Benedict XVI received Laura Bush in black as the first lady was on her way to the 2006 Olympics.
Princess Charlene of Monaco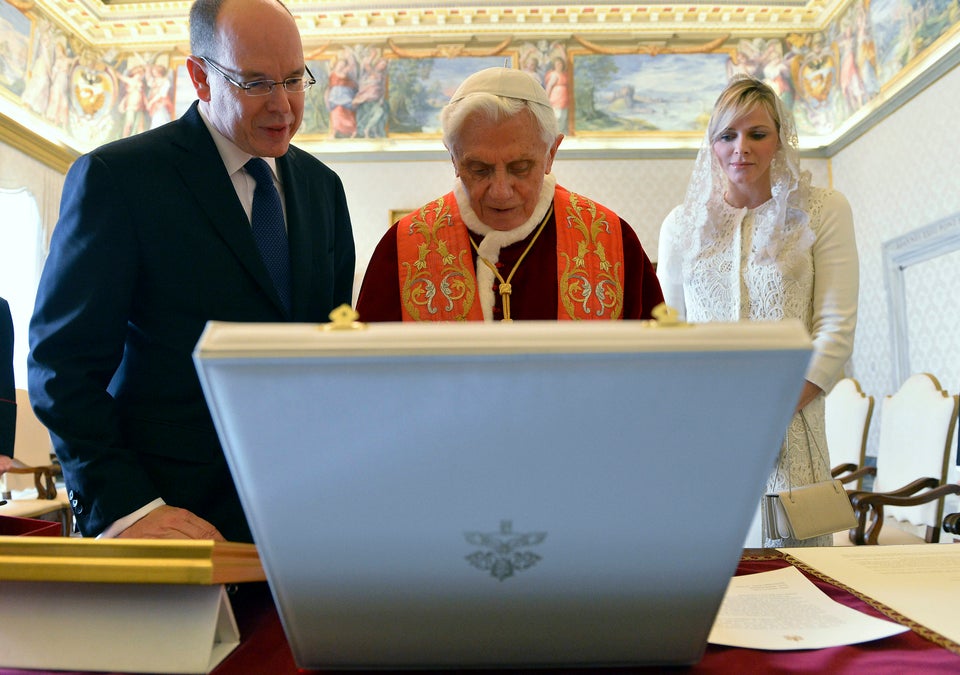 Historically, the wife of the prince of Monaco does not have the privilège du blanc — but after Charlene wore white to this visit in 2013, prompting a few eyebrows to raise, the Vatican reportedly issued a statement that "in accordance with prescribed ceremonial of the Vatican for Catholic sovereigns, the princess was allowed to dress in white."
Princess Grace of Monaco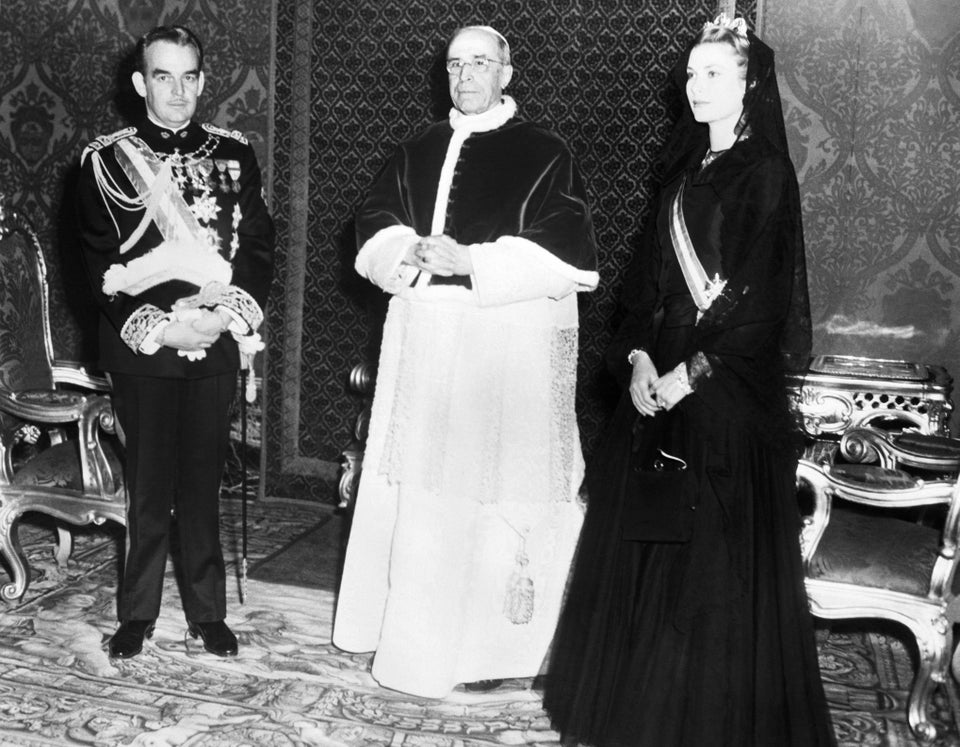 Charlene's late mother-in-law Princess Grace, who was raised Catholic and married into the same Catholic monarchy, never received the privilege. She met Pope Pius XII in 1957 in formal black before she and Prince Ranier prayed at three different altars at the Vatican. Different times, we guess? 
Queen Silvia and Princess Madeleine of Sweden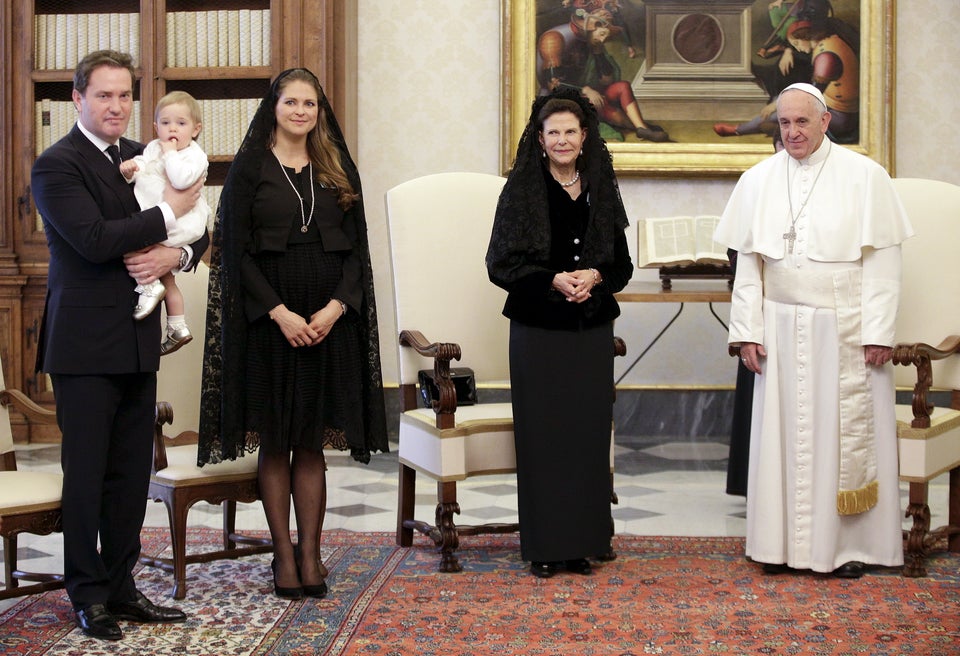 As members of a protestant house, Swedish queens wear black. Here Pope Francis poses with Queen Silvia, her daughter Princess Madeleine and Madeleine's husband Christopher O'Neill at the Vatican in 2015.
Queen Letizia of Spain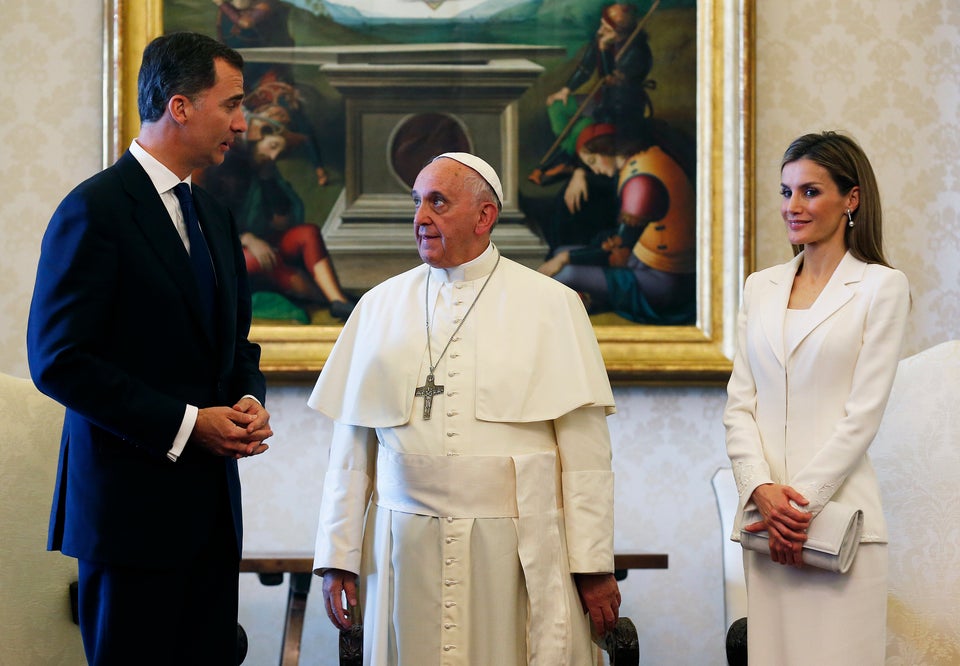 Spain's Queen Letizia rocked business blanc when she and King Felipe visited Pope Francis at the Vatican in 2014. Before she became queen, she wore black.
Queen Sofia of Spain and Queen Paola of Belgium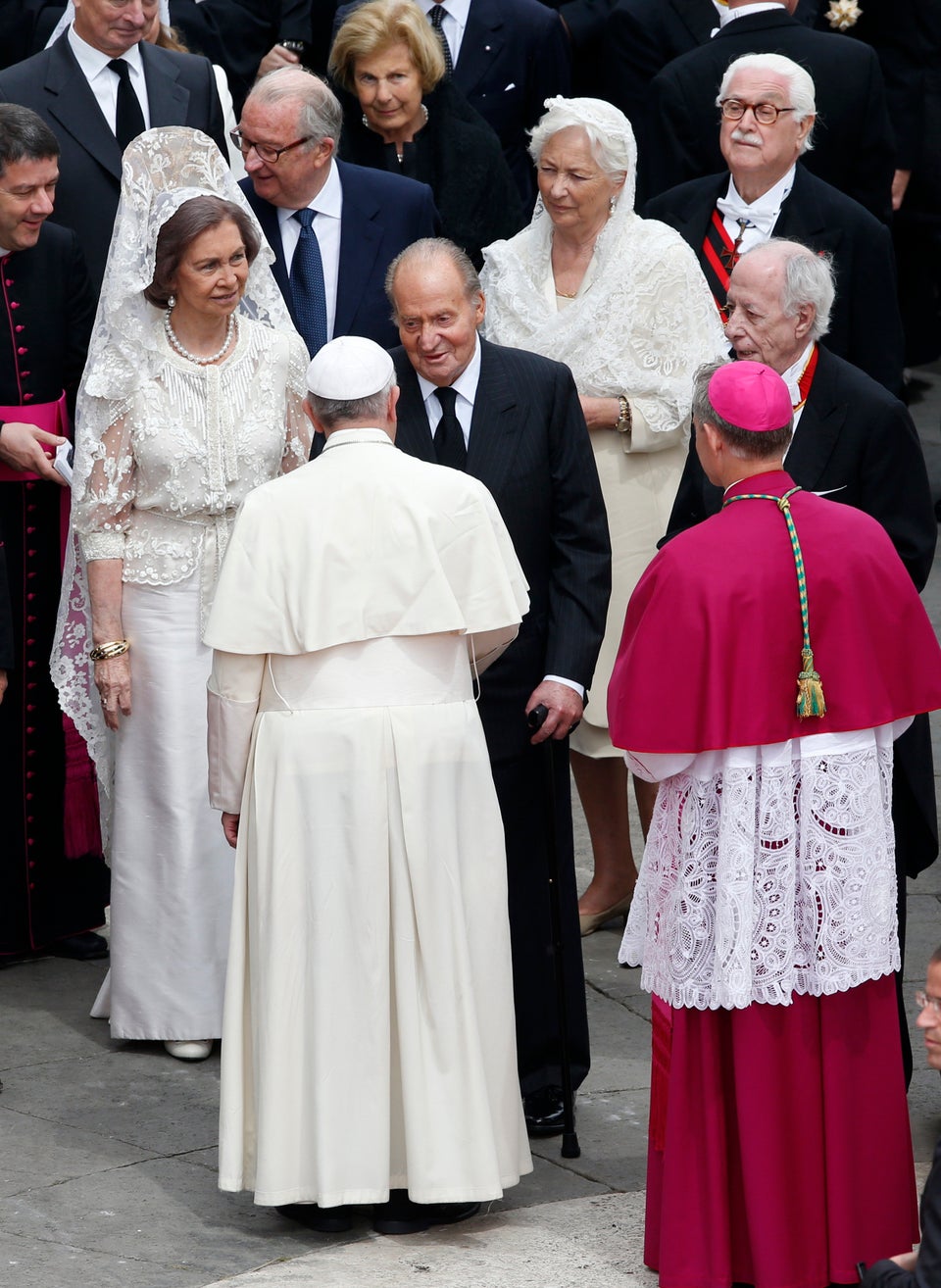 Spain's Queen Sofia and Belgium's Queen Paola exercised their whites at the the canonization of Popes John Paul II and John XXIII in 2014.
Michelle Obama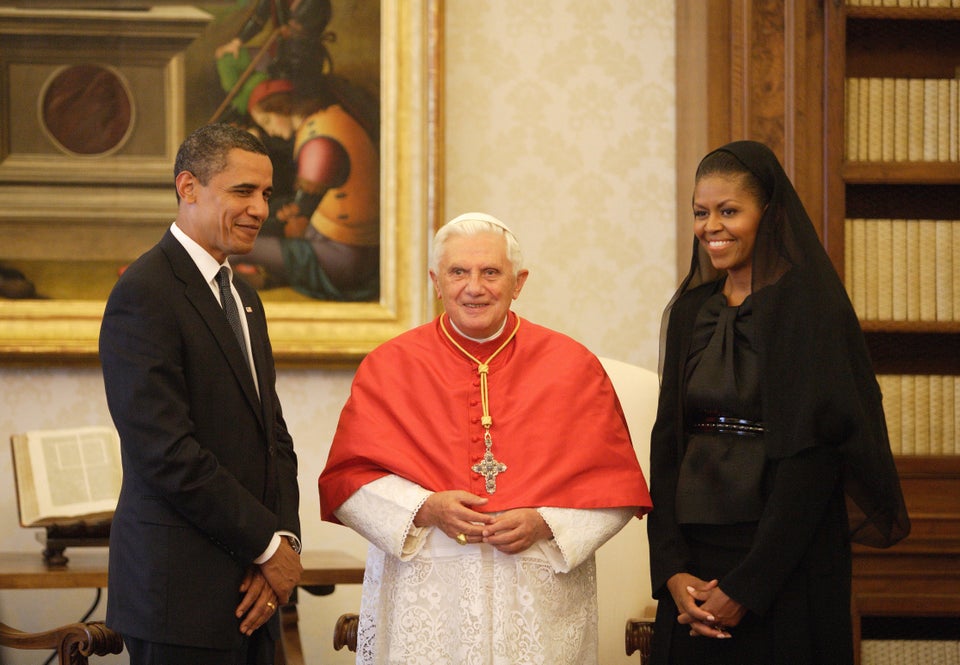 Michelle Obama's first papal meeting occurred with Pope Benedict XVI in 2009 (she and her husband also later met Pope Francis). She followed tradition in black.
Sheikha Mozah of Qatar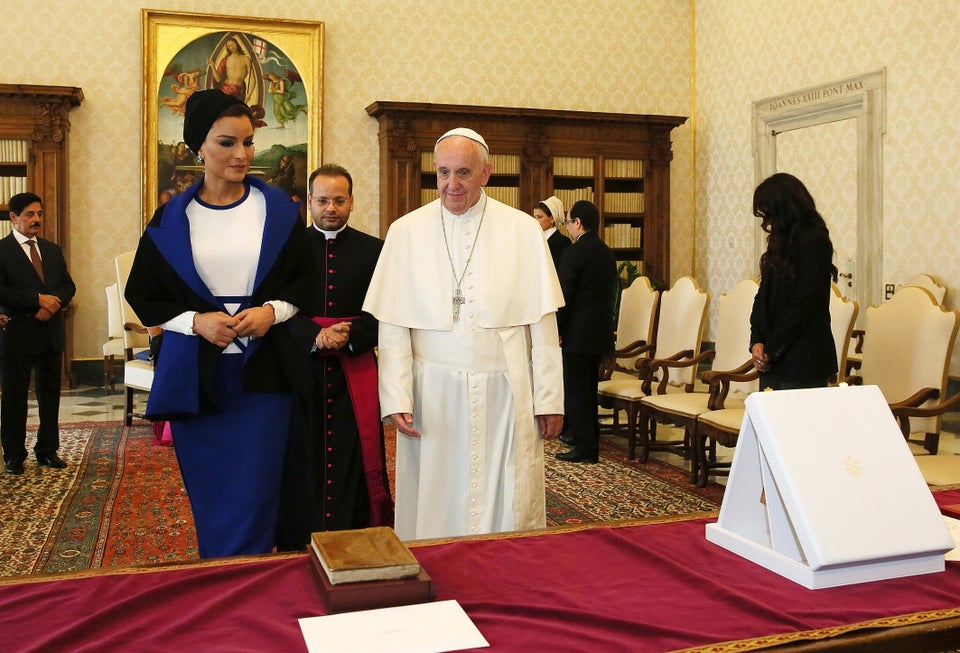 Qatar's Sheikha Mozah wore just a splash of white when she met Pope Francis in his private library in 2016.
Barbara Bush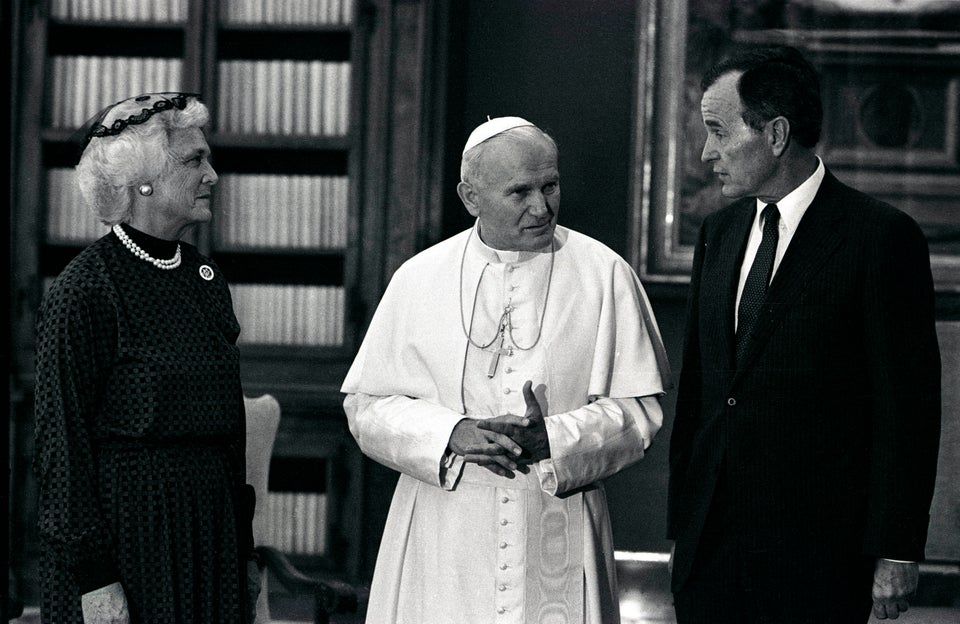 Barbara Bush was meeting with popes back when her husband was "just" vice president. Here she is in a minimalist head covering with Pope John Paul II at the Vatican in 1985.
Jackie Kennedy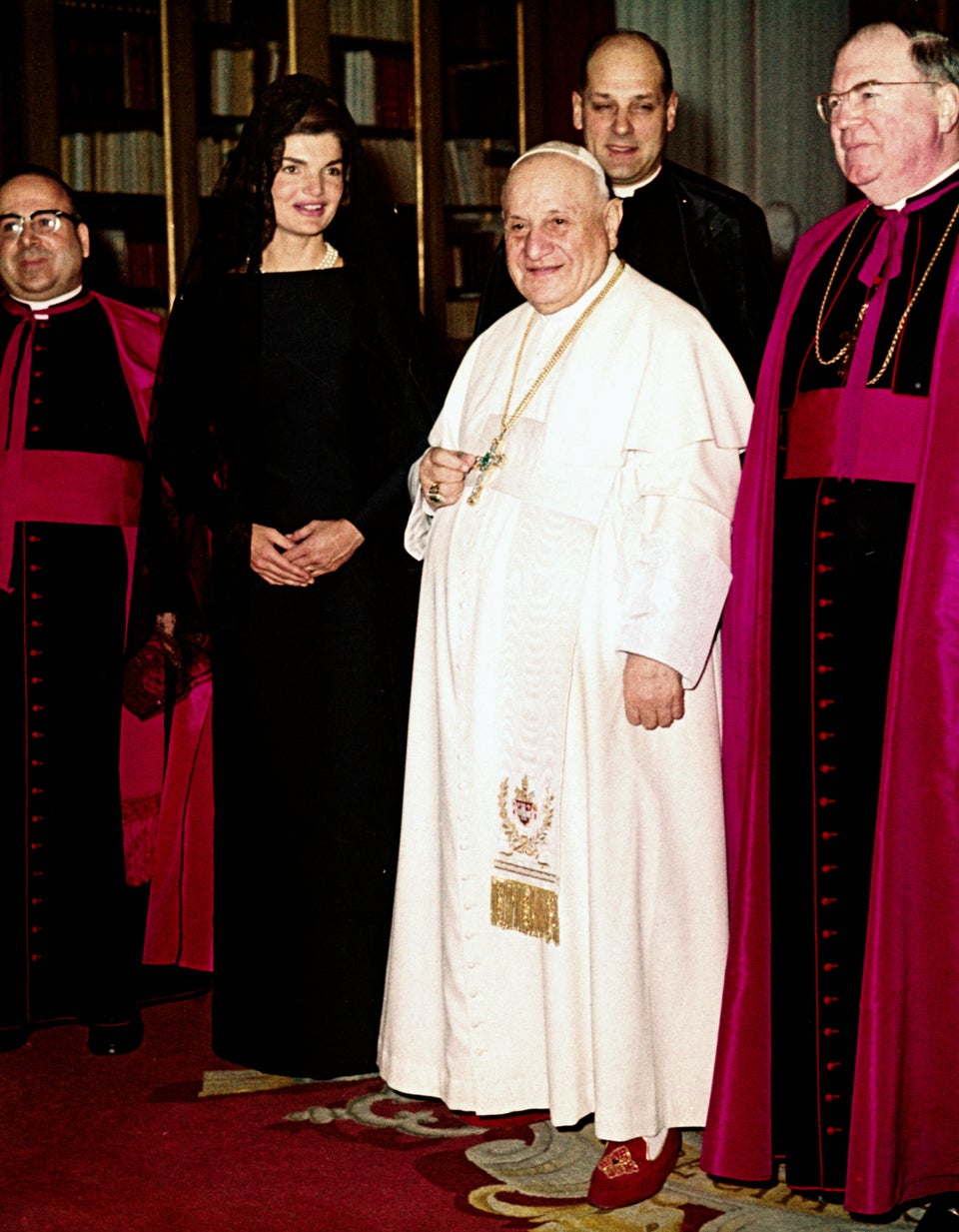 Gotta be royal! First lady Jackie Kennedy was Catholic, but exceptions don't apply to non-royals. She wore full-length black to meet Pope John XXIII in 1962.
Princess Marie and Princess Sophie of Liechtenstein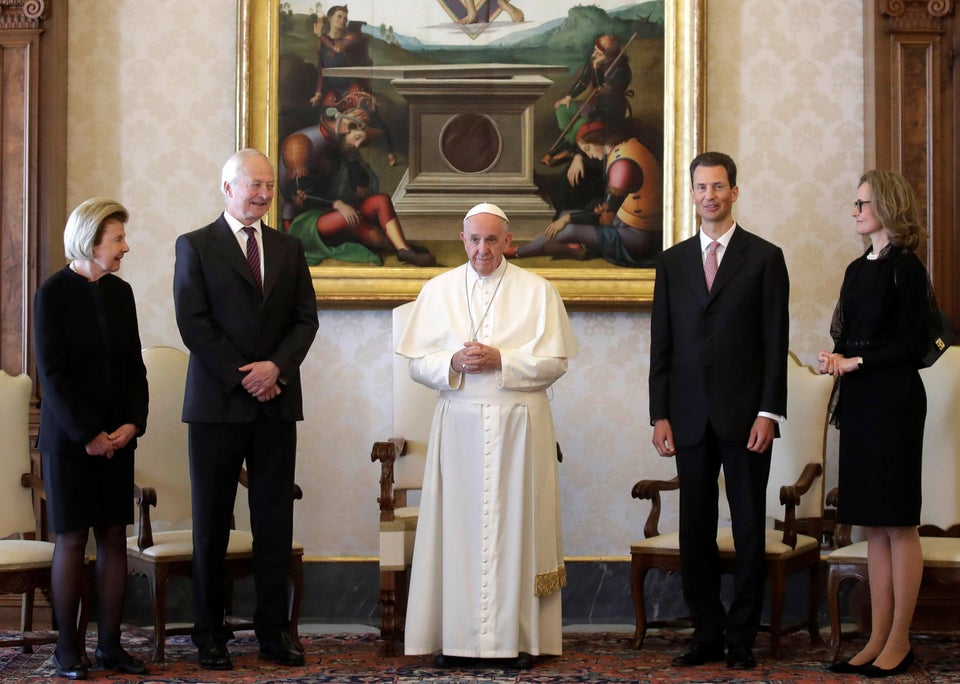 Liechtenstein has long had a Catholic monarchy, but its female members have not been given the privilège du blanc. 
Nancy Reagan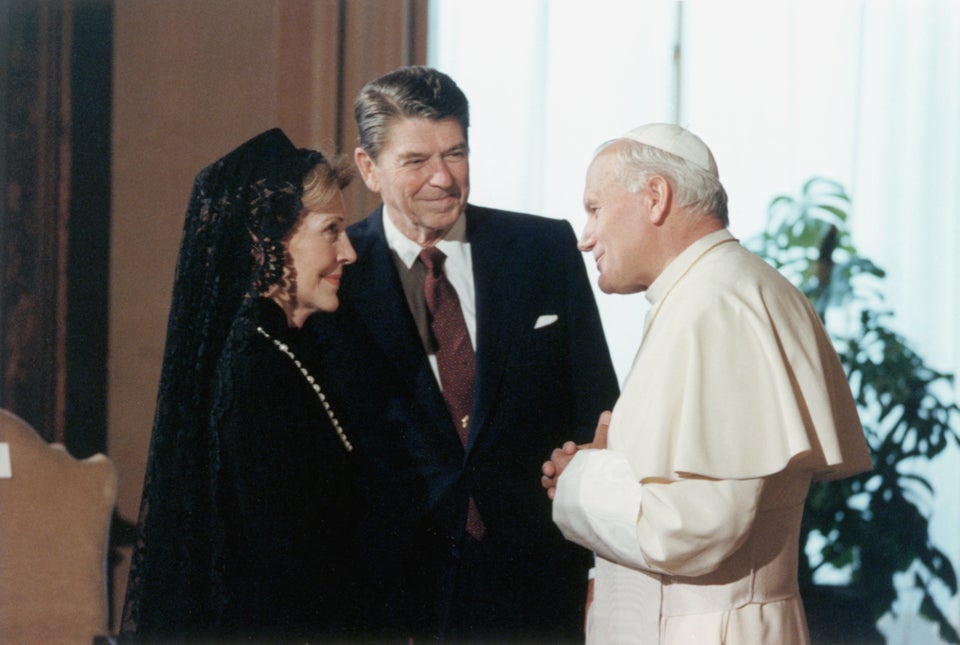 Nancy Reagan followed protocol when meeting Pope John Paul II at the Vatican. 
Queen Maxima of the Netherlands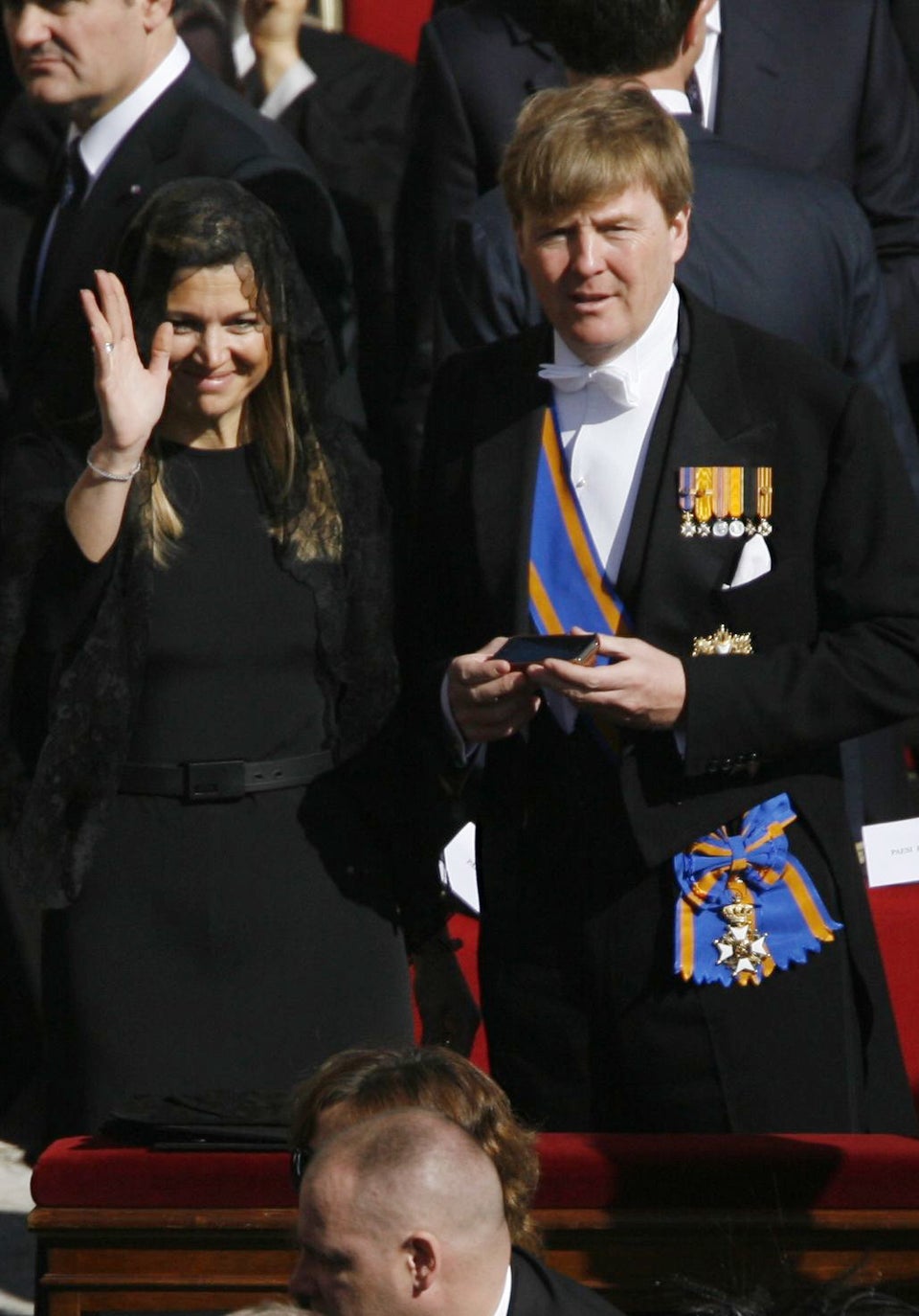 Rules are tricky: Queen Maxima of the Netherlands remained Catholic after her marriage, but the Dutch royal family is protestant. She wears black in the presence of the pope, a fellow Argentine, as demonstrated at his inauguration in 2013.