Four years ago in the little town of Borja, Spain, there was a case of thought-to-be vandalism that turned out to be an unfortunate attempt at art restoration.
Cecilia Giminez, an elderly Spanish woman, created a well-intentioned but regrettably executed restoration of Ecce Homo (or 'Behold the Man'), a fresco painting of Jesus before he is nailed to the cross.
The original painting, found in the Catholic Church of Our Lady of Mercy in Borja, showed Jesus in a robe with the crown of thorns on his head, glancing heavenward in agony, which had begun to wear over time. However, after Giminez's touch-up, the painting looked almost inhuman – more like a monkey or a werewolf, with shapeless and fuzzy features.
But it wasn't all bad. The original painting was not thought to be highly valuable, although it was a prized possession of the community. And the small, struggling town of Borja also benefited economically from the sudden international attention to the painting, thanks to countless memes and skits about the newly refreshed fresco, including the unforgettable sketch featuring Kate McKinnon on Saturday Night Live.
Now, a comedic opera memorializing the painting's story is set to debut at Our Lady of Mercy in Borja next year, five years after the hilarious mishap.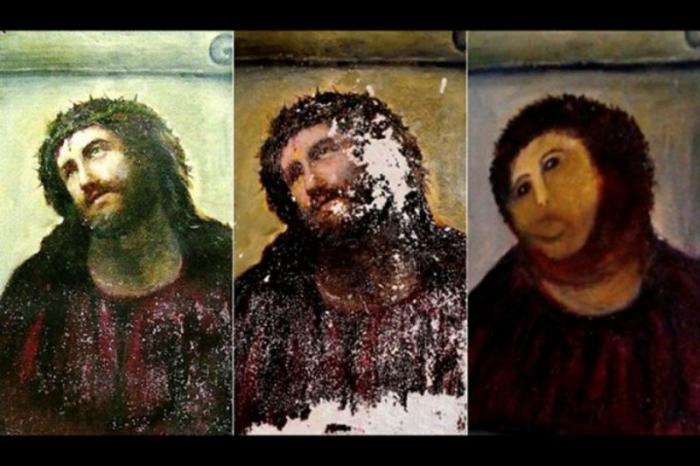 Ecce Homo botched restoration.
Americans Andrew Flack, and Paul Fowler, a composer, made this opera their pet project ever since the fresco flop in 2012, the New York Times reports.
The opera will feature the story of Gimenez's restoration, as well as the positive effect it had on the town. The style of the opera will be, well, a little bit of everything – "a Gregorian chant, a Spanish fandango, a Renaissance motet, a jota from Zaragoza, a classical chorus, an aria from the Zarzuela, a Flamenco tango, an indie-rock hook and a Swedish-house baseline," Fowler told the New York Times.
Fowler and Flack gave a stage reading of their opera in the United States in 2014, and fundraised enough money this year to translate it from Spanish to English.
The opera is part of a larger effort to maintain the fresco's status as a tourist attraction. Earlier this year, an interpretive art center was also unveiled at the site of the fresco, where visitors can paint their own versions of "Ecce Homo."
—