Pope Francis made a personal confession during an interview published Sunday in La Stampa Daily.
The interview is part of a series of the pontiff's reflections in a book titled "In Viaggio" or "On a Trip."
The book series focuses on Pope Francis' many pilgrimages since ascending to the papacy in 2013. These include visits to Asia, North America, Africa, Greece, Lesbos, South America and Sicily.
Though he has traveled across the globe, Pope Francis admitted "I never liked traveling much."
He explained: "When I was the bishop in Buenos Aires, I would come to Rome only if it was necessary and if I could avoid going, I would. It was always hard on me being away from my diocese, which for us bishops is our 'spouse.'
"Beyond that, I'm mostly a creature of habit. For me a vacation is having more time to pray and to read, but to relax I don't need to change the air or the atmosphere."
With the secret out, the Pope added the Lord opened his eyes to the great importance of traveling.
After his first outing to the Italian island of Lampedusa, one of the major points for refugees attempting to enter Europe, the pontiff understood why he had to set aside his priorities and follow God's plan.
"It was important to go there," the Pope explained. "There was no program, no official invitations. I felt I had to go, I was touched by the news of migrants who had died at sea, who had drowned."
Following that moment of enlightenment, the pontiff's reluctance to travel disappeared. He understood his physical presence was necessary to see firsthand the need of the people and to offer hope to the hopeless.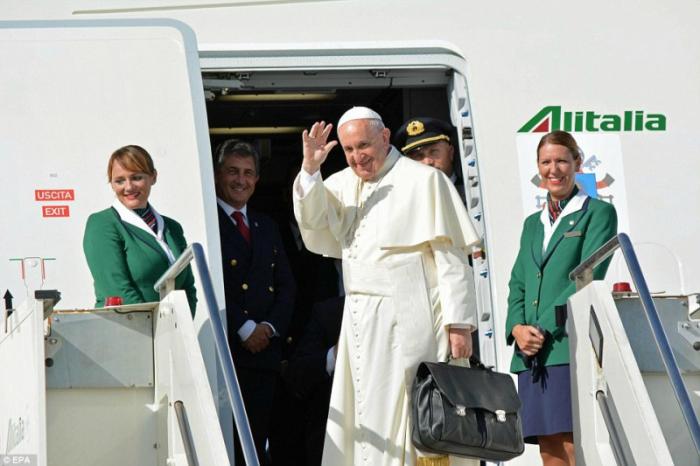 The Pontiff admitted his distaste for travel but understands his role in spreading hope (EPA).
After his first trip to Lampedusa, Pope Francis said invitation after invitation began to stream in, leaving him unable to stop his travels.
The People's Pope is known for ignoring security protocols by stepping into crowds and posing for selfies yet he admitted he does feel a bit leery when traveling to wildly enthusiastic foreign countries.
"My first reaction is that of somebody who knows that when they shout, 'Hosanna!', as we read in the Gospels, that can end with, 'Crucify him!'"
The pontiff quoted Pope Paul VI to explain the sight a pope understands at the heart of each papal trip:
"I believe that of all the dignities of a pope, the most enviable is paternity. Paternity is an emotion that invades the spirit and the heart, that stays every hour of the day, that can't diminish, but that grows so the number of children grows.
"It's a feeling that doesn't tire one out or cause fatigue, but it gives rest from every cause of exhaustion. Never, not for one minute, did I ever feel tired when I raised my hand to give a blessing. No, I'll never get tired of blessing or forgiveness. I believe those words explain why popes in the contemporary era have decided to travel."
The pontiff continued, acknowledging his insistence on coming into as much direct contact with people as possible.
"I can't move around in armored cars, or in the Popemobile behind bulletproof glass. I understand very well the need for security, and I'm grateful those dedicated people who stay close to me and watch things.
"But a bishop is a shepherd, a father, and there can't be too many barriers between him and the people. [There will always be risks] but there's also always the Lord."
By Kenya Sinclair