Priest shares Living Rosary on Mardi Gras to bring people back to God
Mardi Gras, or Fat Tuesday, is a time to celebrate with feasting before the start of Lent. Popular culture has turned the religious festivity to a time of debauchery and sin – but one priest demands more from Christians.
Rev. Sinclair Oubre, the pastor of St. Francis of Assisi Catholic Church, believes Mardi Gras culture should shift back to the Church.
The celebration of Mardi Gras may be rooted in the pagan Roman celebration of Lupercalia, but when the Church rose in ancient Rome, Christian teachings and morals overtook the pagan ritual and transformed it to something beautiful.
Rev. Oubre explained: "We came to the realization the roots of Mardi Gras are tied to Ash Wednesday and Lent. We've lost the connection of the religious purpose and it's become a big party."
He decided to take action and in 2009 he created Encounter Catholic, which includes activities meant to bless rosaries over Mardi Gras weekend.
Over 1,800 rosaries have been blessed so far and the group offers children's activities to encourage a moral upbringing.
"We have a conversation with the community about faith. It's been … tremendously successful," Oubre said.
A living rosary was recited at 12:30 p.m. on Saturday, February 25 beside the Encounter Catholic booth in Southeast Texas, where several people stopped to observe and even join in.
Ron Jackson, an organizer and member of St. Henry's Catholic Church in Bridge City, reported the living rosary started at Mardi Gras in 2012. The rosary is an 80-foot-long, half-inch braided nylon rope with knots representing a decade. Each person holds a knot and recites a prayer for a total of 45 minutes.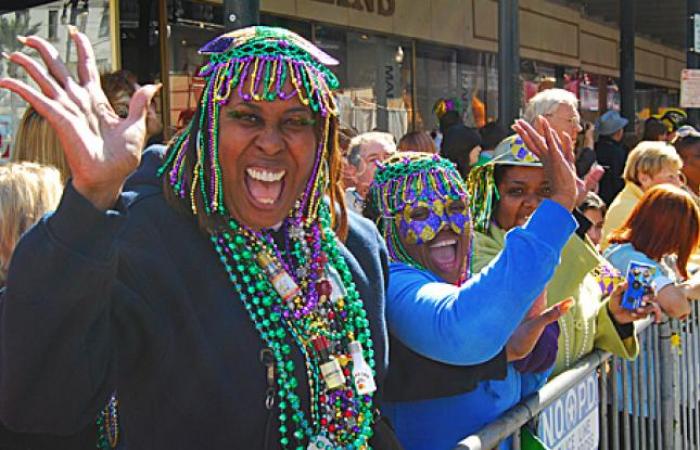 Jackson released invitations to pray the Rosary and wrote: "Also, let your friends know about the Living Rosary and invite them to bring their rosary and join us at Mardi Gras in praying the Sorrowful Mysteries of the Rosary."
He later told reporters: "We have people from all over to participate, even from Louisiana. Mardi Gras is a Catholic festival and we wanted something to do with religion instead of just a big, raucous party. We got the idea of doing the rosary outside the building (booth) and raise more awareness."
Many observers stopped by to see the people praying and some even joined it, Jackson reported. Even non-Catholics were curious and wanted to participate.
He shared, "We're trying to bring the message of Christ to the public."
It appears to be working.
St. Henry member Darrel Latiolais believes the living rosary event definitely helps bring Christ to the masses.
"Mardi Gras is the day before Ash Wednesday," he explained. "We need to remember that. There's also a living rosary page on Facebook."
The rosary is an important part of the faith, Jackson added. "It's the whole history of Jesus."
While groups such as Encounter Catholic take to the streets, it is important to remember to spread the word to friends and family who may not know the Catholic perspective of Mardi Gras. As Christians, it is our duty to spread the Word and our knowledge of customs, traditions and faith.
wpsd_autopost:

1