News
'Santa Muerte is an absurdity' – U.S. bishops denounce the false saint
Mexico has been perpetuating the power of Santa Muerte or "St. Death" the past few years, leading more and more astray from the path of righteousness.
The Roman Catholic Church has never recognized Santa Muerte and it never will.
In 2013, a Vatican official condemned all devotion to her, calling it, "the celebration of devastation and of hell."
Andrew Chesnut, a Santa Muerte expert who has been studying the peculiar devotion for over eight years, told CNA: "It's not every day that a folk saint is actually condemned at the highest levels of the Vatican….She's basically the poster girl of narco-satanic spirituality.
"She was unknown to 99 percent of Mexicans before 2001, when she went public. Now I estimate there's some 10-12 million devotees, mostly in Mexico, but also significant numbers in the United States and Central America."
The "folk saint" has always been part of Mexican culture, though she has been seen in several forms. Even the Mayan and Aztec had their own forms of death deities.
Fr. Andres Gutierrez, the pastor of St. Helen parish in Rio Hondo, Texas, believes the new rise of Santa Muerte was born of the desire to have a saint who will not judge poor decisions and sin.
"If somebody is going to be doing something illegal, and they want to be protected from the law enforcement, they feel awkward asking God to protect them. So they promise something to Santa Muerte in exchange for being protected from the law [thinking], 'I think this non-judgemental saint who's going to accept me as I am is appealing.'"

In Mexico, drug wars have created the perfect opportunity for the false saint's popularity to rise.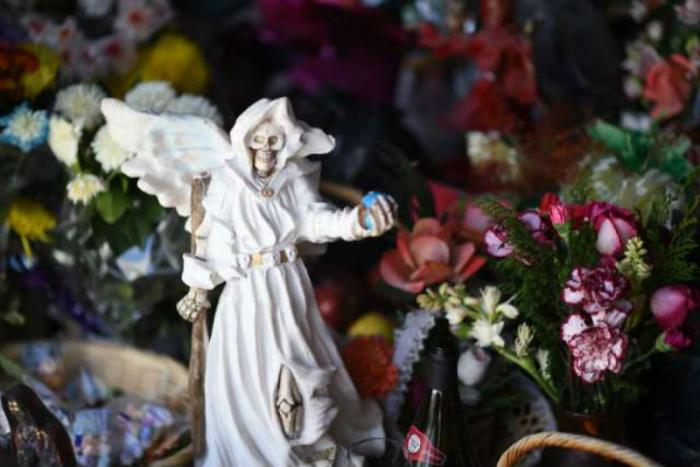 statue of Santa Muerte (Toni Francois).
Those in Mexico who have never stepped foot in a Catholic Church understand the Saints can help, so they latch on to whatever and whomever they believe will be of help – but Santa Muerte is no Saint.
Fr. Gutierrez explained it best. "(Santa Muerte) is literally a demon with another name. That's what it is."
Mexico's Archbishop, Cardinal Norberto Rivera, told explained, "Santa Muerte is an absurdity. Every Christian should be in favor of life, not death."
Santa Muerte is the skeletal female incarnation of Death, whom no Catholic should ever call on.
Ciudad Juarez Bishop, Jose Guadalupe Torres Campos, attacked the idea of Santa Muerte during a newspaper interview, helping to foster U.S. bishops to follow his lead.
Santa Fe Archbishop John Wester, El Paso Bishop Mark Seitz and San Angelo Michael Sis is Texas joined the Mexican Church to turn Catholics from the false saint.
They have called those who offer her devotions to stop, citing the fact that she is not a true saint and that she promotes little more than doing as you please while asking for divine protection – an absurdity and perversion of Catholic teachings.
By Kenya Sinclair