News
Shocking train wreck leaves trail of complete destruction, but only three deaths — Was this St. Michael's intercession?
A New Jersey transit train crashed into the Hoboken station Thursday morning in the midst of rush hour – Luckily, today is St. Michael's feast day and by his intercession, the crash wasn't as bad as it could have been.
Train no. 1614 on the Pascack Valley Line from Spring Valley crashed into the station at 8:45 this morning.
The accident destroyed parts of the station and threatened to collapse sections of brick and metal.
There were hundreds of passengers waiting on the platform and hundreds on the train itself. Without St. Michael's intercession, the devastation could have killed many more people.
Authorities believe the crash was the result of operator error, but admitted it is still early in their investigation.
The accident killed at least three people and wounded up to 100 more. Bystanders recorded video and pictures of people fleeing as debris fell from the platform.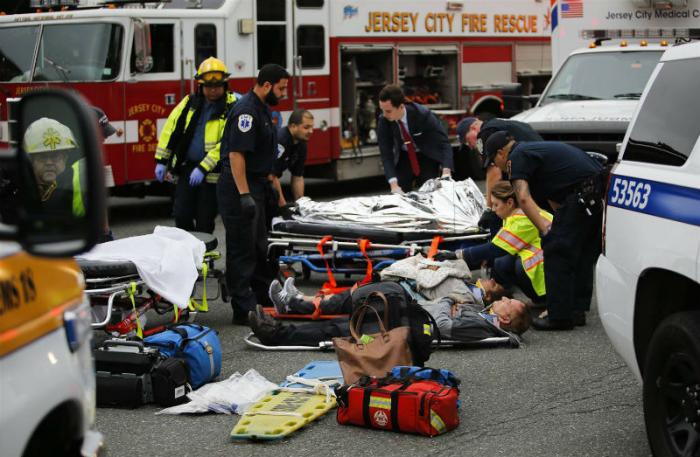 Several people were injured in the crash.
Support beams fell over, crew was seen rummaging through rubble attempting to find survivors and helicopter footage revealed the glass arches above the platform were crushed together like an accordion.
Investigators believe the train went through a bumper stop at the end of the track before coming to a stop between the station's indoor waiting area and the platform.
One passenger, Steve Mesiano, told ABC 4: "You felt like this huge, huge bang. The lights went off, and then you started to see like – I was in the window seat, so I could see like outside, what was happening, and the roof just collapsed on the first car."
Many passengers took to social media with pictures and their stories of survival.
St. Michael, the Archangel! Glorious Prince, chief and champion of the heavenly hosts; guardian of the souls of men; conqueror of the rebel angels! How beautiful art thou, in thy heaven-made armor.
We love thee, dear Prince of Heaven!
We, thy happy clients, yearn to enjoy thy special protection.
Obtain for us from God a share of thy sturdy courage; pray that we may have a strong and tender love for our Redeemer and, in every danger or temptation, be invincible against the enemy of our souls.
O standard-bearer of our salvation! Be with us in our last moments and when our souls quit this earthly exile, carry them safely to the judgement seat of Christ, and may Our Lord and Master bid thee bear us speedily to the kingdom of eternal bliss.
Teach us ever to repeat the sublime cry: "Who is like unto God?"
Amen.
—
By Kenya Sinclair