News
St. Nicholas protects 30-day-old baby discovered beneath rubble of building
Russian air strikes in Syria have killed over 3,800 innocent civilians but one little girl was dramatically rescued from beneath a would-be cement grave of rubble.
Volunteers have been sifting through debris to save who they could after Russia's latest air strikes in Idlib on Thursday.
With help from St. Nicholas, volunteer rescuer Abu Kifah discovered the child after the girl's parents were rushed to one of the country's desperately overcrowded hospitals.
He dug for two hours before finally discovering the 30-day-old infant, who was filthy but still alive.
Cameras rolled and pictures were taken of Kifah crying "She's alive" as tears streamed down his face.
Doctors Without Borders (MSF) director of operations Xisco Villalonga released a statement Friday explaining: "Bombs are raining from Syria-led coalition planes and the whole of east Aleppo has become a giant kill box."
He said his organization has attempted to appeal to the Syrian and Russian governments to put an end to the "bloodbath."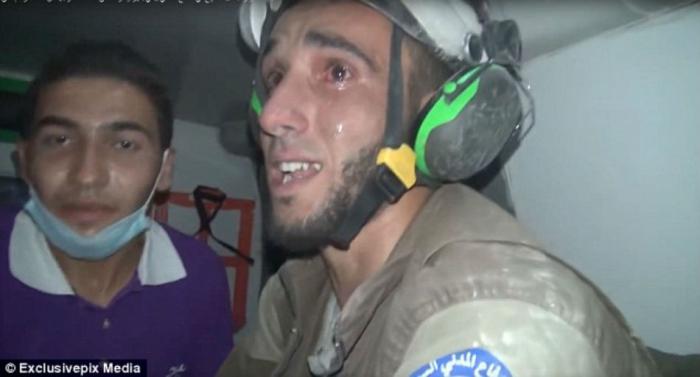 Rescuer Abu Kifah burst into tears when he realised the baby was alive (Exclusivepix Media).
"The Syrian government must stop the indiscriminate bombing, and Russia as an indispensable political and military ally of Syria has the responsibility to exert the pressure to stop this," he added.
Abu Waseem, manager of an MSF-supported trauma hospital in east Aleppo, described how dire the rescue situation is in Syria: "All intensive care units are full. Patients have to wait for others to die so they can be moved to an available bed in intensive care.
"We only have three operating theatres and yesterday alone we had to do more than 20 major abdominal surgeries…[H]ospital staff is working up to 20 hours a day. They cannot just go home and let people die."
Villalonga added the siege on cities and attacks on humanitarian convoys leaves his organization helpless.
Rick Brennan, WHO's head of emergency risk management, spoke during a UN briefing in Geneva to say: "We are asking for four things: stop the killing, stop attacks on health care, let the sick and wounded out and let the aid in…The situation really is unfathomable."
Prayer to St. Nicholas
God, we pray that through the
intercessions of St. Nicholas
you will guide and protect our children.
Keep them safe from all harm
and help them grow to become
loving disciples of Jesus in your sight.
Give them strength to always mature
into deeper faith in you,
and to keep alive joy in your creation.
Through Jesus Christ Our Lord.
Amen.
Prayer by Father David R. Engbarth, St. Nicholas Church, Aurora, Illinois
—
By Kenya Sinclair