News
Stolen Van Gogh paintings found 14 years later after major mafia bust
Two beautiful paintings created by artist Vincent Van Gogh were stolen in a 2002 mafia heist in the Netherlands. The paintings, believed to have been lost forever, were recovered fourteen years later thanks to Italian police.
In a press release from the Van Gogh Museum, the Chief Public Prosecutor of Naples announced the two paintings were safely recovered.
The paintings in question are "Seascape at Scheveningen," created in 1882, and "Congregation Leaving the Reformed Church in Nuenen," created in 1884/85.
The Italian Public Prosecutions Department had a curator authenticate the works. After a careful examination, the curator claimed, "[T]hey are the real paintings!"
They were reported to be in fairly good condition, but both were without frames and showed signs of damage.
Italian prosecutors and organized crime officials were involved in a "massive, continuing investigation" into the Naples mafia, which eventually led authorities to a home in Castellammare di Stabia, near Pompeii.
In the home, officials discovered a safe, where the paintings were stored along with other assets the BBCdescribed to be "worth millions of euros."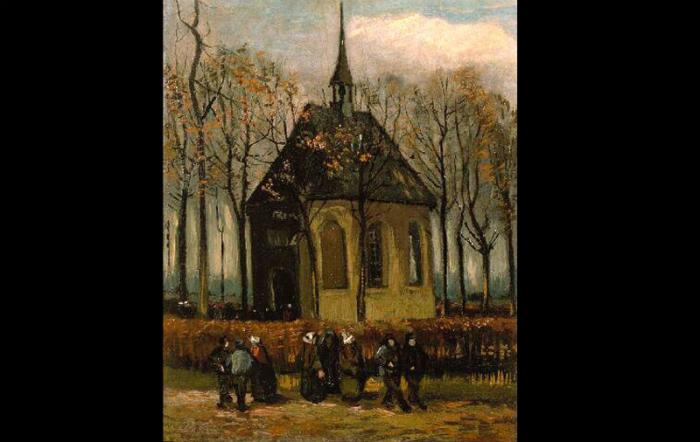 "Congregation Leaving the Reformed Church in Nuenen" was the second recovered painting (Reuters).
When authorities captured a drug trafficker linked to the Naples mafia, investigators got the paintings' location from the suspected gang leaders Raffaele Imperiale and Mario Cerrone.
The paintings were on loan to the Van Gogh Museum from the Dutch government when they were stolen despite guards on patrol and infra-red security systems.
Neither painting was insured and most believed they would never be recovered, so their discovery has made a tremendous impact on the art community.
Axel Rüger, the Director of the Van Gogh Museum, stated: "After all those years you no longer dare to count on a possible return. We owe a great debt of gratitude to the Italian Public Prosecutions Department, the members of the Guardia di Finanza investigation team, the Italian police, the Dutch Public Prosecutions Department, the liaison officers of the Dutch Public Prosecutions Department in Rome and everyone else involved.
"The paintings have been found! That I would be able to ever pronounce these words is something I had no longer dared to hope for. It is not yet certain when the works will come back to Amsterdam. But I fully believe that we can, once more, count on the unconditional support of the Italian authorities."
There has been no word on when the paintings will be returned to the museum or when the trial will take place, but Rüger stated: "It is really a major step that the paintings have been found. We have been waiting for this moment for 14 years.
"And naturally the only thing you want is to take them straight home with you. But we will have to exercise a little bit more patience, but I am convinced that we can count on the support of the Italian authorities."
---