News
Teen reveals signs of STIGMATA and weeps blood DAILY
Akhilesh Raghuvanshi has been bleeding from his eyes and hairline since he was 10-years-old in what many believe is a rare stigmata mimicking Christ's suffering.
Now 13-years-old, Akhilesh revealed he bleeds from his eyes, ears, mouth, legs and along his hairline up to ten times a day.
The wounds replicate those of Christ, who was beaten and his head was adorned with a crown of thorns.
There are no wounds at the cites yet still he bleeds.
He has reported no pain but said sometimes he becomes weak and tired from the blood loss. Other times, he gets migraines.
"I bleed from my eyes, my hands, my head – from everywhere," he told the Daily Star.
"I bleed from my ears, nose and eyes as well. When I bleed from [my] ears it feels warm. It may happen once or may be [sic] 10 times in a day.
"Sometimes, the bleeding will stop and won't happen for months. But in the past 15 days I have bled almost everyday. It doesn't hurt when the bleeding starts but it makes me tired and sometimes I have headaches."
Akhilesh was taken to see doctors for the condition but none have offered hope. Currently, the medical community has stated he simply suffers haemolacria, an extremely rare condition in which people cry tears composed of 50 percent blood, yet the diagnoses remain unofficial.
The boys father, Arun, is a farmer and has called for help.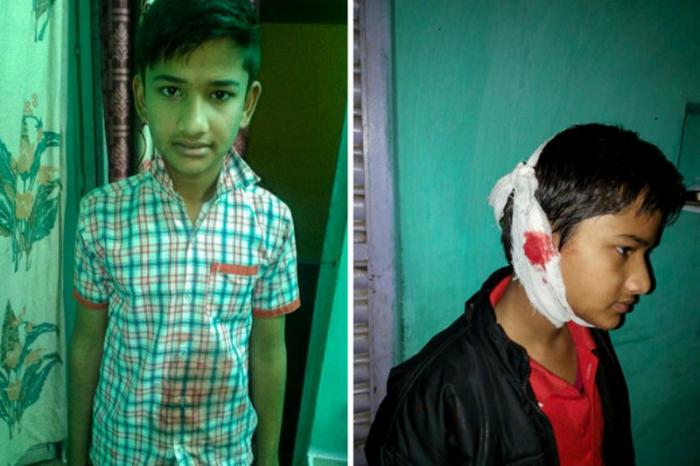 Akhilesh just wants it to stop (NewsLions/SWNS Exclusive)..
"I have seen the best of the best doctors in India. None of them seem to understand what this disease is and how it can be cured.
"So far my son was bleeding from his eyes, nose, hairline, neck and legs. But now the things are getting bad to worse as he has started passing blood through while urinating.
"I fear for my child's life now. The medical science must have an answer to it. I appeal to the doctors of the world, please intervene and help save my son.
Akhilesh is currently under observation from his home but doctors with the state health department remain ignorant of the condition's cause or cure.
"I hope my son's condition offers the medical fraternity an opportunity to investigate the case once again and come up with some solution to the problem.
"I appeal to [the] international medical fraternity to come forward to help save my child and rid us of the endless pain and agony."
There is currently no open investigation from the Church to see whether the wounds are truly stigmata.
Reported cases often show some or all of the five Holy Wounds, which are in the wrists, feet, side of the body from the lance, on the forehead and tears or sweat of blood.
Interestingly, many stigmatics occur in India, with most cases stopping after receiving the Holy Eucharist.
By Kenya Sinclair