News
Thank you, St. Emygdius! Two Italian quakes cause 'apocalyptic' damage but there are ZERO fatalities
Italy was hit by two major earthquakes… within only two hours of one another.
A 5.5-magnitude earthquake struck near Visso in Macerata province, Italy around 5:10 only to be followed by a 6.1-magnitude quake two hours later in the same area.
Bad weather paired with the serious damage to buildings has made recovery efforts difficult, but so far there have been no death reports.
Several people were injured and a few are known to be in critical condition.
According to the BBC, Italy's civil protection chief Fabrizio Curcio reported "[t]ens" of people were hurt, but only four people suffered serious injuries.
Curcio said there were no signs of people trapped in rubble, but emergency responders were searching debris anyway.
The most affected areas were Umbria and Le Marche, Curcio explained, adding a 73-year-old man died of a heart attack, possibly brought on by the earthquakes.
Curcio announced, "All told, the information so far is that it's not as catastrophic [as it could have been].
Ussita's mayor, Marco Rinaldi, described the damage in his town as "apocalyptic" and claimed it was "finished," but there were no fatalities.
"It was an unheard-of violence," he told Sky TG24. "Many houses collapsed. The facade of the church collapsed. By now I have felt many earthquakes. This is the strongest of my life. It was something terrible."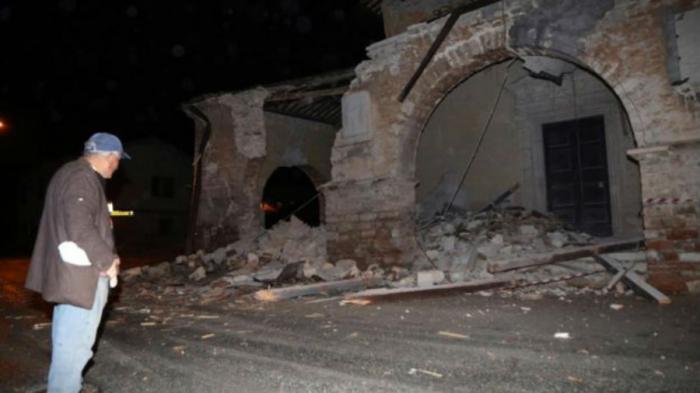 Many villages were collapsed (EPA).
As the quakes occurred in the middle of the night, tents were not erected for fleeing citizen, leaving roughly 200 people in Ussita sleeing in the streets.
"The final count of damages will be done with the first lights of dawn," Rinaldi told the Associated Press. "It was something. The valley is small, and the fault passes here."
Citizens of Visso received blankets at a Red Cross center and authorities erected makeshift dorms.
Mayor Giuliano Pazzaglini admitted, "Tomorrow morning we'll need to get them bathrooms and something to eat. That's the next thing. Then, of course, we'll have to start putting up tents."
Mauro Falcucci, the mayor of Castelsantangelo sul Nera, told CNN, "We don't have any reported victims, but we're in the dark and under a downpour. We're waiting for the Civil Protection Department to bring us lighting towers."
Aftershocks were so strong they could even be felt in Rome, where officials at the foreign ministry were evacuated and major state highways were closed.
Historical monuments and several buildings were destroyed but thus far, mayors from each affected city are pleased to report there have been no fatalities.
St. Emygdius (Emydius),  the patron saint against earthquakes, is often invoked in disastrous situations, especially earthquakes in Italy. It is to be believed it was, once again, his intercession that saved so many lives in what was expected to be an "apocalyptic" situation.
Thank you, St. Emygdius, for protecting people from the destructive powers of both earthquakes!
Amen.
---