The Catholic University of America is full of enthusiastic and hopeful spirits as the papal visit to Washington D.C. comes closer.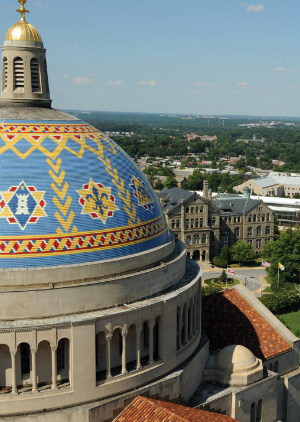 In about three weeks, Pope Francis will be celebrating faith with the students, causing much excitement throughout the university's administration and student body.
The Pontiff's visit will include an outdoor mass at the Basilica of the National Shrine of the Immaculate Conception, which can hold 25,000 people. "Look around, because -in less than three weeks- the pope will be here, and he'll be celebrating mass right on the eastern portico of this beautiful basilica," said the Archbishop of Washington Cardinal Donald Wuerl, as he welcomed everyone at the start of the school year.

The excitement is apparent as students claim the news of the pope's visit created waves within the campus. They are all hoping to witness his mass live as the Catholic University is holding a lottery event for spots in the standing room. "Hopefully I'll be right there," Student Dexie Cercos said. She plans to hold a sign honoring Junipero Serra, who established missions along the west coast in the 1700s. "I actually want to paint a sign, I'm from San Diego, California, so Junipero Serra was a really important part of California history, so him being canonized is obviously a very big deal, so I'm going to paint a sign saying 'Californians love St. Junipero Serra' and hopefully that will be something that the pope can see."
Another student, sophomore Colin Lemnitzer, is inspired by the upcoming visit, saying "it's crazy to witness." The 19-year-old continued, "People are a little worried about tickets, and how are they going to get in, are they going to be able to see the pope, but there's definitely an excitement that hasn't been around, definitely something special."