The key is trust in God and distrust in self.
Our spiritual life naturally entails a certain "spiritual combat," whereby we engage in battle against the dark spiritual forces of this world.
St. Paul put it clearly in his letter to the Ephesians, "For we are not contending against flesh and blood, but against the principalities, against the powers, against the world rulers of this present darkness, against the spiritual hosts of wickedness in the heavenly places" (Ephesians 6:12).
However, it's not always easy to know how to engage in this spiritual fight.
Italian priest Fr. Lorenzo Scupoli sought to address this problem in his spiritual classic The Spiritual Combat, published in 1589. In it, he begins by explaining the first two weapons needed in our ongoing spiritual war.
1. Distrust in self (diffidence)
So necessary is self-distrust in this conflict, that without it you will be unable, I say not to achieve the victory desired, but even to overcome the very least of your passions. And let this be well impressed upon your mind; for our corrupt nature too easily inclines us to a false estimate of ourselves; so that, being really nothing, we account ourselves to be something, and presume, without the slightest foundation, upon our own strength.

This self-knowledge is clearly needful to all who desire to be united to the Supreme Light and Uncreated Truth; and the Divine Clemency often makes use of the fall of proud and presumptuous men to lead to It; justly suffering them to fall into some faults which they trusted to avoid by their own strength, that they may learn to know and absolutely distrust themselves.
2. Trust in God (confidence)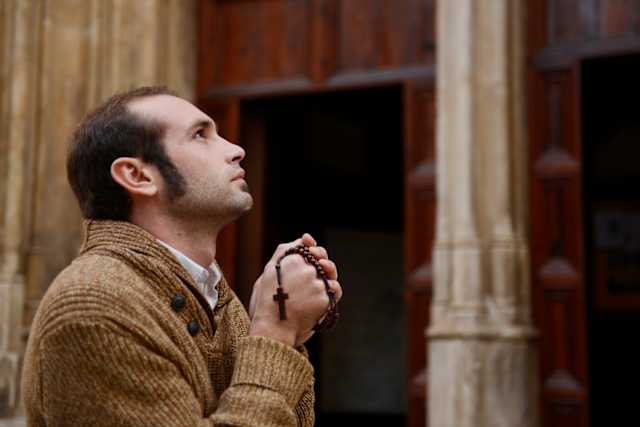 Self-distrust, necessary as we have shown it to be in this conflict, is not alone sufficient. Unless we would be put to flight, or remain helpless and vanquished in the hands of our enemies, we must add to it perfect trust in God, and expect from Him alone succor and victory. For as we, who are nothing, can look for nothing from ourselves but falls, and therefore should utterly distrust ourselves; so from our Lord may we assuredly expect complete victory in every conflict. To obtain His help, let us therefore arm ourselves with a lively confidence in Him.

By gazing with the eye of faith at the infinite wisdom and omnipotence of God, to which nothing is impossible or difficult, and confiding in His unbounded goodness and unspeakable willingness to give, hour-by-hour and moment-by-moment, all things needful for the spiritual life, and perfect victory over ourselves, if we will but throw ourselves with confidence into His Arms.