The Golden Arrow is an important prayer that Jesus gave to Sister Mary of St. Peter, a Carmelite nun in France, in August of 1843. Sister Mary called it "an Act of Praise that our Lord Himself dictated to me, notwithstanding my unworthiness, for the reparation of Blasphemy [insulting or disrespectful thoughts or behavior] against His Holy Name."
May the most holy, most sacred, most adorable, most incomprehensible and unutterable Name of God be always praised, blessed, loved, adored and glorified in Heaven, on earth, and under the earth, by all the creatures of God, and by the Sacred Heart of Our Lord Jesus Christ, in the Most Holy Sacrament of the Altar. Amen.
Like the Devotion to Jesus' Holy Face that she also promoted at His request, the Golden Arrow is meant as an act of reparation for the profanation of Sunday and of Holy Days of Obligation as well.
It is often recited as part of a group of prayers known as the Holy Face Devotion. This picture above from the Shroud of Turin, (thought by many to be Christ's image left on His burial cloth) is often used on prayer cards and other literature associated with this prayer and this devotion.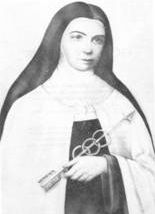 Our Lord showed Sister Mary, pictured at right, how much blasphemy hurt Him, "more grievously than all other sins,'' as she put it, by having her visualize it as "a poisoned arrow continually wounding His divine Heart."
She continues in her autobiography, "after that He revealed to me that He wanted to give me a 'Golden Arrow' which would have the power of wounding Him delightfully, and which would also heal those other wounds inflicted by the malice of sinners," with torrents of graces emanating from it!
When it comes to our salvation the Golden Arrow is no magic bullet. Still it can bring us closer to Christ by helping to make amends for the many insults He suffers on a daily basis. Today, as in Sister Mary's time, we often read harsh, offensive language about our Lord, in the papers or on the internet, for example.
Have you ever noticed how many such abusive comments come especially from those considered most sophisticated in our society? We've also seen television shows and movies that attempt to strip away Christ's Divinity and His Dignity, much as those who jeered Him during His Passion. (A special that aired on Cable TV a while back about some supposed Lost Tomb of Jesus comes to mind here!)
There are also more than a few "smart" people these days who would rather think of our Lord just as some philosopher and leave it at that. This prayer can help us all provide our Lord with comfort for these various slings and arrows He suffers each day!