News
THE RESURRECTION OF CHRIST – Oldest crucifix 'resurrected' from the belly of St. Peter's Basilica
In the depths of St. Peter's Basilica, Christ bleeds.
His face holds an expression of both pain and knowledge. His lips are parted and blood drips from the wounds on his battered body.
Nailed forever to the arms of a cross.
Deep within St. Peter's Basilica, which is responsible for the maintenance and safety of several relics and religious pieces, a beautiful piece rests.
It was consumed by termites for 700 years, leaving experts hard at work to restore the carving to its former magnificence.
The carving is the oldest crucifix at St. Peter's Basilica, created by an unknown sculptor of "exceptional artistic talent" and technical skill some time during the 14th century.
It was hung on the original fourth-century basilica of St. Peter, which was build by the Emperor Constantine.
The 14th-century wooden carving of Christ's crucifixion "has been resurrected" from obscurity, according to CNS.
Christ's torso and legs are 7-feet-long, carved within a single piece of seasoned walnut. Each arm, spanning nearly 6-and-a-half-feet, and Christ's head were carved separately but were born of the same ancient tree.
Records from the archive and antique prints revealed the popularity of the piece, regardless of where it was displayed.
Cardinal Angelo Comastri, the archpriest of St. Peter's Basilica, spoke to reporters at a Vatican news conference on October 28 to say, "We have discovered a hidden treasure under the dust of many centuries."
As the years passed, the beautiful work was moved further and further from the main basilica until it was left in a closed chapel.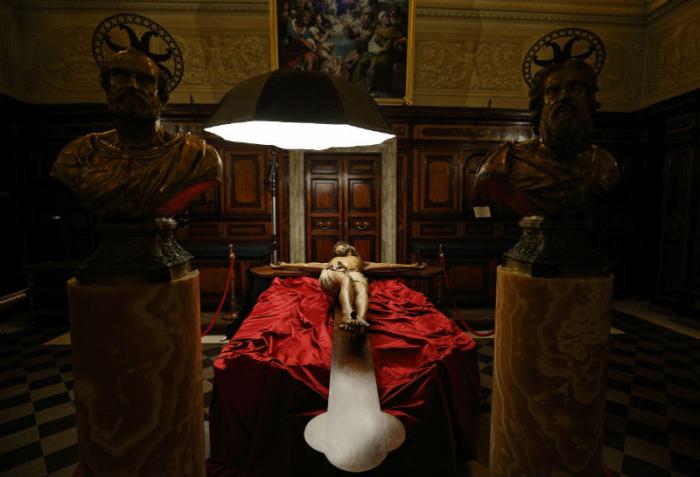 The crucifix was "resurrected" from obscurity (CNS).
Bishop Vittorio Lanzani, the secretary of the Fabbrica di San Pietro, which is responsible for the care and maintenance of St. Peter's Basilica, explained Pope Pius XI had an elevator placed in the closed chapel to connect the papal residence, to the basilica.
"Darkened and confined in a neglected spot and nearly unreachable, it was forgotten by many and was in some way taken away from the devotion of the faithful," Bishop Lanzani shared.
When the crucifix was discovered to be badly eaten away, with signs of early restorers attempting to keep it reinforced with canvas wrappings and stucco, "bronze-colored" paint and wads of cloth, restorers knew they would have quite the workload ahead of them.
Over a period of 15 months, they worked tirelessly with stereo microscopes, often used in microsurgery, leading them to discover nine layers of paints, varnishes and protective coatings on Christ's body and 15 layers on his white, gold-tipped loincloth.
To fill the large holes, left primarily in Christ's armpits, face and chest, sawdust left behind by the termites was mixed with a binding material that was then shaped to the body.
,5-$?8) *8 9*05:
A thick painted rope wrapped around Christ's head was replaced with a crown of real thorns from a species known as Christ's Thorn, which can be found near the Mediterranean.
Unfortunately, the original cross Christ was nailed to has been lost, so workers created a new one from seasoned walnut wood growing near an ancient Marian sanctuary in central Italy.
Cardinal Comastri was proud to announce the restored piece would be on public display for the first time on November 6, during Pope Francis' jubilee for prisoners, as "a beautiful sign of hope and a message of mercy."
Following the jubilee message, the crucifix will be placed in the Chapel of the Blessed Sacrament in the main part of St. Peter's Basilica.
It will be dedicated in "perpetual memory of the Jubilee of Mercy" and will hand from the wall to the left of the entrance, to ensure people are immediately greeted by Christ's gaze in the moment he readied himself to give his life.
The restoration was financially backed by the Knights of Columbus (KOC) to show "solidarity with the Holy Father" for the Year of Mercy, according to Carl A. Anderson, the Supreme Knight of the KOC.
Anderson released a written statement reading: "We hope that this remarkable image of Christ's suffering will serve as a reminder to all who see it of the great love our savior has for each of us, and of the depths of his mercy, always ready to embrace and forgive us."
---