Jesus performed many miracles, each used to teach people important lessons about life, love and faith; but one of Jesus' most well-known miracles took place on the Sea of Galilee.
The Sea of Galilee, which is a lake, is the site of more than one miracle.
Christ calmed the storm on the Sea of Galilee and walked out to St. Peter's boat, where he and several disciples sat terrified.
After calming the storm, the disciples believed they were looking at a ghost, but Jesus told them not to be afraid. He identified himself and St. Peter told him, "Lord if it is you, tell me to come to you across the water."
Jesus told Peter, "Come," and St. Peter also walked atop the waters, until he noticed the wind and was frightened. He began to sink and cried out to Christ for help.
"You have so little faith," Jesus said. "Why did you doubt?"
Jesus helped St. Peter back to the boat, and it was only then that Christ was acknowledged as the Son of God and not a ghost.
This short parable teaches us about faith, the power of God and is symbolic of our reliance on the Lord during times of difficulty and fear.
The great miracles of calming a storm and walking on water occurred on the Sea of Galilee, which has since become a popular pilgrimage site.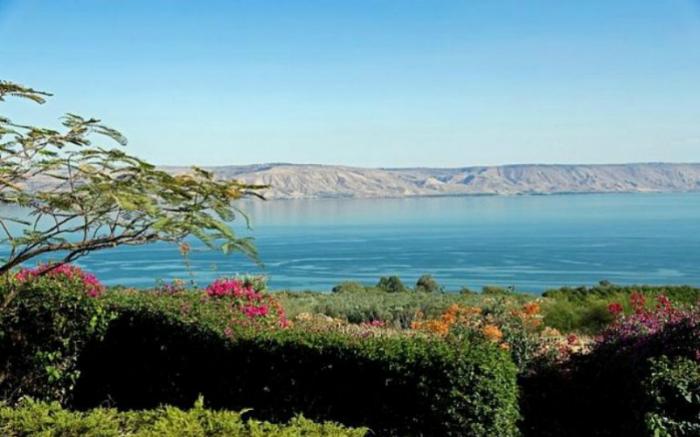 The drought has left the Sea of Galilee at its lowest in the past century (AFP).
Thousands visit the Sea of Galilee each year but, after four consecutive years of drought, Amir Givati, of Israel's Water Authority, reported the lake's water levels have lowered to a tragic low.
It has negatively impacted the environment and wildlife in the area, and Givati stated: "The situation is serious. The lake has fallen to its lowest level for a century," at 20 centimeters below the "red line."
There are two red lines and a black line for water levels. Once a body of water reaches the black line, permanent damage is caused to the area.
Givati warned the "regional drought affects the whole of the Middle East" and reported the rest of Israel has been relying on five seawater desalination plants built along the Mediterranean coast.
Each plant pumps water through a system connected to homes in Israel, where residents receive three-quarters of their water supply, except one area in northern Israel which usually relies on water from the Sea of Galilee.
Givati said: "A project to supply this entire part of northern Israel is under construction. It is a challenge for the years to come."
Will the Sea of Galilee dry up entirely? Not unless Israel is hit with a decades-long drought, but water officials continue to keep an eye on its water levels and continue plans for a new water supplication project in the region.
---